2016 TaylorMade Tour Preferred and Project (a) balls revealed
TaylorMade has revealed its new 2016 golf ball line-up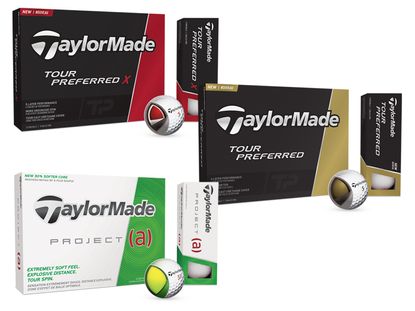 TaylorMade has revealed its new golf ball line-up, which includes the new 2016 TaylorMade Tour Preferred, Tour Preferred X and Project (a) models
Right on cue for the new season, TaylorMade has revealed its new golf ball line-up, which will include the 2016 TaylorMade Tour Preferred, TaylorMade Tour Preferred X and TaylorMade Project (a).
2016 TaylorMade Tour Preferred golf balls
The new family will be headlined by the Tour Preferred duo, with the four-layer, 80 compression Tour Preferred and the five-layer, 87 compression Tour Preferred X.
The Tour Preferred features TaylorMade's next-generation SpeedMantle inner layer, which is more than 65% softer and more flexible than the model it replaces, allowing for a softer feeling ball with the same performance characteristics.
The new Tour Preferred X ball also features a new thicker re-engineered Soft Tech cast urethane cover that increases greenside control, a trait that proved most popular during tour testing of 43 Tour Preferred X prototypes. It already has its first win under its belt after Justin Rose won the UBS Hong Kong Open using it.
In comparison to each other, the Tour Preferred is designed for players who prefer softer feel and more spin in their iron shots, with the Tour Preferred X delivering a more penetrating flight and firmer feedback around the greens.
2016 TaylorMade Project (a) golf ball
Joining the pair of tour style balls will be the upgraded Project (a) model, replacing a ball that was launched last year to offer amateurs more spin and performance from 30 yards and in.
That quest continues with the new 2016 version, which has a compression of 70 - 18 lower than the 88 in the original model – to make it feel much softer off the face and spin more on approach shots.
This is helpful because most amateur players usually generate nearly 50 per cent less spin than players on tour, who compress the ball much better at impact.
Apart from this change, the new Project (a) features many of the same technologies as the original, including a REACT core for more distance and the same durable Soft Tech cast urethane cover found on the Tour Preferred balls, which delivers spin and feel.
2016 TaylorMade golf ball prices
All three of the new balls will be available from the 15th of December, with the 2016 TaylorMade Tour Preferred duo costing £44.99 per dozen and the new Project (a) retailing at £34.99 per dozen.
Jake O'Reilly specilaises in equipment coverage, and joined the Golf Monthly team in 2013. Before this he graduated from the University of Huddersfield with a Sports Journalism and Media degree, and worked at a number of British golf magazines. Follow Jake on Twitter
@jake0reilly