Why I'm Thankful My Dad Got Me Into Golf
Carly Frost started playing golf because of her dad and has been thankful he introduced her to the game, but for many young women it's not the case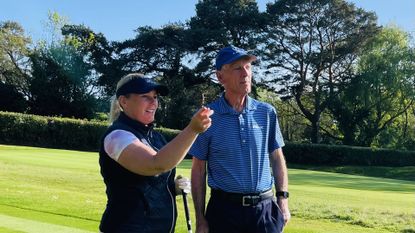 (Image credit: Carly Frost)
Like many women who play golf I have my father to thank for it. He's the one who first took me to a driving range to hit balls, who used to take me around pitch and putt courses packed with disapproving men at the weekend, and who I spent countless hours practice putting with. Like many daughters, my relationship with dad revolved around playing sport. I was the tomboy of the household who loved nothing more than kicking a football with him in the garden, playing bat and ball on every family beach holiday and spending endless evenings in our garage playing darts or table tennis together.
Golf was a natural progression. He introduced me to the game when I was 13. Despite being an 18-handicapper at his best, dad used to like to think he was good enough to teach me how to play all the shots, especially his Jack Nicklaus-style putting stroke! As a junior he caddied for me in the Dorset county championships, although if I'm honest, it wasn't a 'daddy-caddy' relationship made in heaven. There were definitely times when he couldn't hold his tongue, asking why on earth I'd played a certain shot? (As if I meant to hit it into the trees!)
There's no doubt a good father-daughter relationship is the foundation for a lifetime of love and laughter, however, add golf into the equation and it does seem to mix things up somewhat. I've been around golf long enough to have seen all the dad stereotypes from the "my daughter is going to be on the LET next year" bragging dad (of a six handicapper) to the ones who appear to be doing practically everything for their kids, except of course actually hitting the shot.
Unfortunately, I've also encountered some pushy parents who are forcing their daughters to play the game for their own selfish wins. There's a fine-line between care and encouragement and when that line gets crossed these fathers become what I call 'toxic dads' - men who have their dutiful daughter eating a bowl of pasta for breakfast, hitting balls at 6am before school and then secretly chastising her when she doesn't perform to the best of her ability in competitions. Sadly, these bullies exist and there are probably more of them than young women who are prepared to come forward and admit it.
Thankfully I've met plenty of positive father role models in the game too who we can applaud. LET superstar Charley Hull's dad Dave has been supporting her from a young age. I first met them when she was a child protege aged 10. We played golf together around her home course, Kettering Golf Club, where she had started learning to play golf aged two, and it was clear from the outset that it wasn't Dave pushing Charley into golf but the other way around.
I was curious to know why this little girl seemed so obsessed with the game and it was fascinating to see how her father was playing an all-important observer-only role in it. Dave told me that Charley begged him to take her to play golf all the time. It was the only thing she wanted to do. That he himself, a plasterer by trade, was just a casual golfer but he'd seen the spark in his daughter's eye with a golf club in her hands from a very young age. "She has brilliant golfing hands" he told me.
Curiously, as far as dads who keep a distance go, Dave Hull was pretty switched-on to the requirements of a champion-in-the-making. The first golf club he gave to Charley was a cut-down bladed-style iron. He'd decided that if she was going to learn to play this game then she would do it the hard way, with the toughest club in the bag to hit. "Learn to strike a blade and you can strike anything," he said. He also built her a putting green in the garden and constructed a net so that she could practice at home.
Playing the role of coach is one that many dads naturally take on. Rising Slovenian LET star Pia Babnik's father has been her coach and mentor from day one. Despite not being a qualified coach, he has played a key role in allowing her swing to evolve naturally by filming her on the range and comparing her move to the greats. Babnik is tall, lean and athletic. Her free-flowing action gives her extraordinary speed and power. I watched her bomb drivers effortlessly 300 yards at the range at the TaylorMade Stealth 2 driver launch in Rome last summer. It was quite a spectacle. I've no doubt she's going to be a major contender in the not-too-distant future.
Carl Cowley is a great example of a dad who is devoted to his daughter Gabriella, a LET player and recent winner and two-time runner-up on the Rose Ladies Series, who has inherited her love of sport from former professional footballer Carl. He loves nothing more than supporting his daughter's golfing career, travelling with her when he can to watch her play, practice and compete. But it has been a journey they've gone on together with many highs and lows.
"When she was younger it was very hard," he admits. "We had lots of arguments on and off the golf course, but despite that there was always unconditional love there and the next day we would be back on track. In the last few years it has actually become very enjoyable travelling around the world with her. As she's matured she's become less stressed and realised that a game of golf doesn't define her as a person. She is very well-liked on tour by all her peers and her mum Theresa and I are extremely proud of what she has achieved. If we had the chance to go back and do things differently I probably would, but I wouldn't swap the journey. It's been a fabulous ride and I'm sure there will be more highs to come."
Another dad who has been 'on the bag' as caddie and in the limelight is Wayne Hall, father to 2018 Women's Open champion Georgia Hall. I think it would be fair to describe their father-daughter relationship as something of a roller coaster ride as, like the Cowley's, they haven't always seen eye-to-eye. A fellow competitor told me that when Georgia won the British Ladies Amateur Championship in 2013 she'd had to walk 10 miles to the course that morning carrying her bag on her back from where she'd stayed the night before after falling out with her dad. What strength of character and strength of mind she had to perform as she did that day, coming from behind to win.
Fast-forward five years and those past quarrels had been put behind them. Hall had dad on her bag at Royal Lytham for the Women's British Open and it proved to be a winning formula. He seemed to keep her cool, calm and composed under the most intense pressure of the final day, helping her claim her maiden Major title.
In the thirty years I've played golf, from a young junior right through to my forties, I have witnessed many dads on the bag, supervising shots struck on the range, putts rolled on the practice green and guiding decisions made on the course. There are definitely dads who can't help getting involved in their daughter's golfing success. I think it's a great shame when these girls don't seem to be able to play autonomously from their father's guidance. By hanging on their every word, they are never truly learning to play the game.
As a parent to a 9-year-old who is just learning to play golf, I am conscious of the need to encourage and nurture a passion for the game while allowing my child to learn independently. Yes, there are rules to learn and guidance on etiquette to give, but ultimately, I want him to be able to make his own club selection decisions and to learn from mistakes. In my opinion caddies shouldn't be allowed in the amateur game.

Interestingly, Sports Marketing Surveys conducted some detailed research on the entry-level to golf a few years ago and one of the startling statistics that has always stuck with me is the very small percentage of fathers who encourage their daughters to play golf compared with the number that encourage their sons to play. Maybe it's because fathers cherish their relationship with their 'daddy's girl' so much that they don't want to ruin it? I, for one, will always be eternally grateful that my dad decided to introduce me to the sport as a teenager. I can honestly say that if done right, it can become the most rewarding way to nurture a loving relationship with your child that lasts for life. You won't regret it.
Carly Frost is one of the golf industry's best-known female writers, having worked for golf magazines for over 20 years. As a consistent three-handicapper who plays competitive club golf at Parkstone and the Isle of Purbeck courses in Dorset every week, Carly is well-versed in what lady golfers love. Her passion for golf and skill at writing combine to give her an unbeatable insight into the ladies game.
Carly's role at Golf Monthly is to help deliver thorough and accurate ladies equipment reviews, buying advice and comparisons to help you find exactly what you are looking for. So whether it's the latest driver, set of irons, golf ball, pair of shoes or even an outfit, Carly will help you decide what to buy.
Over the years Carly has been fortunate to play some of the greatest courses in the world. Her view 'from the ladies tee' is invaluable. She ranks Sea Island, Georgia, USA, where she met her husband, world-renowned golf coach Dan Frost, among her favourite golf resorts. Their aptly-named eight-year-old son Hogan is already hitting the ball as far as Mum and will undoubtedly be a name to watch out for in the future.
Carly is a keen competitor and her list of golfing achievements are vast. She is a former winner of the South West of England Ladies Intermediate Championship, a three-time winner of the European Media Masters and she once beat an entire start-sheet of men to the title of Times Corporate World Golf Champion. She has played for both the Dorset and Surrey County Ladies first teams and is known for her excellent track record at matchplay.
Carly holds the ladies course record (68) at her home club Parkstone and her lowest competition round (seven-under-par 65) was carded in the pro-am of the Irish Ladies Open at Killeen Castle, playing alongside Solheim Cup superstar Anna Nordqvist. Although her current handicap index has crept up to 3.7 since Covid she has her sights firmly set on achieving that elusive scratch handicap and hopefully playing for her country when she's 50.
Carly's current What's In The Bag?
Driver: Callaway Epic Max, 10.5°
Fairway wood: TaylorMade SIM2, 15°
Hybrids: Titleist TS2, 19°, 21°, 24°
Irons: Mizuno JPX900, 5-PW
Wedges: Cleveland RTX, 52°, 56° and 58°
Putter: Scotty Cameron Futura X5
Ball: 2021 Callaway Ladies SuperSoft