Winter Golf: Keep Your Game In Shape
Improve your golf through the winter months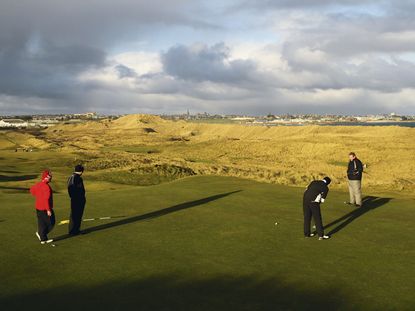 Don't just give up on the game when the mercury drops. There are many ways you can continue to enjoy, maintain and even improve your golf through the winter months
Winter Golf: Keep Your Game In Shape
Many golfers have an instinctive urge to put their games into hibernation when the weather turns colder and the nights draw in; an innate desire for self-preservation. It's understandable, as the prospect of playing in a sleet-filled gale to a rutted and muddy winter green only appeals to the most crazed golf obsessives.
But those same golfers who stash their clubs under the stairs after the autumn meeting can also often be heard complaining of early-season rust at the time of the following year's spring meeting. Many of them won't hit peak form until some time in mid-June. So much wasted time! How much more would they enjoy their golf if they began the year in control of their games, ready to fire on all cylinders for a full competitive season?
Here we look at a selection of ways you can keep your game ticking over, or even improve it, through the winter. And you won't need to get cold or wet in the process.
Related: Winter Rules explained
The most obvious way to keep your game in good order through the winter is to carry on playing. As mentioned above, golfing through the harsher months in the British Isles can be challenging. But we don't live in Siberia! We get some lovely spells through winter too, so pick your moments. On a clear, crisp and still day, there are few finer places to be than on a deserted British golf course where you're free to work on your game without the pressure of groups behind or hold-ups in front.
Links courses in particular remain highly playable through the winter. Take a trip to the seaside when the forecast is good and you'll likely enjoy the delights of a quality track at a reduced rate.
In most parts of the UK you'll find a Winter Alliance you could join. These great organisations allow you to stay competitive, to play a selection of different courses and to meet new people. They generally tour around a particular region, visiting different courses each week. You pay a joining fee, and something each time you play. There are likely to be prizes for individual and/or team competitions. See if there's one in your area.
The winter is an ideal time to work on necessary changes to your game, so book in for a series of lessons with a professional. Be sure to go into these with a definite objective – to cure that slice, to develop a more solid pitching action or to work on controlling your ball flight, for example. If you target a key part of your game in need of improvement, and dedicate a number of weeks to it through the winter, you may well start next year with one less problem to worry about.
It may be tipping it down, there might be snow on the ground, but you can still practise. Most people will have a covered driving range somewhere nearby; many of these may even have heated bays and most will be floodlit. Go and work on the changes you're making, sheltered from the elements.
The range in winter also provides a chance to learn about your game. As an example, work out exactly how far you hit each of your clubs (on average, not with your Sunday best). How many of us know exactly how far we hit our average 7-iron?
Perhaps get the pro involved to look at your kit, to see if it's set up correctly for you. Maybe you'll discover your 5-iron has gained 3° of loft, or that you have totally the wrong shaft in your driver. If you're feeling flush, you could be custom fitted for a new set of bats. You can then get to know them through the winter and start next season fully confident the kit in your bag is exactly right for you, and that you can make it work.
Winter is a great time to work on your putting. Many golf facilities now have indoor putting studios with artificial greens and sophisticated equipment to record and analyse the putting stroke. With a little time and a little expert advice, you could make subtle changes to your action that could knock shots off your average score next year. Isn't it worth checking that out?
And you can work on it at home too. Once you've had some professional guidance, you can spend evenings in front of the telly ingraining a better stroke by putting on the carpet. Maybe invest in a putting rail that trains you to make a positive strike.
Those long winter nights provide an opportunity to do some research. Read instruction in books and magazines like this one. See if there's something obvious that strikes a chord with your game. Perhaps you'll pick up a pointer that could just make all the difference.
Try reading up on sports and golf psychology. By absorbing the works of Bob Rotella, or another expert on the mental side of the game, you'll be amazed by how many common-sense techniques you should be adopting, but aren't.
Watch some golf on the TV. There are many exciting tournaments through the winter: from the season climax on the European Tour before Christmas, to the January events in Hawaii on the PGA Tour. Watching the best players will build your excitement for the coming season and, by studying the pros, you can learn too. You might not be able to hit the ball 350 yards, and it's imperative you don't take as long as they do to hit the ball, but you can learn from their strategy: laying up to a perfect yardage for a favourite wedge, aiming for the heart of the green when the pin is tucked away, or using a variety of clubs from the tee rather than always reaching for driver.
Golfing in the winter needn't mean a wearisome, wet and chilly trudge around a muddy park. It can be glorious in the right place on the right day. It provides a chance to iron out the creases and make some changes. It's a season to consider your weaknesses, whether technical, strategic or mental, and dedicate some thought and effort to making an improvement. Winter isn't a time to give up on golf; it's a time to build, to prepare to come out fighting in 2016.
David joined Golf Monthly in 2015 as a content editor for the magazine and regularly contributes to the website. He has worked in magazine publishing and editing since 2003. He is a keen golfer and up until recently was a member of Blackmoor Golf Club in Hampshire. He has covered various big events and tournaments for GM, the highlight of which was witnessing Tiger Woods win his 15th Major at Augusta in 2019. Email: david.taylor@futurenet.com