The Rise Of Tommy Fleetwood
The likeable Englishman is finally fulfilling his massive potential, but what's behind his dramatic turnaround this season?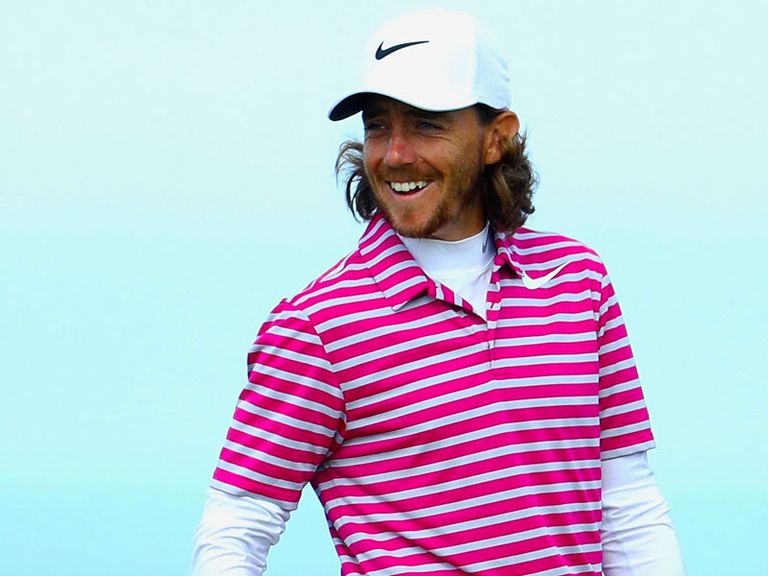 (Image credit: Getty Images)
Golf Monthly Newsletter
Golf tips and expert instruction, golf club reviews and the latest golf equipment.
Thank you for signing up to Golf Monthly. You will receive a verification email shortly.
There was a problem. Please refresh the page and try again.
The likeable Englishman is finally fulfilling his massive potential, but what's behind his dramatic turnaround this season? BBC Golf Correspondent Iain Carter takes a look...
The Rise Of Tommy Fleetwood
They were trying to make golf cool. Music played on the range as many of the European Tour's finest warmed up and more tunes accompanied the walk to the first tee. To be brutally honest, it did not really work – there was something incongruous and half-hearted about it all.
But as Tommy Fleetwood strolled through the walkway to begin his final round the mood switched.
Related: Tommy Fleetwood: What's in the bag?
His long locks sprouting from beneath his cap bounced on his neck – not in time with the music but in tune with his jaunty stride. The Englishman smiled, he appeared not to have a care in the world, he was relaxed, he was chilled. He was the coolest thing about it all.
This was in Abu Dhabi in January and as he headed into that final round the 26-year-old trailed leader Tyrrell Hatton by a single stroke. Little did we know, but Fleetwood was about to embark on a final-round 67 in which he would blitz his way through the back nine in a stunning 31 blows.
It proved enough to overhaul Hatton and fend off the challenge of the World No.1, Dustin Johnson. It gave Fleetwood his second European Tour victory three-and-a-half years after his maiden triumph at the Johnnie Walker Championship at Gleneagles.
This Abu Dhabi triumph confirmed a stirring comeback for the likable lad from Southport and laid the foundations for what has become a stellar year that brought a Masters debut, a remarkable run at the US Open and a massive cheque for victory at the French Open.
Fleetwood was the poster boy when The Open came to his home town in July and now he looks forward to challenging for the Tour's Race to Dubai. The cool kid from the north-west of England can look at 2017 as the year he became a genuine force in European golf.
But for a long period before, it looked as though his undoubted talent would go unfulfilled at the highest level. This is a player who had lost the most basic of golfing skills: the ability to get the ball into play.
Loss of form
Fleetwood shudders at the thought of the 12 months that followed July 2015. When he missed the cut at the St Andrews Open of that year, he started a run of five lost weekends in six tournaments and the misery stretched well into the following season.
"I couldn't do the things that I was trying to do," he admits. "The strengths of my game like my driving, I was really struggling with. I just had way too many bad shots. It was killing my golf game off, really. When your strengths have gone, that's when it becomes hardest."
It was the toughest of scenarios for someone who had found the game so easy growing up. His stellar amateur career included selection in the 2009 Walker Cup team and victory in the 2010 English Amateur. Fleetwood reached number one on the Scratch Players World Amateur Rankings, and by 2011 he vindicated his decision to turn pro with victory on the Challenge Tour at the Kazakhstan Open.
Such rapid progress was only to be expected. "I knew pretty much as soon as I saw him he was a very talented junior golfer," says Norman Marshall, his first coach at Formby Hall Golf Club.
Related: Fleetwood sees impressive rise after Pro V1x switch
"I have spent a lot of time around golfers who compete regularly at European and world level, but at that time I hadn't seen many. The time I first realised how good he was was when we were doing a drill where we counted results.
"From 75 yards we hit our balls at a target on the range – it looked like an archery target. It was laid flat on the floor with a hole in the middle where the flag was."
Marshall was stunned at the prowess of the young lad. "We used to hit the balls in 25s and see who could hit the most out of 25. I'm very proud to say I was the record holder with 16 out of 25. That was until I asked the eight-year-old Tommy Fleetwood to do it.
"I think it was a 9-iron for him and he hit 21 out of 25. That took the record, it was never equalled and I realised then there was a golfing genius in our midst."
Destined for greatness
Perhaps the person least surprised by this overt indication of rich talent was Tommy's father Pete.
"We used to play at a club called Sefton Juniors at the Park Golf Club and my eldest son used to play there on a Monday night," he told BBC Radio. "Tommy said 'I wouldn't mind a go at that', so I cut him a club down. He hit a couple of shots and I thought 'he's going to be a good golfer'.
"When The Open was at Birkdale in 1998 there was a TaylorMade stand where juniors could go and hit balls," Pete added. "So he had a go and the lads who were on there said, 'we're doing a thing at Formby Hall Golf Club with Lee Janzen, would you like to bring him along'? Then at the end this fella asked if any juniors wanted to hit this golf club. 'If you hit it good you can have it', he said.
So I pushed Tommy forward and he had no choice. He hit a great shot and joined Formby Hall immediately and he's been there ever since."
Related: Is this a new golden age for English Golf?
Throughout his junior career, Tommy's dad would carry his son's clubs and dispense advice. There was one occasion at Clitheroe where caddies were not allowed. The pint-sized Fleetwood cried all the way round as he struggled with a comparatively massive trolley. "He shot 132," his dad laughs.
"Although to this day he contends it was 131!" It was sometimes a tempestuous relationship and they often argued. "We had a fight once," Pete admits with a smile. "And there were England selectors watching."
But nothing could derail Tommy's golfing progress even though he showed signs of talent elsewhere, in the field of drama. "He's always been flamboyant, like my Grandma – we come from a pretty eccentric family," says his mother, Sue.
"My grandad used to keep the milkman's horse in the kitchen, that's how bad it gets!" Sue and Pete Fleetwood were in great demand as the world wanted to know all about the phenomenon their son had become by the time The Open rolled into their home town.
Back to what you know
It might not have occurred, though, if Fleetwood had not returned to Alan Thompson, the coach he trusts more than any other. It was the work done at his teacher's Heswall range that has enabled the player to end the miserable run that threatened his career.
"He's coached me since I was 13," Fleetwood said in the wake of his Abu Dhabi victory. "This is my third stint with him. He coached me through the England set-up, and when I first turned pro, he was coaching for a couple of years. We had a bit of a time-out and he's come back again.
"But actually we've been able to do things we've always wanted to work on. It's hard when things are going well to make the changes that you want. We're still doing it, really. My swing is not where we want it yet, but it's very close, and we've been able to build a swing that we've always wanted to but never actually had the chance. It's been very cool, really."
The final piece of the puzzle was completed by the appointment of his best mate, Ian Finnis, as his caddie. "He caddied for me when I was an amateur for a bit and he caddied for me when I first got on tour. We had always said we would give it a go when the opportunity arose. Not a lot of people thought it would work," Fleetwood says.
They teamed up in the summer of 2016 and initial results were not encouraging. "My game was still nowhere near any good and I was struggling," Fleetwood admits. "We stuck at it and we knew it would come good. He's been a massively positive influence, really. I can't give him enough credit for how good he's been for me.
"Put together with Alan, those two, it wasn't like starting again from scratch but those were the things I needed to do. I was in a bad place with my game, not enjoying it and hitting it terrible. So what are you going to do about it?"
Now it is hard to imagine Fleetwood in such a malaise. Although qualifying has yet to begin, he seems a certainty for a debut in Thomas Bjorn's European Ryder Cup team next year. The fact that he won his second title of 2017 at Paris National, which will host the contest against the United States, merely strengthens Fleetwood's hand.
"Great omens, and it's good to play good golf on the course that the Ryder Cup is going to be on," Fleetwood comments. "Hopefully I'll be there."
Looking forward
More immediately there is impending fatherhood with his fiance and manager Clare Craig expecting their first child, and potential victory in the Race to Dubai having spent most of the year at the top of the standings.
"No matter what happens, come the last event, I'm going to have a chance of winning the Order of Merit," Fleetwood reasons. "It's, again, something new, something I've never done, but something very exciting. Not a lot of people get to do it and not a lot of people win, and it's a very exclusive club of players who have won the Race to Dubai. So to be part of it would be very special and hopefully my form continues and I have a chance."
Already in 2017 life has changed immeasurably for this player of immense potential. His face was on every lamp post around Royal Birkdale during Open week. "I got recognised at the market the other day," he says. Then, with typical modesty, he adds, laughing: "There's nobody fainting in the street as I walk past. So I'm still waiting for those days to come!"
If he keeps calling the tune in the way he has done for much of 2017 it could happen very soon. That really would be cool, not just for him, but for the game of golf in general.
The leading website from the world's oldest golf magazine, we're the go-to destination for amateur and keen golfers alike who are keen to up their golfing game. As well as expert course reviews, news and tips to improve your handicap our golf-focused travel content will help you pair teeing off with your travels in some of the best destinations around the globe.