My golfing hero: Frank Stableford
The good doctor had the perfect medicine for the erratic player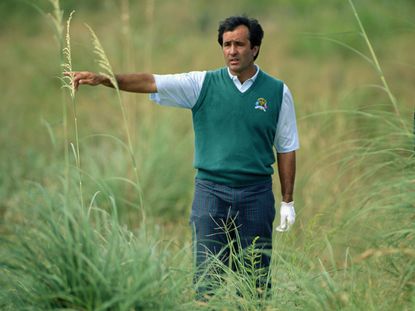 (Image credit: Getty Images)
Golf Monthly Newsletter
Golf tips and expert instruction, golf club reviews and the latest golf equipment.
Thank you for signing up to . You will receive a verification email shortly.
There was a problem. Please refresh the page and try again.
Dr Frank Barney Gorton Stableford has done more to increase the average club golfer's enjoyment of golf than any other person
It is an easy question to ask - who is your golfing hero? But it can be a difficult question to answer.
Seve Ballesteros (opens in new tab) is a frequent reply to such a question. I am not sure how many times a playing partner has remarked, words to the effect of 'I must harness my inner Seve' when attempting a recovery shot from some gruesome part of the golf course they did not want to have hit their golf ball to.
Seve played, in one sense, a game we can all relate to. But in another sense his game is beyond our comprehension.
He is after all the Car Park Champion, the man who won The Open having hit the ball into a car park.
This I can relate to. Well the second part of it anyway. I have also hit a ball into a car park. It was when I was a teenager, and I was from the 1st tee at Sunningdale Ladies. The shot narrowly missed a white Rolls Royce which, I later learned, belonged to Diana Dors.
My golfing hero is someone who also made the game seem easy for those of us who tend to wander off the straight and narrow geographically speaking. To stuff up the odd hole or two in spectacular fashion but still feel one can triumph.
He is Dr Frank Stableford, the originator of the Stableford scoring system.
This system came about through his membership at Wallasey Golf Club. The 2nd hole there was a terror, a par 4 into the wind at which many a card was ruined. Apparently some members after stuffing up this hole, would rip up their card and walk in.
Dr Stableford tried to avoid this, by resurrecting an idea he had suggested at one of his previous clubs, Glamorganshire, and which had been tried there but had not proved popular.
His concept was not new - that each hole should be considered at entity in itself is the central feature of matchplay. It is also the principle of bogey competitions (opens in new tab), which had first been played in 1891 according to the R&A.
He created a scoring system based on the score at each hole. It took off.
The history of Wallasey GC states that "Wallasey held the first Stableford competition on 16th May 1932, and it was an instant success."
The scoring system is not as we currently know it. Bogey golf was then in vogue, and achieving bogey on a hole was awarded 2pts. The rest is what a modern golfer would recognise - 1 over gets 1pt, 1 under 3pts, 2 under 4pts and 3 under 5pts.
However handicaps were not involved in the points for the individual holes. Instead the points were calculated against the scratch score for the hole. Then at the end of the round the golfer added his handicap figure to his points total and that gave him his final score.
For many a club golfer, such a points-based system was just what the doctor ordered. As Henry Longhurst wrote: "I doubt whether any single man did more to increase the pleasure of the humble club golfer".