What makes a good golf club member?
Fergus Bisset believes a golf club would be nothing without its members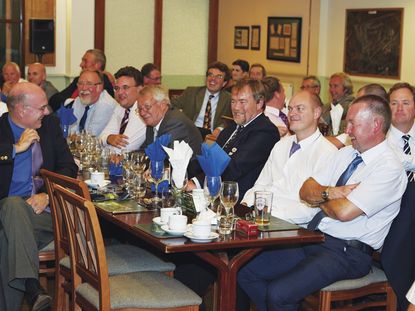 Fergus Bisset believes a golf club would be nothing without its members and each one can, and should, play an important part in ensuring it is as good as it can be
In recent instalments of GM Asks we've put energy into considering what golf clubs can do to make their offering as attractive as possible to prospective, and current, members. As clubs across the country feel the pinch, they must be on top of their game to remain appealing.
But clubs can only thrive with the support of members who are generous with their energies where they can be. You can, without a great deal of effort, play a role to ensure you (and your fellow members) get the very most out of the annual golf club subscription.
How to be a good club member then? It doesn't require you take a position on the committee, merely that you show willingness to participate and contribute for the betterment of the club. If the members push collectively in the right direction, then others will want to be a part of it. Who would join a club where the members clearly don't care if the course is poor and the clubhouse dead?
Let's start with what being a golf club member is principally about – playing golf. Everyone should have an ambition to be viewed as a good playing partner on the golf course. When the medal is drawn you don't want to be the person others dread seeing their name against. Being courteous to all those you play with, in competition and in bounce games, is important: keeping temper tantrums to a minimum, making sure your pace of play is good and paying attention to where your partners' shots go and what their score is. If everyone did this, everyone would enjoy their golf more.
If you're interested in the competitive side of the game, you should try to support the club events where possible. For many, time will be a factor so prioritising which events to play in is important. The season-opener could be a good starting point. Whether a spring meeting or a match, it's a good opportunity to show your support for the club at the start of a new year and simply to be sociable.
At many clubs, the club championship used to garner greater interest from all members. Now the common consensus is, "Oh no, it's just for the low-handicappers." But it's not just the top players who can enjoy the experience of 'the clubber'. When it comes to the final, or the final round, why not go and watch the action and then enjoy the celebrations and commiserations in the clubhouse afterwards? It's a way to see some excellent golf up close and, again, to be sociable with fellow members – to be part of, and proud of, the club.
Continuing with the theme of being a proud member, why not try to participate in the odd match – representing the club uprightly at other venues, developing friendships with fellow members and perhaps earning a little glory. It can't hurt to talk up your club to other golfers you meet, either. You never know when someone might be considering rejoining or switching allegiances: "It's a great club with so much going on, and the course is looking particularly good this year."
The greenkeepers have a big job on their hands to keep that course presented as well as it can be. Do what you can to make their job a little easier by repairing any pitch-marks you see, filling divots on the tee, picking up litter and so on.
Supporting your professional could make a difference. Yes, you can probably find the best price online, but can the computer know/examine your game, make recommendations accordingly and check on your progress post-purchase? If the club professional feels he or she has the backing of the members, their enthusiasm and drive will be maximised and the club will benefit.
The golf club can only prosper as a social hub if the members make use of it. Going in for a drink after a round might not seem like much, but not only does it keep the bar takings ticking over, it also maintains a good and appealing ambience at the club. Any visitors who might be playing will report back on the lively atmosphere. Perhaps even a potential new member considering whether to join the club might be swayed.
If you're organising a family lunch or a social get together, consider using the club. It should be a friendly, welcoming and well-priced venue, so make use of it. You might try to attend special events that are organised. Fundraisers, dinners and quizzes depend on receiving backing from the membership as a whole.
Clubs run by committee need help from the membership. This should come in the form of advice rather than criticism. It's easy to criticise and we can all point out failings, but it's never helpful to do this without offering a solution or alternative. If you can see a way the club could make an easy improvement, it's your responsibility to highlight this. If there's an obvious way you could share expertise and experience from your working life, then why not do it?
Being a member of a golf club can, and should, be a life-enhancing experience, but to a large extent you'll get out of it what you put in. If you're a friendly, encouraging, welcoming and involved club member you'll find the experience considerably more rewarding, and you'll play a crucial role in securing the club's future.
Photograph: Duncan Nicholls
David joined Golf Monthly in 2015 as a content editor for the magazine and regularly contributes to the website. He has worked in magazine publishing and editing since 2003. He is a keen golfer and up until recently was a member of Blackmoor Golf Club in Hampshire. He has covered various big events and tournaments for GM, the highlight of which was witnessing Tiger Woods win his 15th Major at Augusta in 2019. Email: david.taylor@futurenet.com