Rediscovering The Joy Of Golf
After years away from the game, Emily Stacey rediscovers the joy of golf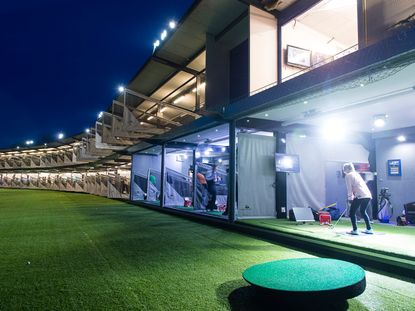 After five years away from the game, Emily Stacey rediscovers the joy of golf, which makes her wonder why she left it so long
Six months ago, amid the chaos of life in my mid-20s, the struggle to find a sustainable work-life balance had finally begun to take its toll - I felt in need of an escape. Looking for inspiration, I asked around. "I do hot yoga," a friend suggested, explaining how the process of withdrawing into a Zen-like state really was the ultimate stress-buster. The idea sounded promising until it transpired that the local class she attends starts at 6:30am every Saturday in a 37-degree heated sauna. Perhaps not for me. Then came the offer of joining a running club. "You can start off by jogging to ease yourself in," a colleague explained, "though we do encourage members to aim for the full 10K every week." Again, not quite what I had in mind. "Have you thought about… golf?" an old school friend asked, smiling as she slowly recalled the stories I'd relayed about my days causing mischief on the driving range.
I had grown up on the golf course. Through the tears and tantrums of my junior years I'd soon moved on to laughs and lunches with the ladies. Throughout my teens I'd always harboured the belief that I was destined for the LPGA, promising my parents that the small fortune they'd spent on lessons over the years would pay off in the end. Sadly, though, my career plans were quickly thrown into question when it became clear that I was no closer to obtaining a single-figure handicap than I was to finishing a round under par around the time of my 18th birthday - I was probably going to need a degree after all. During my university years I'd read the blogs and watch the Majors, but never quite made it onto the course. It had, however, brought me such joy back in the day, working wonders as a distraction from the stresses of everyday life. I had to give it another shot.
"Remember the Scotty Cameron putter?" I asked my father, calling out of the blue. "Emily, we all remember that putter," he sighed, picturing the lengths I'd gone to in acquiring it many years ago. "Didn't we Ebay it in the end, though?" I vaguely remembered that at one stage I had wanted to trade it in. "No, it's still in the garage." "Fab," I replied. "Because I'm going to need it this weekend."
You are always met with skepticism when you appear on the range as a woman in the presence of a predominantly male crowd. The raised eyebrows and sly smirks suggest something along the lines of "Blonde with a 7-iron? We're in for a laugh..." Still, having spent years perfecting the art of the golf swing, I was reasonably confident that I'd demonstrate some signs of ability upon my return. Nervously clutching an 8-iron, I took to the mat. The first shot I fluffed and the second went wide; it wasn't until my tenth attempt that I finally felt the magic of impact, instantly recognising the buzz that follows a perfect strike. Thirty balls in, I stepped back, suddenly overwhelmed by a sense of nostalgia. It felt strange to be retracing my footsteps having spent years away from the game. I was so different yet everything else appeared the same. Even the wisteria outside the clubhouse had barely grown since I'd left.
"Hey you!" A familiar voice stopped me in my tracks. My old pro, it seemed, could not have been less surprised to see me back on the range, despite the five-year absence. "This game, it's shaped you in so many ways," he revealed as we caught up over coffee. It didn't take long before I began quizzing him on swing mechanics. "We still do roll up lessons. Ladies are on Thursdays, 10am-12pm." Thursdays, as it happened, were quite convenient for me.
As I walked away, I wondered whether the ladies from my old crowd were still attending those weekday mornings. "Emily! How good to hear from you! Mary and I are still with the group. It would be lovely to see you sometime," said Maureen. I paused; did I really have the passion to give it another go? "How about next Thursday?" I finally replied.
The thing with roll ups is that each week you cover a different aspect of the game – you can't just rock up with a driver expecting an hour on the range if the lesson is on putting, as I soon remembered when we were escorted to the practice greens. I had, however, come equipped with my Scotty Cameron. "Is this the one that…?" James, my pro wondered. "Yes, yes, it's that one…" He already knew that the putter had been used no more than twice in ten years and I'd since regretted every pound it cost. Surprisingly, the putting went better than expected and being back with the gang was just the lift I needed. In the past I'd always focused on the long game, never having much time for the greens, but it occurred to me that if I nailed the short game this time I'd have a better chance of crawling up the handicap ladder.
As fun as group lessons are, I was dying to get back on the course, though terrified by the prospect at the same time. "Your problem was always commitment," James bluntly informed during a one-to-one lesson I'd arranged a week later, hoping to resolve as many faults as I could in one go. He always did know how to rile me. "I haven't got time for this," I snapped back, re-enacting the sulky teenager once again. "It's not down to me that I never became the junior wonder of the club." Tensions aside, things began to improve. Perhaps it helped that James had been the first to teach me – it seemed far easier than I'd imagined to just pick up where we'd left off. Helpfully with golf it does appear that once you've mastered the basics it never really leaves you, no matter how long you stay away from the game. Some would say that it even helps - what better way to erase the constant hum of swing thoughts than a break away from the range?
One memory that has never left me was the day I almost broke par on a challenging 9-hole course not far from Woking in Surrey. I'd reached the final green and needed to sink an 8-foot putt. Logic told me that I'd made similar putts before, it was clearly makeable and the green was easy to read. The trouble was, I was positioned in direct view of the clubhouse terrace, which at noon was in full swing with an array of loitering spectators. And so I missed. Of course I did. And it was the hardest defeat I've ever had to swallow.
This was the course, then, that I chose to return to for my first trial back in the game. I decided to go alone, eager to settle unfinished business. If it's difficult to make a putt in front of a clubhouse terrace at lunch hour, it's even more challenging to tee off before a men's four-ball, not least when you're female and alone. It didn't take long for the boys to approach me. "We'd ask you to join us but we're already a four. Are you OK on your own?" I assured them I'd cope.
Moving on after parring the 1st, they soon appeared far more preoccupied with their game than they were mine, which eased the pressure. By the 6th I'd parred every hole, then followed with a birdie at the par-3 7th. By the time I'd reached the 9th I'd bogeyed the 8th, meaning that to break par (as was the case all those years ago), I needed to par the last. "Putt to make it," I told myself, recalling the quotes of Dr. Bob Rotella whose books I'd treasured as a teenager. Along with Putting Out Of Your Mind, it was also Rotella who wrote Golf Is Not A Game Of Perfect, because it isn't, which is why I once again fluffed the 9th to finish one over.
This time, though, the result didn't hurt half as much. At the time of my last attempt on that course I'd been practising every day spending endless hours on the range, and so poor scores were naturally taken badly. However, given the years that I'd spent away from the game, to come back and achieve a similar score having only attended a few rolls ups, surviving the round just over par this time around was fine by me. As I drove out of the car park a hovering sign caught my eye. Was I interested in a years' off-peak membership with the first two months free? Later that day I decided I was… And it's been the best money I've spent all year.
David joined Golf Monthly in 2015 as a content editor for the magazine and regularly contributes to the website. He has worked in magazine publishing and editing since 2003. He is a keen golfer and up until recently was a member of Blackmoor Golf Club in Hampshire. He has covered various big events and tournaments for GM, the highlight of which was witnessing Tiger Woods win his 15th Major at Augusta in 2019. Email: david.taylor@futurenet.com