Greenkeeper Q&A: 'We Used To Play Cards In The Winter. Not Anymore'
We caught up with the Ben Edwards, course manager at West Hill Golf Club in Surrey, for a fascinating Q&A on golf course maintenance...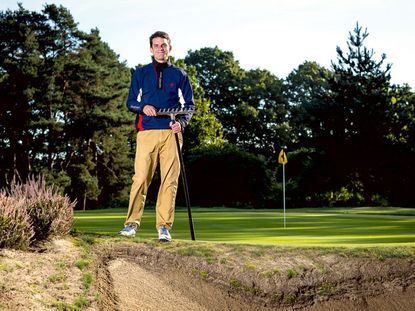 We caught up with the Ben Edwards, course manager at West Hill Golf Club in Surrey, for a fascinating Q&A on golf course maintenance...
Greenkeeper Q&A: 'We Used To Play Cards In The Winter. Not Anymore'
We caught up with the Ben Edwards, course manager at West Hill Golf Club in Surrey, for a fascinating Q&A on golf course maintenance...
In terms of the whole year, what has to be done when?
Greenkeeping has changed from when I started. The winter months used to be quite quiet, but now we have a schedule of projects that need to be undertaken in house from January through to December. Through the winter we have a bunker refurbishment programme. Then there's tree work, drainage work and tee building. We generally do those projects from October through to March.
Related: The life of a modern day greenkeeper
… when the course doesn't need quite so much tending?
Yes, our cutting regimes are reduced depending on the weather, how warm it is and whether or not the grass is growing. But expectation levels have changed massively just in the short period that I've been doing greenkeeping. We used to play cards a lot during the winter – not here, but under my old boss! – because that was the way it was.
Has that come from self-motivation or committees?
A bit of both. There are more younger course managers now who are more driven, not at trying to beat each other, but to excel at work.
How often might you mow the fairways and greens in the winter?
It's weather dependent, but maybe the greens twice a week and the fairways once a week. If the weather turns, you might not be able to get out there at all. In summer, the greens would be cut and/or rolled every day including Saturday and Sunday, and the fairways would be cut three or four times a week.
When does the season really start for you?
We have the Father and Son tournament at the end of March or in early April, and that pushes us to try to get things moving. You have to wait for Mother Nature to give us a bit of warmth to get some growth on the greens, but we generally have it in pretty good condition by then. We don't do our main maintenance until August – all the coring and that kind of thing.
Related: West Hill Golf Club Course Review
Do you shut the course for that?
It's not closed, but it's as good as closed because we have temporary greens when we're working on the main greens. We also core fairways, tees and approaches in August – people are on holiday a lot, and it's the best time for the grass and course to recover from that kind of work. It works for us, and the members are generally accommodating.
Anything major in the main summer period?
It's just maintaining it really. When the height of the summer comes and it's warm, we manage the greens using moisture meters – we don't just pump water on them. We know exactly what moisture is in the green and only water accordingly by hand. Because of the type of greens we have – push-up greens – we don't need to put loads of water on them. They basically brought all sorts of soil in originally and made it so that the greens held water. Now we're trying to do the reverse because we don't want them to hold water, but because the soil is there, it's difficult.
Related: Golf Monthly UK&I Top 100 Courses
Tell us more about aeration, verti-draining, coring, scarifying…
We use a deep scarifier on the greens in August. It removes the organic matter, or thatch, and infills with kiln-dried sand and seed. Thatch is compressed dead organic matter, which almost becomes like a mat. It's not good because the roots then don't go down as far as they need to. As far as coring and verti-draining, we hollow core the whole course every year to a depth of four inches, which enables us to get air into the ground. Our verti-drainer goes down 12 inches, so big tines going down, but that's different to coring. Verti-draining is just to get water moving through; coring is to remove thatch.
Heather is quite difficult to manage, isn't it?
Heather is a big part of this course and we're doing all we can to keep it that way. We spend a lot of time managing the heather, trying to maintain it and regenerate it via tree work and scraping off the grass where the heather used to be. The problem is that grass encroaches, overtakes the heather and before you know it you've got a field, not a heath. If you scrape an area, you won't see anything for a couple of years sometimes, but we're having good success with the areas we have done. Burning it back is actually the best way to do it by a mile, but obviously you can't do that on a golf course!
Make sure you follow Golf Monthly on Facebook, Twitter and Instagram
The leading website from the world's oldest golf magazine, we're the go-to destination for amateur and keen golfers alike who are keen to up their golfing game. As well as expert course reviews, news and tips to improve your handicap our golf-focused travel content will help you pair teeing off with your travels in some of the best destinations around the globe.