Florian Fritsch: The European Tour Pro Who Doesn't Fly
In a year that saw four maiden Major winners, Florian Fritsch achieved something almost as impressive by securing a European Tour card without flying to a single event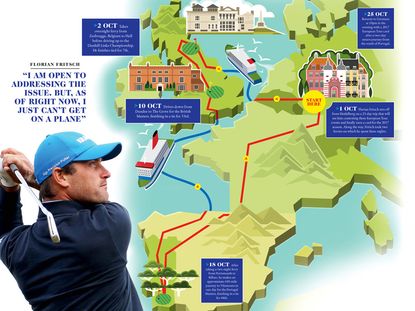 In a year that saw four maiden Major winners, Florian Fritsch achieved something almost as impressive by securing a European Tour card without flying to a single event. The German speaks exclusively to Tony Rushmer...
Florian Fritsch: The European Tour Pro Who Doesn't Fly
The 2016 European Tour circuit took in 47 different tournaments in 27 countries and five continents. Imagine how difficult it would be to compete, let alone secure a card, on this global tour without being able to fly. Well, that's exactly what German Florian Fritsch did last season.
During 2016, he trekked by boat and car across Europe to contest a limited number of tournaments and – against the odds – somehow emerged with full playing rights for the new season.
In a year that saw Danny Willett win The Masters, Justin Rose take gold in the Olympics and Henrik Stenson triumph in a thrilling Open, Fritsch's own achievement – 101st on the Race to Dubai from just 12 starts – may well have gone unnoticed by many golf followers. But the circumstances surrounding it make the feat arguably just as worthy. It's time to meet the man who really can claim to be golf's longest driver...
The origins of Fritsch's issues with flying can be traced back a decade or so ago to a short hop from Frankfurt to Turin. Before that, he says getting on a plane and flying was just like taking a bus – no problem.
"We were just above the Alps and suddenly it started rocking really hard," the 31-year-old from Heidelberg recalls. "I had our national coach sitting next to me and asked him, 'What would happen if something goes wrong?' His answer was quite simple: 'If anything happens, it will be over quickly'.
"That started me thinking about the issue of flying. At the beginning, I was just a little interested. It became anxiety, discomfort, fear and eventually turned into a phobia – even though I struggle with the term 'phobia' in relation to flying."
Fritsch continued to board planes and turned professional a year after he graduated from the University of South Carolina in 2008. But by that stage his aversion was beginning to have an impact on his career. A Challenge Tour player, he was due to fly to Kazakhstan but in the end couldn't manage it, letting the plane take off without him. In 2010, a scheduled one-stop journey to an event in Kenya underlined that here was a problem that simply wouldn't go away.
"I flew from Munich to Zurich and in Zurich airport I thought, 'Okay, if I get into this one, I have to get into another plane to get back' – there was no plan B returning from Kenya! Or at least it would be very difficult to get back from there without flying. So I made the decision at that point that I was not going to fly any more and quit playing golf."
Incidentally, there was a very happy postscript to the aborted 2010 Kenya trip. Fritsch took a train from Zurich back home and – via the friend that picked him up – ended up meeting his future wife, Inga, the same day. The Fritsch family has now grown to four with the addition of a young son and daughter. "So, in the end, my fear of flying actually gave me a lot of nice things," Fritsch says.
Fortunately, too, it wasn't long before his ambition to play tournament golf was back and he earned a tour card at the 2010 Qualifying School. But while a hunger to compete at as high a level as possible had returned, his concerns about flying at over 35,000 feet "confined in that little metal piece of tube" had not abated.
Fritsch tried to fly right up until 2012 when he decided it had just become too much to put up with. For him, the stress of an impending plane journey was triggered long before he approached an airport.
"The symptoms would start probably two weeks prior to that flight," he says, discussing his physical response in the build-up. "I'd start getting, not depressive, but depressed – in terms of I'm going to be very down, have a very low level of energy, be easily aggravated and just be very quiet and reserved. The closer it gets the more emotional I get."
And so Fritsch opted instead for a life on the road, something that not every player could adjust to. In fact, probably only a minority could cope with the days behind the wheel or on a ferry – a mode of transport that Fritsch also calls on. It's helped that he possesses an enquiring mind and one that's moved by the sights as he drives from event to event, often away for three weeks or so at a time.
"I'm very interested in history – Europe offers a great amount," he explains. "So wherever I go, I kind of know this or that happened at that place. Or this or that is at that place. For example, I went from Geneva to Ireland in 2014 for a Challenge Tour event and knew I was coming through Normandy. So I was like, 'I've never been to the D-Day beaches, I'm going to go to Caen and Carentan and I'm going to go visit a German soldiers' cemetery', which was very emotional for me. That kind of started me investigating my own family history.
"I can truly now say that I've seen Europe. When you fly over it, you don't really see Europe. Right now, I'm at a point where I still enjoy it, get to see a lot of things, take that interest in history – also geography. Spain, Italy, going through Sweden, there are so many magnificent places. In Sweden, at that big lake (Vattern) at Jönköping, I had a coffee, enjoyed the view and took a couple of pictures."
His tour of the continent has not been without its funny moments – take the time he got mistaken for a courtesy car driver in his white BMW 320d Touring at the last Nordea Masters, staged at Bro Hof Slott near Stockholm.
"I'm done with my Friday round, drive out of the club and suddenly a guy storms towards my car and stops it," Fritsch remembers. "He gets in the back and tells me to drive him to the VIP parking. I decided to roll with it: 'Yes sir, of course, just let me know in which lane you are and I'll take you right there'."
The situation played out with both men talking about their respective days. Fritsch, when asked about his, mentioned that he'd played golf earlier. "He goes, 'Oh, so you play golf too?'" The penny dropped when his driver outlined his favourite hole at Bro Hof's tournament layout, the par-5 15th.
"He's like, 'So you're a player?' 'Yes sir, I am – I'm one of the competitors, I shot five-under yesterday and one-under today'. That was my little shuttle driver shift in Sweden!"
Fritsch has also had a host of travel companions from the circuit as he has made his way to and from tournaments. And, at times, he has even found some of his tour acquaintances jealous of his travel status.
"A lot of people tell me, 'Man, I wish I could drive your car right now. I'd much rather drive eight hours than to go to the airport. My flight is leaving at 11pm and I'm going to get there at 1am. Then I have to get a cab or whatever'. So very often I probably have an easier departure than the guys who fly."
Fritsch also derives other positives from his non-flying status. There are the savings he makes on not having to jet out to far-flung destinations and caddie fees. But perhaps most importantly he gets to step away from tour life for a few months every November.
Unlike most of his peers, Fritsch is therefore able to spend a lot of downtime at home with his family. He can also recuperate and refresh in a way that others from the tour – and Q-School and Challenge Tour graduates – may not feel able to as they head instead to South Africa, Australia and now Hong Kong for the new-season tournaments.
Fritsch is happy with his situation. The mileage per season so far has been between 20,000 and 30,000 ("I've had a one-year lease car each year and I see, after 12 months, how many miles I have"). He doesn't believe that all those hours and days driving place him at any disadvantage to his fellow competitors.
"Luckily – or maybe because I just accepted the fact that I have to do this – I don't really suffer from physical strain. On a mental level, I've never done a drive, stood up the next morning and said, 'I just can't play today'," he says.
With a full card for 2017, Fritsch expects to build a schedule of around 18 events. At this stage, he doesn't imagine he'll be flying to any. He has made 12 separate attempts (he's counting) to combat his fears – the latest in 2016 with somebody over Skype. "That didn't really work out too well," he admits. However, he is not ruling out the possibility of flying once again.
"I am open to addressing the issue. I cannot make a statement like 'I will never fly again' because I don't know what the future holds. As of now, I am not capable of getting onto a plane. I will plan accordingly with ferry and car."
Whatever his mode of transport, Fritsch has shown enough ability in recent times to suggest he can discover the route to the winner's circle in 2017. He certainly feels a victory is within his capabilities one day.
"I was close a couple of times," he says. "If I just keep putting myself into position, it will happen at some point."
After all the obstacles he has overcome so far in his career, you wouldn't back against him...
The leading website from the world's oldest golf magazine, we're the go-to destination for amateur and keen golfers alike who are keen to up their golfing game. As well as expert course reviews, news and tips to improve your handicap our golf-focused travel content will help you pair teeing off with your travels in some of the best destinations around the globe.