Competitive or social golf: Which is better?
Do you prefer to play in a competition or is a purely sociable knock with friends more your thing?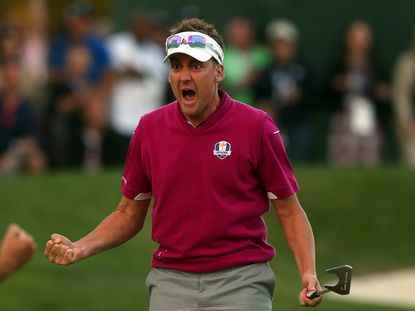 (Image credit: Getty Images)
Do you prefer to play in a competition or is a purely sociable knock with friends more your thing? Fergus Bisset and Jeremy Ellwood argue the toss here.
Competitive golf says Fergus Bisset
Golf is a sport. Many people enjoy it on a solely social level and that's fine. But, first and foremost, it's a sport where players compete against the course and each other, trying to better previous performances or outplay an opponent.
To me, the competitive aspect of golf is one of its most appealing facets. Striving to beat a score or lower my handicap is a key reason I go back to the links again and again. I also see the Medal as the best way of testing myself in a truthful manner. When my name and score are up on the results board for all to see, I'm forced to be honest about the state of my game.
When there's nothing to play for golf can become boring. Just chapping it round with a few pals isn't exactly a challenge. The competitive round is the ultimate test – yes, it can be intimidating but there are few things more rewarding in the game than a well-constructed Medal round. It gives you a buzz. The nerves jangle on the 1st tee, the three-footers seem more like 10 and your heart is in your mouth as you play a final approach towards a packed clubhouse. It's what makes golf exciting.
When you complete a successful competitive round people will come up to you to offer their congratulations: "I heard you had a nett 67 in the Spring Meeting last week. Great shooting." You'll feel proud of yourself and may even have a trophy to show for your efforts. Nobody really cares how you get on in a bounce game. You're unlikely to be accosted in the locker room by someone saying, "hey, aren't you the chap who scored 37 Stableford points in your weekly knock around last Sunday?"
Playing competitive golf offers great camaraderie. Turn up on a Saturday and battle round your home course with friends, acquaintances or maybe just someone you've met on the day. Back in the clubhouse everyone will be discussing the pin position on the 14th or the state of the bunker to the right of the 6th. It's an excellent way to become involved in the club. If you don't play in the Medal you're missing out.
One of the most motivating things about competitive rounds is the fact they count for handicap – the key indicator of how proficient you are at our great sport. A game is much more exciting and demanding when your handicap is on the line. The lip-out on the 2nd could mean you miss the buffer zone by one; the birdie at the last could mean a 0.2 cut. Any serious golfer aims to get their handicap as low as they possibly can. To do this, you must play regular Medals. If you only enter a couple a year, you'll put too much pressure on yourself and your handicap wont give a true reflection of your golfing ability.
Competitive golf allows you to play other courses off the back pegs for a discounted rate. Enter any club's 18 or 36 hole Open and you'll experience it in its peak condition, your entry fee will often be less than half a normal green fee and you'll have the opportunity to win prize money. I can't think of any purely social golfing situation offering such an array of incentives.
Let's not forget matchplay – another great way to get involved in the club and meet new people. Enter the club knockout and you'll likely be drawn against someone you've never played with. They could become another golfing buddy or even a close friend. Plus, if you progress through the rounds, people will start to notice your name and will know who you are when you're sat next to them at the Christmas dinner.
Would you bother going to a casino that only uses Monopoly money? Okay, you might have a good time playing the tables but there'd be no element of risk, no adrenaline surge. Sometimes you just want to take a chance. This is what competitive golf offers us - a chance to cut our handicaps, a chance of glory, and a chance of excitement.
Social golf says Jeremy Ellwood
Modern life is ultra-competitive, isn't it? Almost from the cradle to the grave we're in never-ending competition with each other for the best secondary schools, best university courses, best jobs, best salaries, best houses and even best retirement homes. In the modern education system, it all now starts at such a ridiculously early age that by the time we become adults we've been going at it head-to-head with others - directly or indirectly - for years. All very tiring, isn't it, so why on earth would you want to let such dog-eat-dog attitudes prevail in your leisure time too, and particularly that part of it spent on the golf course?
Of course, if you're a member of a club and you wish to maintain a handicap you should, and indeed, must embark on a modest competitive schedule – perhaps once a month. But on those other three weekends, or midweek outings, isn't it better to keep things as sociable as possible with just a couple of quid or a pint at most riding on the outcome of a friendly fourball with your best golfing mates?
This isn't to do with those misguided anti-competition sentiments advocated by wishy-washy liberals, who think the very phrase "top of the class" is a complete no-no, and who strive desperately to get the egg and spoon race or parents' sack race banned for fear of the lifelong emotional trauma little Johnny might suffer if he trails in last, or has to watch his old man trounced by Timmy's dad. No, it's simply about finding a healthy balance. With competition pervading all areas of modern society so deeply, if you deprive someone of it completely, they may not know how to survive in the cut-throat jungle. But it is precisely because we are obliged to behave so competitively in the rest of our lives that we should seek to steer clear of throwing our weekly game of golf into the cut-and-thrust mix too.
Are you putting in enough hours in the race for promotion with Timpson, or in the fight to stave off redundancy? Are your house and car keeping up with the Jones's? Do your neighbours' kids go to better schools than yours? The problem is that everything you say or do seems to count either for you or against you in life's hard-fought race. If you let that mentality then spill over into your weekend golf, where is your escape – your regular pit-stop to refuel with life's real values of friendship, camaraderie and yes, even laughter?
There's certainly no room for laughter in the monthly Medal, and little room for banter either, once everyone is in that "must beat my handicap; mustn't go up 0.1" tunnel-visioned mindset. Yes, we might be playing with friends, but that friendship is barely of relevance as we set our sights single-mindedly on our competitive goals for the day, leaving us only two potential outcomes - success or failure, and certainly no room for fun.
In a social round, it's just you and your golfing chums having fun. Self-deprecation and mickey-taking are very much the order of the day, with the golf itself playing second fiddle to the good time you're all having together after another gruelling week grafting away for your family's future.
"Does your husband play?" someone chirps up as you leave a 15-footer six feet short. The same comment in the monthly Medal would be a major faux-pas, met with silence and frosty glares that say "there's nothing even remotely funny about this; if I miss that one I've got no chance of playing to my handicap and this will all have been a complete waste of my precious time!"
No, constantly playing competitive golf is much too much like hard work, and as we know, all work and no play makes Jack a dull boy. So stick to friendly, social golf if you don't want to be thought a dullard who can only ever function when there's something at stake.
Fergus is a golf obsessive and 1-handicapper. Growing up in the North East of Scotland, golf runs through his veins and his passion for the sport was bolstered during his time at St Andrews university studying history. He went on to earn a post graduate diploma from the London School of Journalism. Fergus has worked for Golf Monthly since 2004 and has written two books on the game; "Great Golf Debates" together with Jezz Ellwood of Golf Monthly and "The Ultimate Golf Book" together with Neil Tappin (also of Golf Monthly)... Fergus once shanked a ball from just over Granny Clark's Wynd on the 18th of the Old Course that struck the St Andrews Golf Club and rebounded into the Valley of Sin, from where he saved par. Who says there's no golfing god?