7 Ways To Control Your Golf Rage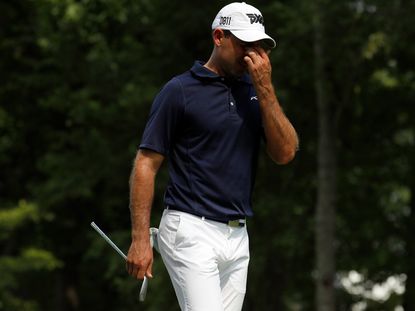 (Image credit: Getty Images)
Whether it is bought on by a bout of the shanks or by yet another three-putt, an explosion of golf rage is a sure-fire way to make everyone in your group feel uncomfortable, so use these tips to control it
Whether it is bought on by another lost ball or a blob on the 18th, an explosion of golf rage is a sure-fire way to make everyone in your group feel uncomfortable, so try and use these seven tips to control it.
1 - Put Down Anything You Can Throw Or Break
From expensive clubs you can snap to a stand bag you can kick, we advise you put down anything you might be inclined to either use as a weapon or that might bear the brunt of your golf rage.
2 - Take 10 Deep Breaths
This is a great tip for overcoming any highly emotional situation. Take the deep breaths so that your stomach slowly expands, rather than your chest. This helps the oxygen enter your bloodstream more quickly and in turn helps you to calm down faster.
3- Laugh It Off
Some well injected humour is often the best way to diffuse an angry golfer. To get away with this we recommend playing a few games with someone first so you can successfully gauge how they'll take a gentle ribbing in this situation. If you're the one suffering with golf rage, cracking a joke at your own expense is always a great way to cut through any growing tension within your group.
4 - Remind Yourself It's Just A Game
Unless you happen to be a full-time playing professional who is reading this, the success of your round shouldn't have a lasting effect on your life. So if you find yourself heating up, it can be worthwhile to put your current situation into some perspective.
5 - Get It Off Your Chest
Whether it's a rules dispute or slow play clash, try to be as polite as possible and explain clearly to the person involved why you are annoyed. Be sure to limit your discussion to the very specific cause and steer clear of generic issues, personal insults and unfounded allegations that could escalate things further.
6 - Learn To Listen And Tolerate
Unless your anger is self-inflicted by poor play, the object of your anger will probably have a few thoughts of their own. To fight a head-off moment you must learn to let them say their piece and even to try to see the situation from their point of view. While this might be very difficult, it'll hopefully encourage them to follow suit and help diffuse the situation.
7 - Forgive Yourself
We often put way too much pressure on ourselves and only make it worse by setting the bar unrealistically high. For example, did you know the average PGA Tour player in 2017 only hit 60% of fairways (11 per round), while from 10ft they only made 40% of putts. Yet if we miss six of 10 putts from 10ft during a round we'll often come off the course cursing our bad putting, which just isn't statistically true.
Jake O'Reilly specilaises in equipment coverage, and joined the Golf Monthly team in 2013. Before this he graduated from the University of Huddersfield with a Sports Journalism and Media degree, and worked at a number of British golf magazines. Follow Jake on Twitter
@jake0reilly