7 reasons golfers are athletes
Conclusive proof that golf requires a high level of athleticism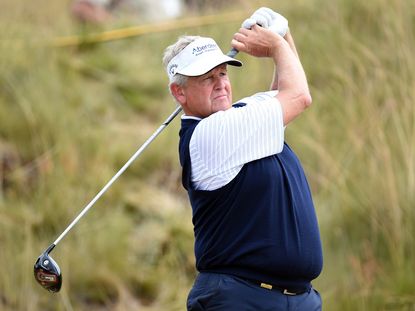 (Image credit: Getty Images)
Golfers and the sport of golf sometimes come under fire from extremists who claim our great game does not require athleticism. This, of course is absolute nonsense and here we detail seven key reasons why golfers are, most certainly, athletes.
1 – Power
Those who have ever attempted to extricate their ball from knee-high bund will recognise just how much power this requires. And most of us who play average golf spend a large percentage of our time in the knee-high bund, meaning we have ample opportunity to increase our power output through repeated hacking. The problem is that this creates a self-perpetuating downward spiral. The more time you spend in the knee-high bund, the more powerful you become. This in turn allows you to generate more clubhead speed from the tee and hit it further into the knee-high bund…
2 - Strength
Snapping a golf club with style takes considerable strength. Yes, you can use your thigh to help out, but it looks so much cooler if you can do it with your bare hands. Only the very strongest could pull this off, but you'll see many golfers who are more than capable of such an impressive feat. Hence, golfers clearly possess above average strength.
3 – Speed
When you find yourself in a deep pot bunker with no hope of escaping forwards, the sensible thing to do is play out sideways or backwards. But you're not going to do this are you? You're going to open the face of your sand wedge so far that it's beyond horizontal, meaning there's absolutely no way you're going to get the leading edge under the ball. You'll catch it horrendously thin, (possibly with an element of hosel) and the ball will fly at pace, straight into the revetted face. It's here that a golfer's speed comes to the fore. You must display Ninja-like reactions if you're to avoid being struck as the ball rebounds. Golfers in bunker meltdowns have set some of the fastest reaction times ever recorded in the human world, and many have successfully avoided penalty strokes by doing so.
4 - Flexibility
The detractors who doubt golfers' athletic abilities have clearly never tried to put on a pair of waterproof trousers wearing spiked golf shoes, while holding an umbrella and munching on a Mars bar simultaneously.
It's fair to suggest that they also, most likely, have never attempted to play a ball out of a stream while standing three feet above it on the bank.
Prior to the 1972 Olympics, Olga Korbut spent two months studying secretly obtained film of amateur golfers from the UK to gain a greater understanding of the true potential of the human body to stretch and bend.
5 - Stamina
When you've been out on course for 4.5 hours, have already hit 96 shots and still have three holes to go, good stamina is of crucial importance. Conventional "endurance athletes" will never experience anything close to the examination of physical and mental fortitude that club golfers go through each week in the Saturday Medal.
6 - Dealing with the hangovers
Only the very fittest, those with the most incredible metabolisms, can recover suitably to complete a successful 18 holes of golf after the inevitable pre-round "opening ceremony" that will have taken place the night before. Non-athletes simply wouldn't be able to take the club back on the first tee after completing the consumption of 11 pints of strong lager, a "brandy shandy," two "cheeky vimtos" and a Baileys, merely a few hours earlier.
7 - Pace Walking
Although the game of golf often takes quite a long time, and there are plenty of opportunities to saunter along the fairways as though out for a stroll on the promenade, there are a few situations where the golfer can show a turn of speed that would put Olympic pace walkers to shame. One good example of this is when you've fired your tee shot into nasty looking rough (or possibly into a gorse bush) and you're desperate to find it. Obviously the maximum time you have to search for it is five minutes and that starts when you begin to look, but for some reason you always feel your chance of success will be maximised if you can reach the vicinity of its whereabouts as quickly as possible. Golfers facing a potential lost ball scenario have been known to trudge through the rough at speeds of up to 25km per hour.
So that's pretty conclusive then. Golfers are definitely athletes – in fact, they are athletes of the very highest calibre. So take that golf's critics!
Fergus is a golf obsessive and 1-handicapper. Growing up in the North East of Scotland, golf runs through his veins and his passion for the sport was bolstered during his time at St Andrews university studying history. He went on to earn a post graduate diploma from the London School of Journalism. Fergus has worked for Golf Monthly since 2004 and has written two books on the game; "Great Golf Debates" together with Jezz Ellwood of Golf Monthly and "The Ultimate Golf Book" together with Neil Tappin (also of Golf Monthly)... Fergus once shanked a ball from just over Granny Clark's Wynd on the 18th of the Old Course that struck the St Andrews Golf Club and rebounded into the Valley of Sin, from where he saved par. Who says there's no golfing god?