20 Golfing Footballers
Here we take a look at 20 footballers who have swapped the pitch for the golf course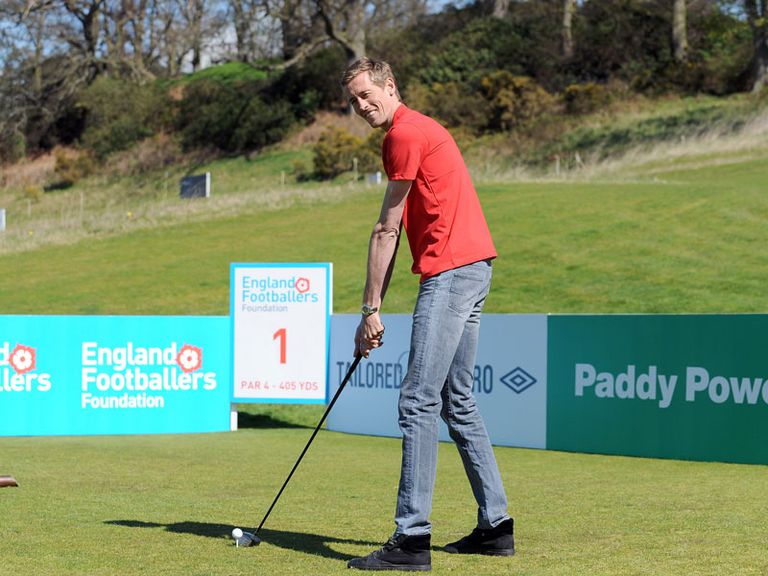 (Image credit: Getty Images)
Here we take a look at 20 footballers who have swapped the pitch for the golf course
20 Golfing Footballers
After Manchester City manager Pep Guardiola said he would be on the golf course instead of watching Manchester United's defeat to West Brom (which meant his Man City side won the league), we take a look at other footballers who have swapped the pitch for the golf course.
Pep Guardiola
"Bogey, double-bogey, birdie" were the only scores Guardiola wanted to hear on Sunday afternoon. The Manchester City boss teed it up with his son and World No. 12 Tommy Fleetwood at Sandiway Golf Club in Cheshire. City's rivals United suffered a shock defeat to bottom club West Brom to hand City the Premier League title.
Guardiola is not the only famous face in football who has graced the fairways.
Gareth Bale
The Real Madrid star recently shared images of his back garden. He has created his own golf course with replicas of famous holes from TPC Sawgrass, Royal Troon and Augusta National. The 5 handicapper regularly tests his skills on the iconic 17th at Sawgrass, the 12th at Augusta and the 'postage stamp' 8th hole from Troon. Bale also played in the celebrity golf cup at Celtic Manor last year.
Andriy Shevchenko
The former Champions League and Ballon D'or winner Shevchenko recently tried to make a career as a golf professional. After retiring from football in 2012, the former Chelsea striker played in a Challenge Tour event in 2013. However, he missed the cut after shooting 84 and 86 to finish 26-over-par in the Kharkov Superior Cup.
Harry Kane
The Tottenham and England forward is a keen golfer and amongst the best in the current England squad. Kane plays to a handicap of 4 and regularly shoots level par rounds. Kane plays at Centurion Glub in Hemel Hempstead. Last summer, he ventured to Scotland to play Turnberry just before the start of the Premier League season.
Wayne Rooney
England's all time leading goalscorer regularly gets away from football on the golf course. The Everton forward plays off a 16 handicap. He was recently credited with Rory McIlroy's success at the Arnold Palmer Invitational.
After claiming a two shot victory, McIlroy said: "We were talking about triggers and how you start a putting stroke. And I said Rooney, before he hits a free-kick, or before he hits an penalty he taps his toe on the ground before he actually starts his run up."
Carlos Tevez
The controversial former Manchester United and Manchester City player takes a keen interest in golf. Although he declared he plays football only for money, Tevez play golf for the enjoyment. The Argentinian plays to a 13 handicap and caddied in practice for the the 2012 Open at Royal Lytham and St. Annes for fellow countryman Andres Romero.
Sir Alex Ferguson
Title winning Guardiola emulated English football's most successful manager by winning the title while on the golf course. In 1993, Ferguson was playing golf when Aston Villa succumbed to defeat to Oldham Athletic. It handed United the first ever Premier League title.
Peter Crouch
If Stoke's 6'7" striker Crouch looked lanky playing football, he doesn't look any less playing golf. Crouch played in a charity golf day with England where he looked as though he was playing with children's clubs.
Jimmy Bullard
Former Fulham and Hull City midfielder Bullard also tried his hand at turning professional. His footballer career was plagued by injuries and was a scratch golfer by the time he retired. Having made his EuroPro debut in 2013, he has failed to make a single penny, making the cut just twice.
Jamie Redknapp
Another player who retired early due to injuries. The former Liverpool midfielder and Sky Sports pundit plays off a handicap of four, and regularly plays in Pro-Am events. He played with Luke Donald at last year's Alfred Dunhill Championship at St. Andrews.
Expand Best Golf Drivers
Your ultimate guide to the best drivers you…
Expand Best Compact Mid-Handicap Irons
Best Compact Mid-Handicap Irons
A look at a selection of the best…
Expand Best Golf Wedges
After a new set of wedges? Check out…
Expand Best Putters
Read our guide on the best putters out…
Alan Shearer
The Premier League's all time top scorer has regularly graced the golf course since his retirement in 2006. The Match of the Day pundit plays to around 6. He regularly plays across Pro-Am events, including at the British Masters at Close House last September, which is his home club.
Steven Gerrard
Former England Captain Gerrard often hosts a charity golf day in Portugal. He was once embarrassingly rejected for membership at Hillside Golf Club, who neighbour Royal Birkdale, in 2013. He is now a member at the prestigious course.
Alan Hansen
Former Liverpool player and Match of the Day pundit Alan Hansen is an excellent amateur golfer. Currently off 5, Hansen has been as low as 1.7. He is a member at both Hillside Golf Club alongside Gerrard, and Queenwood Golf Club in Surrey.
Gary Lineker
Former Barcelona, Tottenham and Leicester Striker and now Match of the Day anchor Lineker was a competent golfer. Lineker who claims he once beat Ernie Els 2&1, said injury and burnout means he doesn't play as much as he used to. He has played on the most prestigious golf courses, such as Augusta National, and with some of the game's legends, such as Seve Ballesteros while he presented golf for the BBC.
Michael Owen
England's only Ballon d'Or winner in the 21st Century is a single handicap golfer. He continued involvements with BT Sport and owning his own racehorses mean he doesn't frequent to the golf course as often.
Mark Hughes
Southampton manager Mark Hughes has a battle to keep the South coast side in the Premier League, but he will have the summer to work on his 9 handicap. Hughes often plays in the Pro-Am at the BMW PGA Championship at Wentworth.
Ian Wright
Wright only took up golf after retiring from football in 2000. Despite starting golf aged 37, Wright plays off 6. Former England team-mate Shearer described him as an 'angry golfer' before the British Masters last year.
Theo Walcott
Everton forward Walcott recently revealed his 10 handicap is probably a false representation. Walcott also says he enjoys playing Wentworth's West course, "It's just a great experience from start to finish," he said. Walcott has teed it up with Olympic Champion, Justin Rose in the past.
John Terry
Five-time Premier League winner John Terry plays very regularly, as often as three times a week. He's a lefty and recently finished third in Aston Villa's longest drive competition with a respectable 287 yard drive. He also played the BMW PGA Championship Pro-Am alongside Chelsea fan Justin Rose in 2016.
Ryan Giggs
The Premier League's most decorated player, and now Wales manager plays off a more modest 14 handicap. He played in his first Pro-Am alongside Manchester United fan Rory McIlroy at Wentworth. He recently put a ban on his Wales stars from playing golf while on international duty in China in order to keep them injury free.
Make sure you follow Golf Monthly on Facebook, Twitter and Instagram