Has The Equality Act Done What Women Expected Of It?
Judging from the number of equality-related complaints which are always going the rounds, the answer is 'No'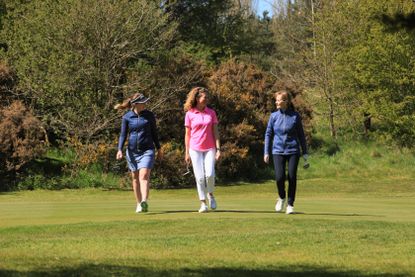 (Image credit: Future)
Back in 1923, five years before Parliament passed the Equal Franchise Act, Welwyn Garden City GC started out with what was surely a perfect blueprint for a mixed club. Women were on a par with the men and, would you believe, they even had the same number of representatives on the committee. The club's splendid new Centenary book - it was penned by Keith Perry and Colin Callander, two well-known names in the world of journalism - tells the story of these unlikely beginnings right through to where the women are today..
To give the briefest of updates, the relationship with the men began to falter in 1924. A gentleman member donated a prize exclusively for the opposite sex and, from that moment on, women's-only competitions gathered in popularity. So much so that in 1927 the women wanted control of their own flourishing section and the breakaway was ratified in September of that year.
At that point, they had 70 women members. Today, though their number increased by 10% in '22, they are down to 55. It may not sound good but what bodes well for the future is that there is a promising mix of women and, still better, there is nothing to stop them from playing on a Saturday.
Alas, the same does not apply at too many other mixed clubs. In spite of the introduction of equal membership fees, it is too often the case that the men have yet to give the women a fair crack of the whip when it comes to weekend tee-off times. With men often playing in their Saturday events from dawn to dusk, it's hardly surprising that women are not inclined to sign on for such an arrangement. Sadly, it's not just the older men who object to sharing their course with the women at weekends; their sons can be just as vociferous.
Inevitably, this equal subscription side of things has prompted any number of women - especially the busy ones and those with only limited funds - to think seriously about whether golf makes sense for them.
You can imagine the conversations at home…
"It would be worth it," a woman's partner might suggest, "if you're going to play more, but at the moment you're only playing a couple of times a week at most and, even then, you don't go out when it's too hot, too cold, too wet or too windy."
At this point, it is maybe worth introducing the thought that we are a less hardy a breed than we were, say, 100 or so years ago. It was a celebrated Scottish Amateur champion by name of Charlotte Watson, nee Beddows, who died in '76 when she was in her late 80s and still chasing a few extra yards off the tee. She never thought twice about playing in hostile conditions any more than she considered having central heating fitted to her old cold home. (You have to think that no-one would have been better-placed than she was to teach the rest of us a thing or two about keeping energy bills to a minimum.)
In the wake of the act of '10, plenty of people, myself included, were probably guilty of attaching too much importance to the idea of women finally being allowed to play at the tougher all-male clubs. (This, incidentally, was something which had to happen at venues such as Muirfield, Troon and Royal St George's if their members wanted to stay on the Open rota.)
They wanted to hang on to their Opens, but the idea of a sudden influx of women appalled them, fearing as they did that their courses might be over-run by women and girls. They got that wrong. Even if the other Open championship sites have accommodated women members for years, if not on equal terms, that has never happened.
Let Linda Baymen, a former Curtis Cup player and the owner of a home backing on to Royal St George's, explain why.
She and her daughter, Caroline are among the ten to twelve women who signed up for membership of St George's. "It's something that only works if you're an ok player and good enough to be treated as one of the boys," she said. "If you don't play to a decent standard and you can't keep up, the men don't like it."
Bayman, who played in the 1988 Curtis Cup when it was at Royal St George's, probably plays in three of the six men's events a year off the medal tees, along with one of the knock-out events. "The World Handicapping System," she continued, "allows for us to mark cards off the men's forward tees for handicapping purposes, but you have to stay as a member of a second club if you want to play in regular medal events and women's matches. To be honest, paying for two memberships is just not practical." Especially when one of those memberships is likely to be between £2,000 and £3,000.
Like many another, Bayman will tell you that she had no complaints with the way things were before '10. When her husband was alive, she could play at St George's for nothing and join him for lunch.
Troon, no less than Royal St George's, only has a handful of women members, even if 25% of the golfers playing at the various clubs in and around the town are women. What they do have, though, is a first-class junior programme which includes a couple of highly promising girls recruited from neighbouring clubs. The chances are that a few at least of these girls might in time turn into full-fledged members.
But, as everyone knows, a mixed group of children will usually end up with most of the girls dropping off before and during teenage years. At the aforementioned Welwyn Garden City, a lady by name of Esther Strous added a very telling line to the news that there had been a 10% rise in the number of women golfers in '22 to 55: "It is great to have some girls in the junior section - most clubs don't."
Glenna Beasley, the marketing relations manager at Woburn talked me through the junior scenario at her club, one which is generally viewed as one of the finest modern clubs in the land. "We usually have quite a few girls among the boys at the beginners' classes, only that doesn't last," she began. "At the moment, we have an excellent youngster in Roisin Scanlon who won last year's Under 16 division of the '22 Scottish Girls' Open but, sad to say, most of the others who started out at the same time as she did aren't playing any more. One of them, I know, bought a horse." Going to the gym and hanging around with girl friends would seem to be two of the more popular alternatives.
Mind you, the next set of statistics which Beasley reeled off were altogether more arresting. Would you believe that Woburn, though it boasts any number of ladies in the usual Over 40 bracket, only has eleven women golfers in their 20s and 30s.
If you live in the London area, you will probably be aware that the women in that group are among the best of the best.
Three of the eleven, Charley Hull, Lauren Taylor and Meghan MacLaren, are professionals, with the rest, bar one, mostly among the 1.3% of women in the land with handicaps of three or better. They are good enough to play with and against the men and, where the professionals are concerned, they can get precisely the level of competitive practice they need ahead of a season on the LET or LPGA Tour.
It was Glenna Beasley who suggested I give Denham GC a ring for a reassuringly positive story of how one club has this believe-it or not situation in which they have more women then men in their 20-30 age-group. So many more that Richard Penley-Martin, the club manager, has had to call a halt to their number for the moment.
The club hit on the idea of joining forces with the South Eastern Juniors, an arrangement whereby they host many of these Under-30s' events and, at the same time, offer their members good membership deals. "If," he said, "they are past members of the SEJ who have had children or been too busy at work post-university, they can join our academy well after they are no longer qualifying to playing for the SEJs.
"We offer them three years in which to go from being a relative beginner to being able to play, and we also offer five individual lessons with a professional along the way, charging them £520 at the start instead of what would normally be £2,300. (In all, there are five age-related categories in order that full-membership fees are never going to come as a shock.)
When the Denham system started, there was room for a handful of players to leave their clubs in lockers before taking the train back to their London flats or whatever. "Now," said Penley-Martin, we have built a larger store and the number of sets of clubs spending their weekdays with us is more like 100.
"From being really short of women before this all started, we have now been able to reverse that situation." Almost in the same breath, he mentioned that two ladies in their 30s won last year's London Foursomes - an unheard of state-of-affairs.
At Christmas parties, Penley-Martin noticed a few of the older members looking askance at young folk making too much noise. Yet by the time it came to the recent Burns supper, even the oldest members had decided that the young ones were the best of fun and fine additions.
Good for Denham. Initiatives such as theirs could save the day.
Lewine Mair was the first woman to be signed on as a sports' correspondent for a national daily paper. She was with the Daily Telegraph for 18 years, six of them covering sport in general and the remaining 12 as the paper's golf correspondent. She has also written for The Times and, today, is a regular contributor to the American digital magazine, Global Golf Post.