Rules of Golf changes for 2019… Are the proposals good for the game?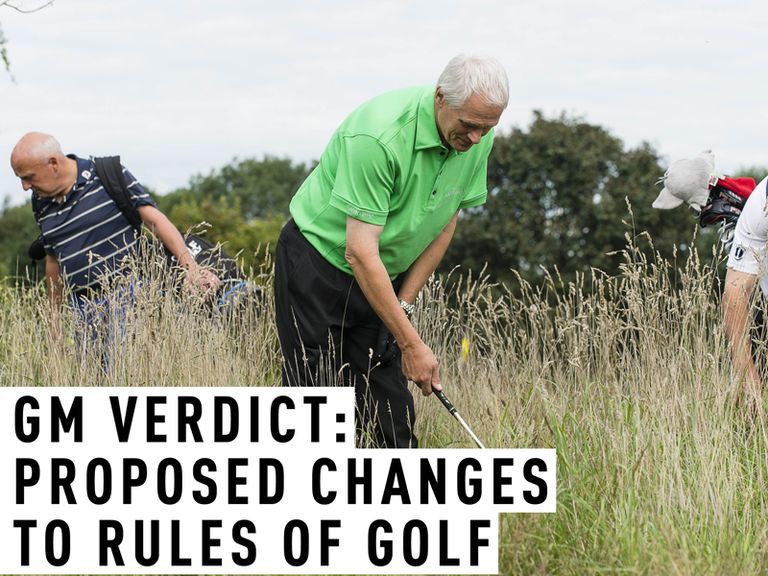 By Neil Tappin
In this exclusive feature, Neil Tappin takes a look at the radical proposed Rules of Golf changes for 2019 and asks whether they are good for the game
Golf's ruling bodies - the R&A and USGA - have announced some radical proposals for Rules of Golf changes for 2019. Intended to make the game faster and the rules themselves easier to understand, this is a major move. In this special feature we take a look at the proposed changes to the Rules of Golf and offer our take on how they will effect regular golfers.
Proposed change: There is no longer a penalty if a ball in motion is accidentally deflected
What does it mean: If you hit a bunker shot and the balls rebounds off the bunker face and hits you, there is no penalty.
Golf Monthly View: The rules of golf is a lengthy tome mostly because it needs to cover off every eventuality. In preventing players from getting an unfair advantage in certain scenarios, rules emerged that have, at times, seemed unfair. This is one of those. The key word here is 'accidentally' and it will be down to the players, both individually and in playing groups, to decide whether there was any intention. Without such stringent checks, would the integrity that golfers are renowned for be at risk? We'd like to think not but time will tell.
Proposed change: Ball At rest Accidentally Moves
What does it mean: If you unintentionally move your ball while searching for it, you are no longer penalised.
GM View: This is a tricky one. In one sense it is terribly unfair to be penalised for accidentally stepping on, and moving, your ball while looking for it. But on the other hand, the scope for potential cheating appears to grow within this proposed change. Again, this will test the theory that golfers are the most honourable of sportsmen… Let's hope we pass.
Proposed change: Relaxed dropping procedure
What does it mean: No longer do you have to drop the ball from shoulder height. Just one inch above the ground is enough.
GM View: This is intended to make the dropping process quick and easy. Watching Tour players on television run through the current complicated and precise procedure is certainly painful. Anything that helps speed up the game is surely a good thing. This seems like a sound, common-sense move as part of the Rules of Golf Changes for 2019 that will help golf seem more accessible.
Proposed change: New 3-minute time-limit for searching for a ball
What does it mean: Less time waiting as players trudge up and down the tree-line searching for a ball.
GM View: Be honest, how often do you find your ball if you haven't already discovered it after three minutes of searching? Again, this is about speeding the game up so it gets the thumbs up from GM. The only downside is the possibility that this rule might make the game slightly harder for amateurs (the pros have plenty of help in searching for their errant shots), although we aren't convinced.
Proposed change: Relief for an embedded ball
What does it mean: Apart from in a bunker, you can take relief anytime your ball is embedded.
GM View: This is an excellent, common-sense move as part of the Rules of Golf changes for 2019. Nobody should be expected to play a ball from within its plug-mark unless you find yourself in sand. Cue discussions about what is and isn't an embedded ball… Here's the Plugged lie rule as it stands
Proposed change: No penalty for putting with the flag in as it stands
What does this mean: You do not need to have the flag attended when putting from long range.
GM View: This is another move intended to speed up play. In reality, we're not sure how much difference it will make but we also don't see any downside to the rule change.
Proposed change: Repairing damage on the green
What does it mean: You would be allowed to repair almost all damage on the green including spike marks.
GM View: There are two sides to this one. Firstly, repairing imperfections on the green seems fair. We've all hit putts that have been bumped off line by spike marks and we know how frustrating that is. However, golf is intended to be played on a natural landscape and nobody has a right to expect a perfect lie or stance. As such, there is a major concern over pace of play with some golfers taking this rule change to the extreme. The jury is out on this one… How to repair a pitch mark properly
Proposed change: Removing loose impediments in the bunker
What does this mean: You can move leaves, twigs etc from around your ball in the sand.
GM View: For the majority of amateur golfers, bunkers present a tough enough challenge as they are. It seems fair to be able to remove loose impediments from around the ball and that action shouldn't take too long. A simple change to the rules but a good one. What are loose impediments?
Proposed change: Distance measuring devices
What does this mean: You can use them in competition except where prohibited by a local rule.
GM View: The ruling bodies have made a relatively small but important change here. Not allowing DMDs is now the 'minority position'. It will be very interesting to see how the professional game responds to this – will the Tours adopt the local rule or allow the caddies to carry lasers. Will it speed the game up or slow it down? In general we think this is a good idea, reflects the changing face of the game and is a good addition to the Rules of Golf changes for 2019.