Trophee Hassan II 2016 Blog Part 2
Read what James Mason has been up to this time round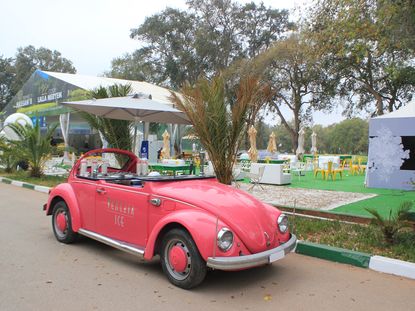 James Mason from planetgolfreview continues his jaunt around Morocco in this Trophee Hassan II 2016 Blog Part 2
Its day two of my stint at the Trophée Hassan ll and Coupe Lalla Meryem tournaments in Rabat, Morocco and today I am being chauffeured in one of the tournaments fleet of BMW and Range Rover cars – today it was a BMW – with a fascinating man called Hubert Privé who stands before me in red/white/blue Royal & Awesome type trousers with an England rugby shirt emblazoned with the famous Red Rose.
Now Herbert doesn't speak English and I don't speak French but he shows me a brochure of his works. It turns out Hurbert is an artist with sculpture and photography being his favourite media and he combines his passion for art and golf to stunning affect.
Herbert has an exhibition at this weeks Trophée Hassan ll which is just to the left of the clubhouse, so if you are here this week I would take time to go and have a look at his work. Unfortunately due to logistics it is mainly his photography that is on show, but he does have photographs of some of his sculptures. Failing that you can wait for the Christmas issue of the planetgolfreview digital magazine and a question & answer session, which will feature some of his works.
I take a wonder out onto the red course today to watch some of the men's Pro-Am and firstly I have to say what a beautifully designed course the Royal Dar Es Salam Red course is, Robert Trent Jones has done a wonderful job. But believe me even these guys are going to find it tough and I wouldn't be surprised if they started moving the back tees forward, it is that brutal and with the rain just starting to come down if its starts to get wet with no roll on the ball there will be lots of long irons/hybrids being hit into par 4s.
I will hopefully have an interview with Indian Olympic hopeful Aditi Ashok, who at the age of 17-years old was the youngest ever winner to qualify for the tour school with a score of 23 under par. Being an ex junior golf Olympian it will be interesting to get her prospective of golf being included in this years games and her chances of picking up a medal for India.
I have also been invited to attend the Princes cocktail party tonight, so more about that in tomorrows blog and as the rain beats down on the media tent I will wish à demain.
James Mason is a senior contributor for Golf Monthly magazine and editor of planetgolfreview.com and has producing destination and equipment reviews for Golf Monthly, Greenside, and Middle East Golfer magazines. He has also produced destination features for Golf World and Going for Golf magazines and interviews for Middle East Golfer and Qatar Airlines. James was captain of Coventry university golf team and now plays off a 5 handicap.