Golf On The Edge blog: Chris Wood
Golf On The Edge author Ross Biddiscombe blogs on Chris Wood, who came so close to winning the Open Championship at Turnberry.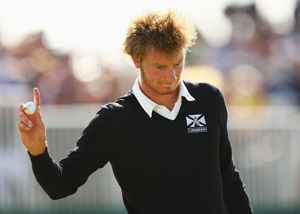 Isn't it great when your predictions are proved correct? It doesn't happen too often, but I did say last week in my blog that Chris Wood was worth an each-way bet at the Open Championship at Turnberry and didn't he do well, as Bruce Forsyth would say!
In fact, knowing Chris, he will be as frustrated at his final hole bogey and not making the playoff as he will be proud of performing at such a high level. That's two Opens and two great finishes - a 5th place last year as an amateur which won him the Silver Medal and tied 3rd this year worth almost £300,000.
Chris has now rocketed up the Race To Dubai table – he is 31st after starting last week at 74th – and has become a serious contender for rookie of the year as well as for just about every tournament he enters on the European Tour from this point onwards.
As I also said last week, getting to know Chris during the months of working on my latest book has given me a rare insight into this newly-minted pro and this lad is the real deal. I think one of the main reasons is that his mum and dad – Sarah and Richard –are wonderfully down-to-earth and caring. But, perhaps most important of all, they have produced a son who, at just 21, knows his own mind and has a healthy but not over blown opinion of himself. His demeanour on the course, his relationship with people like me (ie the press) and his determination are all spot-on. Chris is like a breath of fresh air compared to the traditional hopefuls of English golf at the majors.
I think the Englishmen at the head of the rankings are all flawed. I look at the likes of Paul Casey and I see how much Chris is different. On day one at Turnberry, Casey made a lightning start, but then seemed to hate the world after a couple of bogeys. He never really recovered and a self-important grumpiness seemed to envelope him; he was never a factor after that. Ian Poulter continues to be the Kevin Pietersen of English golf – he flatters to deceive and his clothing antics or twitter pronouncements become increasingly laughable as his golf game fails to stand up to scrutiny. Even Lee Westwood, I'm afraid to say, might never be good enough to get to the very top; three bogeys in the last four holes is not how great players grab the biggest prizes.
This new generation of British pros have the X factor, I think, and Chris is right at the top of this pack. He missed a few very makeable putts yesterday, but never twitched out of his focus. Even his late bogeys were greeted with humility rather than look-at-me anger.
My next prediction is that Chris Wood will win on the European Tour in the next six months and he'll be battling with Rory McIlroy, Danny Willett, Oliver Fisher and Callum Macaulay for top honours rather than Casey, Poulter, Rose, Donald and the rest of that old guard. You heard it here first.
Ross Biddiscombe is author of Golf On The Edge 2: Q School Complete which features Chris Wood's journey to become a professional golfer. For more details, go to golfontheedge.co.uk.
- Callaway X Forged wedge review - A review of the 138th Open Championship
Ross is a Q-School expert.