Decision time... nearly
It's nearly reached the time for Colin Montgomerie to name his three wild card picks for October's showdown, but who will get the nod and who will miss out on the 2010 Ryder Cup?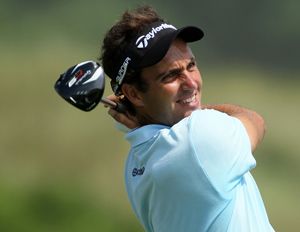 After an eventful USPGA Championship some of Europe's big name players have fallen short of an automatic Ryder Cup spot. They must now rely on Colin Montgomerie who has three captain's picks, but with so many promising European golfers to select from, who's going to get the nod?
Luke Donald is the only player in the world's top ten not to hold an automatic spot. Donald won the Madrid Masters in May and played a vital role in both the 2004 and 2006 Ryder Cups. His steady, consistent game is a valuable attribute in team matches and I think Monty will favour the Englishman.
An impressive 2010 for the Molinari brothers has pushed Francesco into a Ryder Cup position, however his older brother Edoardo did not guarantee a role in the side. Despite this Edoardo is actually ranked higher in the world rankings than his younger brother, and unlike Francesco has won an event in 2010. In addition, Montgomerie will no doubt have seen the brothers working extremely well together in the Omega Mission Hills World Cup last year, where the two came out victorious. With this in mind I think the sibling combination is something that Monty will have to take advantage of.
So, I would fancy Luke Donald and Edoardo Molinari as the two most likely picks for the Ryder Cup in October but the final one is more uncertain. Last year's world number three Padraig Harrington must fancy his chances, but a poor year highlighted by last week's missed cut at Whistling Straits have no doubt hampered his chances. Other contenders for the picks include Justin Rose, Simon Dyson, Alvaro Quiros and even European Tour veteran Bernhard Langer.
The ill health of Lee Westwood leading into the Ryder Cup may also affect Monty's picks. Westwood didn't play in last week's final Major due to a calf injury. As it stands if Westwood pulls out Luke Donald will squeeze in as an automatic qualifier leaving Montgomerie with another decision to make.
Do you agree?
Have your say: Start a thread in the Golf Monthly Forum
Betting experts, writers and video producers. Couple of guys in our early 20's looking to bring the sport that we love into a new era.'