Trophee Hassan II 2016 Blog
Check out James Mason's daily blog from Morocco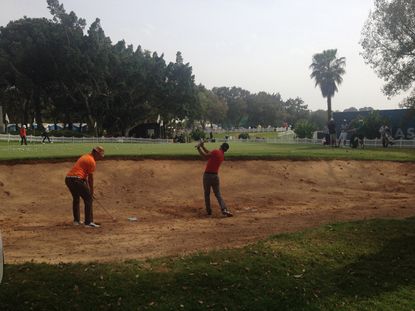 James Mason is in Morocco for the 2016 Trophee Hassan II check out his daily blog
Trophee Hassan II 2016 Blog
I'm on my way to Royal Dar Es Salam golf course for this year's 43rd Trophée Hassan ll. (opens in new tab)
I love Morocco and it's a great place to come for British and Irish golfers, its less than 3-hours by plane and on the same time zone.
What makes it so special in the hustle and bustle, the smells the noise especially when the call to pray drifts through the air, it really is a magical place and the people are so friendly. It reminds me a lot of Turkey and the coming together of east and west.
The roundabouts are like Paris traffic on steroids, the Moroccans are the worst and best drivers in the world, you think there is going to be a crash every time you start to move, but if you take a closer look at the cars you don't see any dents or scratches.
Somehow in the scrum for space to be first away or to make the next gap it all works, it truly is organised chaos in motion.
We drive past the Royal Palace with its high walls and orange trees protected by troops in green uniforms with white belts and white spatterdashes – spats – that the gangsters of America 1930s B movies used to wear, but without the violin cases.
As we go through the red city wall that used to protect Rabat and head out into the suburbs and a very prosperous part of the city.
There are some stunning homes, new offices for banks and the American Embassy with a very large stars and stripes flying outside.
We arrive at the course and through what can only be described as a magnificent entrance that takes us into the Zaers Forest and its Cork Oak trees that are a feature here along with the raised greens, splashed bunkering and doglegs all the hallmarks you would say of a Robert Trent Jones course.
There are two tournaments playing on the Royal Dar Es Salam resort this week, the European Tour is teaming up with the women's European Tour where the 22nd Coupe Lalla Meryem will be competed for over the Blue course, while the men compete over the Red Course.
Today is the women's Pro-Am and Marianne Skarpnord and her team have won the morning event with a score of -22 Tomorrow will be the turn of the men.
James Mason is a senior contributor for Golf Monthly magazine and editor of planetgolfreview.com and has producing destination and equipment reviews for Golf Monthly, Greenside, and Middle East Golfer magazines. He has also produced destination features for Golf World and Going for Golf magazines and interviews for Middle East Golfer and Qatar Airlines. James was captain of Coventry university golf team and now plays off a 5 handicap.