Fergus Bisset: Grail Quest Part 2
Fergus has been testing some Titleist irons and the results have got him rather excited.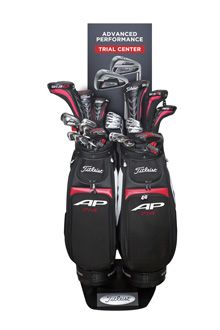 So for those who haven't read part one of this saga, I'm on a mission to improve my game in 2014. I'm determined to find the key to unlock the door to golfing greatness, well, golfing goodness at least, ok then, golfing adequacy. One of the ways I'm hoping to achieve that heady goal is by getting a new set of irons. I've been stubbornly persevering with a set of super-stiff shafted blades for far too long (like 10 years) and I've been forced to admit that I need something a touch more forgiving. I'm also keen to get a set of clubs that are right for me. I've never been custom-fit before and I'm fairly confident the irons I have been using aren't quite right. In fact, if I put my reviewers' hat on and had to write a "best suited for" on my old sticks, I'd put: "Competitors in world's strongest man with extraordinary hand-eye co-ordination." So there are basically about six people on earth who could get the most out of my clubs, and I'm not one of them.
Anyway, the first step on the road to my new irons was a trip to the Paul Lawrie Golf Centre on the outskirts of Aberdeen. They've recently received a couple of Titleist trial sets that customers can take away out on to the course. The idea is that you can really get a feel for the clubs on your own terms and in your own time - a good concept I think.
Firstly though, I spent some time with Craig Dempster - head pro at the Paul Lawrie Golf Centre. He talked me through the Titleist products and watched me hit a few irons. I'm off to Titleist's National Fitting Centre at Kings Acre next week and there I'll get the full custom-fit treatment. But, although they don't have so many options as at Kings Acre, in terms of shafts etc., they can fit players with Titleist irons at the Paul Lawrie Golf Centre, and both the staff and facilities there are excellent.
In the high-tech fitting bay they have a FlightScope launch monitor to assess and analyse your shots. They can tell you just how badly wrong things are going, and try to find a way, whether through coaching or a new product, to bring the figures (spin rate, launch angle, dispersion etc) a little bit closer to what might be deemed acceptable.
So I began by hitting a few shots with my current 6-iron. None seemed too bad, (but nothing to write home about,) and Craig took a note of the numbers. I then had a go with a Titleist AP2 6-iron - standard length and standard lie with a standard S300 shaft. What a revelation! The first ball I hit pinged off the clubface like bullet from a rifle. I couldn't stop myself saying "wow" as I followed the ball flight. I hit a couple more with the same sort of result.
Comparing the figures, I'd produced the same clubhead speed as with my, now hateful, old 6-iron but the ball-speed off the face was decidedly quicker and I was getting an extra 10 yards. Same lofts, same lie angles, but an extra 10 yards - quite encouraging to say the least.
I tried a couple of other Titleist 714 heads - the AP1 and CB and got similarly impressive results with them. But I like the look of the AP2 the best so, for the moment at least, that seems to be the winner.
I'm a fan of the AP2s because they have a relatively compact head and a thin top-line, but there's a good deal of forgiveness thanks to the cavity back and tungsten weighting in the long and mid irons. Basically they look like a players' club, but they give you a little helping hand.
Craig had a very clever, adjustable, AP2 test iron. It can be tweaked to change the lie angle and the shaft. I had a go with a shaft half an inch longer, which immediately helped my posture - less stooping. And then we worked out that I probably also need the head to sit a couple of degrees upright. All these years, I've been using irons that are a bit too short and that sit way too flat - what a pillock!
I then took away a trial set of AP2 irons to get a real feel for them on the course. They were just standard length and lie with standard shafts, so they probably weren't quite right, but it allowed me to get a great idea for what these irons can do. And, it was pretty remarkable - I reckon I was a good club longer than with my, pitiful, old blades and a heck of a lot more consistent. The AP2s are considerably more forgiving on the slightly off-centre strikes. I hit a couple of shots out of the toe that I turned away from in disgust only to turn back and see the ball on the green.
I now can't wait until next week when I'm going to Titleist's National Fitting Centre at Kings Acre outside Edinburgh to spend some time with the guys there and get exactly the right set-up. This is surely it. I can't see any reason why, when I've got these babies in my bag, that I won't go on to achieve some sort of golfing immortality. All I'll need to do is to learn how to putt.
Fergus is a golf obsessive and 1-handicapper. Growing up in the North East of Scotland, golf runs through his veins and his passion for the sport was bolstered during his time at St Andrews university studying history. He went on to earn a post graduate diploma from the London School of Journalism. Fergus has worked for Golf Monthly since 2004 and has written two books on the game; "Great Golf Debates" together with Jezz Ellwood of Golf Monthly and "The Ultimate Golf Book" together with Neil Tappin (also of Golf Monthly)... Fergus once shanked a ball from just over Granny Clark's Wynd on the 18th of the Old Course that struck the St Andrews Golf Club and rebounded into the Valley of Sin, from where he saved par. Who says there's no golfing god?