Golf Monthly November issue
Welcome to your November issue of Golf Monthly. Find out what's in your November issue of Golf Monthly magazine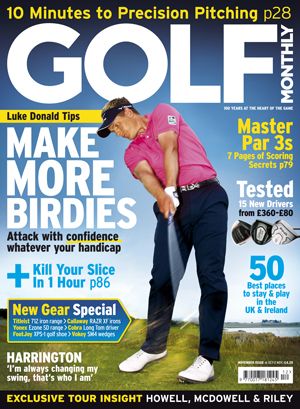 Welcome to your November issue of Golf Monthly magazine. Even though it was 24 years ago, I can still remember the first round of golf I played on a proper golf course as if it was last week. Fed up of watching us break every health and safety law going by playing golf around the school grounds, one of our resident golfing teachers decided a trip to a real course would be just the ticket to nurture the interest of three aspiring young golfers, while at the same time avoiding damage to either school property or fellow pupils.
The venue for my debut was Broome Manor (opens in new tab), an excellent municipal course on the outskirts of Swindon that boasts none other than Golf Monthly's playing editor David Howell as its most famous protégé. But back to my round... My first shot was one that lives long in the memory. A stone cold top with a Wilson Staff 5-iron. If I close my eyes, I can still feel the sensation in my hands and can picture the ball trundling 30 or 40 yards down the fairway.
Thankfully my second shot was significantly better, and I advanced the ball 150 yards further. I walked off the 1st green very proud of the eight I'd just made. The rest of the round was typical, I'm sure, of the first rounds I expect many Golf Monthly readers had, with the odd double-digit score mixed in with plenty of bogeys, doubles and triples peppering the scorecard. My final tally was 117 shots. But in amongst those 100-plus blows were the three I took at the short par-4 10th, where the trusty 5-iron, followed by a 7-iron (these are still two of my favourite clubs in the bag), saw my ball come to settle some 12ft from the flag. Somewhat unbelievably my putt dropped and I'd made my first ever birdie. It's difficult to explain quite how excited I was, save to say I really did think I'd got the game cracked after two and a bit hours on a proper course.
No matter what your handicap, carding a birdie is a special feeling and puts a real bounce in your step as you stride off to the next tee. For the beginner it's highly motivating, showing you what you're capable of. For the skilled golfer, it's the currency you want to be dealing in. A solid round can become a really good one with the addition of a few birdies.
For advice on how to make more birdies, who better to turn to than world number one Luke Donald. As I write, Luke currently leads the scoring averages on both the European and PGA Tours. This incredible feat is due in part to his fantastic scrambling, where he manages to get up and down for par when he misses the putting surface. But this year, the key to the low scores is his ability to make more birdies, and while putting well is obviously important if you're to make birdies, the most fundamental skill required is the ability to hit the ball as close to the flag as possible. On page 73 of the Golf Monthly November issue, Luke gives you a personal lesson on how to attack with confidence and maximise your chances of making a birdie.
For those of you who, like at GM, enjoy a small wager on their golf you'll doubtlessly equate making a birdie to chalking up a 'bit'. To say that on GM office outings the number of 'bits' you've made determines how good a day you've had on the course is only a slight exaggeration, but I know that even a couple of the team who profess not to read the instruction pages in the magazine will be reading this feature with great interest because it might just make them a few quid next time they tee it up.
Whatever your motivation to make more birdies, I hope Luke's advice does the trick.
Mike has been a journalist all his working life, starting out as a football writer with Goal magazine in the 1990s before moving into men's and women's lifestyle magazines including Men's Health, In 2003 he joined Golf Monthly and in 2006 he became only the eighth editor in Golf Monthly's 100-plus year history. His two main passions in golf are courses, having played over 400 courses worldwide, and shoes; he owns over 40 pairs.
Mike's handicap index hovers at around 10 and he is a member of four clubs: Hartley Wintney, Royal Liverpool, Royal North Devon and the Royal & Ancient Golf Club of St Andrews.