The perfect round: Golfing the North East 250
Fergus Bisset and his father took a golfing tour around the North East of Scotland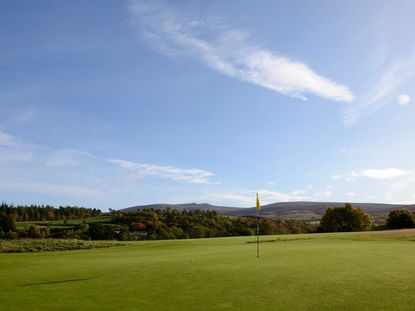 Fergus Bisset and his father David drove the new North East 250 route to explore some of the many and varied golfing opportunities it affords.
As I putted out on the 18th green at Cullen Golf Club on the beautiful Moray Firth, I did a quick mental sum. "I've beaten my personal best by 93 shots," I laughed to my father. "Has the sport of golf ever witnessed such a remarkable improvement?"
I must confess, my last round at Cullen had been when I was only five years old. This, my second lap of the "world's shortest true links" came 32 years and several thousand rounds of golf later. Still, if Norris McWhirter were alive, I might have been inclined to give him a call.
The return to Cullen was a nostalgic one, a happy aside to the main purpose of the trip my father and I were on. Our principal mission was, and we had chosen to accept it, to explore some of the golf courses and other hidden gems on the route of the new North East 250.
The concept of the North East 250 is to give visitors and locals a circular route around the North East of Scotland that can be travelled, by whatever means, in as short, or long a time as desired to deliver a varied and interesting picture of this under-explored corner of Scotland. The route takes in the coastline of the North Sea and Moray Firth plus the hills, rivers and mountains of Speyside and Deeside. The journey is designed to appeal to those seeking history, scenery, culture, gastronomy and sport. My father and I were loosely targeting the last on that list, although the second last was likely to feature to a certain extent – we're not complete philistines.
Dad and I have lived the vast bulk of our lives in the north east of Scotland. His bulk is, of course, bigger than mine but both of us like to think we know the area pretty well. When it comes to golf, there are few who have played here more extensively. Looking at the list of courses that appear on the route of the North East 250, it's clear just how broad and diverse the golfing opportunities are. We've played some of the tracks listed countless times and others, like Cullen for me, we hadn't visited for one reason or another in many years.
Most will begin the NE250 in Aberdeen, having arrived by plane or train. But, as we both live very close to the route, just off the A93 as it winds through glorious Royal Deeside. It made sense to start our little golfing adventure at our home club of Banchory. Since the family moved back to Aberdeenshire in the 1980s, dad and I have played most of our golf at Banchory. It's a wonderful club set right in the heart of the town and alongside the north bank of the shimmering River Dee. Despite our in-depth knowledge of every fairway and hazard at Banchory, we both continue to enjoy it and to discover something new every time we go out. It's a picturesque course that players of all standards will enjoy. The clubhouse is bustling and the bar always lively. It's a great place to be a member.
After a hearty brunch courtesy of Banchory's excellent chef Robert Ramsay, we hit the road with 250 miles (plus a few more for detours) ahead of us. Firstly, into Aberdeen; "The Granite City," Europe's oil capital and a hub for engineering and scientific research. Aberdeen is also home to stunning golf – Royal Aberdeen, or Balgownie, is the most famous course in the area and one that is regularly ranked among Britain's very best. An out-and-back links, it has recently played host to the Walker Cup, the British Senior Open Championship and the Scottish Open Championship. Next door is Murcar Links – also a venue for European Tour competition and a track of considerable quality. Continuing further up the east coast, the golf enthusiast only has to travel seven or eight miles before they'll find the newest jewel in the north east's golfing treasure trove. Trump International has become one of the world's must-visit courses. No matter what your views of the man who established it, set within the towering dunes, it's almost surreal it's so spectacular.
Dad and I have played and appreciated all these courses many times before and their quality is well documented. We wanted to focus this golfing tour of the NE250 on some of the lesser-known tracks the area has to offer; courses that also deliver golf of a high standard but have, as yet, flown under the radar.
We picked Newburgh on Ythan for two reasons – firstly because of the stunning setting and the fabulous rugged feel of the old nine, set alongside the nature-filled estuary. Secondly because of a family connection. My great-great grandfather played his golf here, my granny even occasionally swung a club on the old links.
There's a great feeling of history to be found on the older, lower holes at Newburgh. The natural terrain is a links purist's dream and, overlooked by a sand-dune that Lawrence of Arabia would be intimidated by, this was a striking setting for our first round.
The dune-land on the east coast of Aberdeenshire is spectacular and it continues up to Cruden Bay where one of Scotland's most picturesque courses awaits. In fact, the view from the 9th tee at Cruden Bay was recently voted the best in Scottish golf.
And the links don't stop there. A number of tremendous courses are to be found around Grampian's north-east tip. Peterhead and Fraserburgh are formidable tests, both with some memorable links holes. Inverallochy, accessed through narrow streets of the village's old fishing cottages, is also very much worth seeking out.
Dad and I didn't have time on this trip to sample any more of these golfing delights. After two rounds of golf we needed a spot of rejuvenation. Just a short detour off the designated route, we found it at the wonderful Saplinbrae Hotel just outside Mintlaw. Run by Joanna Gall, her husband and their excellent team, it's a characterful, welcoming and extremely comfortable country house hotel delivering a great atmosphere, some really excellent food and a rather compulsive "snug" bar. The duck I had as a main course for supper was outstanding, as was the breakfast, cooked by Joanna herself.
A full Scottish breakfast seemed the appropriate way to start day two of our journey. We were going to need it, as we were planning to take in two more 18 hole rounds, plus a tour around the stunning northern section of the NE250. First off, we headed up to Fraserburgh to see the brilliant lighthouse museum and for a wander around the harbour to admire the enormous fishing boats docked there. For those who have seen TV shows like "Trawlermen," it's humbling to look at these mighty vessels and consider what they endure in the wild waters of the North Sea to bring fish back to our markets and, eventually our plates.
On round the coast, we passed the wee course at Rosehearty. Windswept and rugged, it's a great example of golf at the very other end of the spectrum from the prestigious golfing destinations like Royal Aberdeen and Trump International. Here there may not even be someone around to accept your green fee but, if you fancy a quick knock round, the sport is still just the same – you plus a stick and a ball versus the course and the elements; golf in its rawest form.
It felt like we were really off the beaten track as we took the coastal road from Rosehearty towards Macduff and Banff. This is farming land that's changed little in decades. My grandfather worked as an agricultural consultant in these parts 50 odd years ago and dad recalled some rather hairy drives in wintry conditions on the winding, rolling roads around Gamrie (pronounced game-rie). I could imagine it. There are many coves and beaches to explore along the stunning rocky coastline and we chose to take a wee drive down into the small village of Pennan. Nestled by the shore, it takes some steely driving just to reach it, as you turn your nose down a steep and single-track road. Aside from being an amazing little place, Pennan is famous for being used in filming for "Local Hero." The phone box that plays such a part in proceedings is still there.
When dad was working for BT in the late 80s, an enterprising employee of the company laid his hands on some very cheap, weatherproof blue paint and turned the Pennan phone box the wrong colour, much to the confusion of the fans of the film who came to pay homage. Apparently, the enterprising chap was told to rein in the ingenuity and to swiftly make it red again.
Back on track after crawling back up from Pennan, we continued towards Banff and then Cullen where we were to revisit the site of my first ever 18-hole round. Although October, the weather was kind and only a light wind blowing. I hadn't, couldn't really have, remembered what fun Cullen is to play. Handing over a modest green fee (£15) at the bar, we forged out and had the place largely to ourselves. The course is fantastic with incredible topography. The track climbs from sea level up to the clifftops and back down, across gorges and streams, between and over rocky outcrops along fast fairways to firm greens. It's a short course that demands precision not power and it's one that you'll want to play again as soon as you're done.
We zipped round in just over 2 hours, what a joy, and were finished in time to make our lunch reservation at the Cullen Bay Hotel. We were stopping there, not just for the tremendous views of Cullen Bay itself but also because the hotel is renowned for the quality of the "Cullen Skink" it produces. A thick and creamy fish soup, Cullen Skink is delicious and the one produced by the Cullen Bay hotel is highly deserving of the praise it receives. They even do a version with "a twist" that includes dark rum and chilli. Next time.
We couldn't dally for long as we were pressing on along the coast to Buckie and Buckpool Golf Club. There's something reassuring about following a route such as the North East 250. To have a purpose gives a real structure to a short break such as this. We had a clear itinerary and we knew where we wanted to be at particular times and, roughly, how long each activity should take. Although we were under no obligation to stick to this agenda, it gave us a basis and really took a great deal of the stress of decision making out of our little holiday. My advice to those planning a lap of the North East 250, with whatever focus (golf, walking, castles, distillery tours etc,) have a rough itinerary and try, without getting dictatorial about it, to stick to it.
It's hard to pigeonhole Buckpool as a golf course. It's on the coast but it's not an absolute links. Although many holes are lined with gorse, my view is this excellent layout delivers a blend of links, clifftop and even parkland characteristics. It's relatively unknown outside of this area but Buckpool deserves greater recognition as a layout and test of considerable quality.
I'd only played Buckpool before in the North East Winter Alliance, generally in fairly atrocious conditions. It was great then to experience the course in more clement weather, although we did endure one torrential downpour that was rolling in, as this rather dramatic picture (above) was taken – We created a shelter with our umbrellas and hunkered down for 10 minutes by the 11th tee as the rain tried to batter through our brollies. That unpleasant interlude aside, the course was in wonderful shape for October and we thoroughly enjoyed the blend of holes. A real find for any connoisseur of seaside golf.
By the time Buckpool was behind us we were very much in need of fuel – for that read two or three pints – but we had a little way to drive to reach our hotel for the night in Rothes. Although we'd passed a number of distilleries already, we were now entering real whisky country.
To prove things were getting serious, we took another little detour towards Mulben where there's evidence of whisky production on an industrial scale. Winding through the forest you suddenly come upon a site that appears so imposing in terms of size and security, one might first think it's military. Around 50 enormous warehouses sit in the trees on the hillside, protected behind sturdy gates and fences. These, in fact, are whisky bonds belonging to Chivas, each containing thousands of casks of whisky worth millions of pounds, on which excise duty has not yet been paid. Driving past these vast buildings gives an indication of how significant the whisky industry is to Scotland's economy.
The Station Hotel in Rothes also calls attention to the importance of whisky to this area. This beautifully appointed hotel, on the town's main street, really celebrates the "water of life." Copper plating on the walls nods to the iconic stills in which the spirit is distilled, pictures show historic scenes of whisky men at work and, needless to say, the collection of malts in the hotel's "Spirit Safe" bar is extensive - there are over 300 whiskies on offer.
Once again, hospitality was of the highest order in the Station Hotel and the rooms, and bathrooms are absolutely top spec. Despite having enjoyed a tremendous meal the night before in the hotel's "Toot's bar" plus those two or three pints we'd been in sore need of, we were both able to "force down" another full breakfast – superb.
The whisky theme was to continue at the start of our final day on the North East 250, as we were paying a visit to the distillery at Ballindalloch. But we had another errand to run before reaching the "pearl of the north" as the beautiful castle at Ballindalloch is known. As a lad, my father had worked on a dairy farm at Ruthrie and he wanted to see if the slurry pit he'd once fallen in before being rescued, and hosed down by giggling dairy maids was still there… Ahh, happy memories.
Unbelievably it is still there, although the farmhouse is ruined. We drove round the back as we believed it to be deserted, only to stumble upon a fairly agricultural looking old boy digging about in the scrap cars abandoned around the outbuildings. It turned out he was the son of the farmer who had employed dad. The two had a great, if unintelligible catch-up about days of rural milk rounds and drunken country dances. I think the old boy could have stayed surrounded by those memories for longer but we had an appointment with Brian Robinson at Ballindalloch.
Brian took dad and I on a tour of this wonderful "Single Estate" distillery: Ballindalloch uses barley grown on the estate and water from the natural springs on the hill. The whisky is distilled and matured on the estate and the draff, left over from mashing, feeds the Aberdeen Angus cattle. It's all wonderfully self-sustaining.
The distillery itself has been constructed in a converted steading just alongside the golf course. It has been done to the very highest level. To fit into the slightly awkward spaces of the steading the equipment has been custom-made; everything bespoke. This is like a Willie Wonka's Chocolate Factory for whisky lovers and well worth a visit.
Designed by Donald Steel and Tom Mackenzie – the men responsible for the incredible track at Skibo Castle, plus numerous other projects around the world, Ballindalloch Castle golf course was opened for play in 2003 and is also very much worth a visity. It's a hugely impressive layout and one that has clearly been properly constructed and designed with serious golf in mind.
With the sun shining on the heather-clad hills, autumn colours and the sparkling River Avon, this was an idyllic setting for our final round of the tour. The holes forge out from a beautiful whitewashed clubhouse – an old farmhouse and then drop down to the level of the Avon. The layout is kept in superb condition and, pardon the cliché, this is the very epitome of a hidden gem.
We were almost finished our circumnavigation of the NE250 but we had, perhaps the most visually striking section of the drive still ahead of us. We stopped for one more, excellent lunch at the Clockhouse restaurant in Tomintoul (shoulder of lamb and a Cairngorm ale) before heading up and over The Lecht, a mountain pass that draws skiers to the centre at the summit in the winter and cyclists to tackle the 20% gradients in the summer.
Tipping over the summit, the views are magnificent over towards Lochnagar and the eastern-most peaks of the Cairngorms. We descended past Corgarff Castle – where the Duke of Cumberland stopped en-route to "butchering" the Jacobites at Culloden, then turned to take on two more mountain passes over to the, impossibly perfect, humpback bridge at Gairnshiel and then on to Crathie and Balmoral. One could easily then turn west to add the pretty mountain village of Braemar and the ski centre at Glenshee to the journey – the possibility of so many little detours means that each circuit of the 250 can be tailored to suit individual requirements.
The focus of our short trip was the golf and we squeezed a huge amount into three days. But the focus could be so many other things – castles (there are an incredible number of stunning castles in this area), distilleries (again, there are enough to merit a three-week tour), walking (on beaches, along cliffs, beside rivers and up mountains,) eating (fish from the North Sea, Cullen Skink, Aberdeen Angus beef, haggis, venison, grouse,) art and culture. Or, ideally, a small sample of each of these delights that the North East has to offer. The scenery is spectacular and the attractions so many and varied that there really is something for everyone.
As a golf lover, I can't recommend the North East 250 highly enough, as the options available cover the full spectrum of golfing requirements – from the most prestigious and revered tracks right down to the undiscovered pearls. If you're new to the area and are aiming for a long weekend or three-day trip like we did – this is my advice:
Pick off one or two of the big-name tracks on day one close to Aberdeen. Whether you choose, Royal Aberdeen, Murcar Links, Trump International or Cruden Bay, you won't be disappointed. Then aim for a lesser-known coastal course on day two – a Buckpool or perhaps Spey Bay. Then leave day three largely for driving or sightseeing as you head down Speyside and across into Deeside, but save space for one final round – perhaps at the gorgeous nine-holer at Ballindalloch or at my home track of Banchory set alongside the sparkling River Dee. However you do it though, a golfing trip around the NE250 will be one you will never forget and one you will want to repeat. With 23 courses on the route and many more just a short diversion away, there are years of golfing breaks to be enjoyed.
Essentials - Where we played
Banchory Golf Club W: banchorygolfclub.co.uk T: 01330 822365
Newburgh on Ythan Golf Club W: newburghgolfclub.co.uk T: 01358 789058
Cullen Links Golf Club W: cullenlinksgolf.co.uk T: 01542 840685
Buckpool Golf Club W: buckpoolgolf.com T: 01542 832236
Ballindalloch Castle Golf Course W: ballindallochcastle.co.uk T: 01807 500 305
Where we stayed
Saplinbrae Hotel and Lodges W: saplinbrae.co.uk T: 01771 623585
The Station Hotel Rothes W: stationhotelspeyside.com T: 01340 832200
Where we ate
Cullen Bay Hotel W: cullenbayhotel.com T: 01542 840432
Clockhouse Restaurant Tomintoul W: worldslargestscotchwhisky.com T: 01807 580378
Fergus is a golf obsessive and 1-handicapper. Growing up in the North East of Scotland, golf runs through his veins and his passion for the sport was bolstered during his time at St Andrews university studying history. He went on to earn a post graduate diploma from the London School of Journalism. Fergus has worked for Golf Monthly since 2004 and has written two books on the game; "Great Golf Debates" together with Jezz Ellwood of Golf Monthly and "The Ultimate Golf Book" together with Neil Tappin (also of Golf Monthly)... Fergus once shanked a ball from just over Granny Clark's Wynd on the 18th of the Old Course that struck the St Andrews Golf Club and rebounded into the Valley of Sin, from where he saved par. Who says there's no golfing god?