A golfing road trip
Can a golfing road trip, taking in some of the UK's finest golf courses, change the fortunes of GM Editor Mike Harris?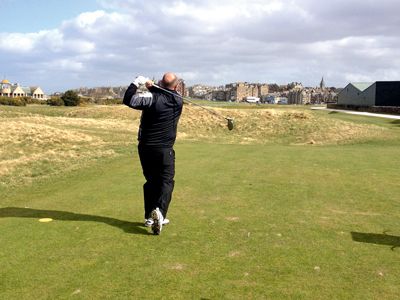 Golf Monthly Newsletter
Golf tips and expert instruction, golf club reviews and the latest golf equipment.
Thank you for signing up to . You will receive a verification email shortly.
There was a problem. Please refresh the page and try again.
When it comes to getting your game out of a golfing rut, there are two schools of thought on how to deal with the problem. The first is to put your clubs away for a few weeks, and stop grooving your faults and overthinking things. Advocates of this method will tell you that more often than not you'll return refreshed and with your swing in better shape.
The second involves merrily playing on in the hope that, please Lord, it has to get better at some point. I have and always will be in the latter camp. For me, and I suspect most in this camp, we'd rather be playing badly than not at all.
So, with my game on the slide, but the opportunity to undertake a golfing road trip to St Andrews in the pipeline, the optimist in me could see the chance to engineer a change of fortune. The trip was to be a five-day affair starting off at Little Aston near Birmingham, then on to Royal Liverpool, before three days up in Fife to play the Old and Jubilee courses, and finally the seaside links at Elie. As itineraries go, this was a good one. Travelling in style
Every great road trip needs a great car, and our friends at BMW kindly agreed to help me travel in style. However, when the email came through to say I'd been allocated a 6 Series Coupé, I thought there'd been a mistake. Perhaps the press office had got me mixed up with a journalist off on a weekend break with nothing but an overnight bag? A coupé - surely that wouldn't be big enough to accommodate not just my gear (I'm very poor at packing light) but that of GM's editor at large, Bill Elliott, who was flying up to join me for the 'Scottish Swing' of the trip?
When the gleaming silver 6 Series is delivered, and I pop the boot open, I know my worries have been misplaced. I manage to get two sets of clubs, an electric trolley, two holdalls, a suit carrier, laptop bag, three pairs of golf shoes and several dozen golf balls into the boot. I couldn't get that lot in my estate car without folding down the seats.
And so it is that at 6am on a Friday morning in mid April I punch the postcode of Little Aston Golf Club into the satnav and head off on what I hope will be the road to golfing salvation. Little Aston
Turning off the M42 and making my way through the suburbs of Birmingham, it's hard to imagine I will find a golf course among all these houses. In fact, I miss the narrow turning the first time, but after doubling back I drive down a leafy road banked on either side by grand houses until, on the left, are the imposing gates of the club. The over-used 'hidden gem' epithet is, for once, very appropriate. I'm here for the spring meeting of the Golf Industry Golf Society. A year ago, I walked away with the Spring Bowl. I think that was the last really decent round I played. Thankfully, I've remembered to bring the bowl with me. Given my current form, though, there's little hope of retaining it.
Little Aston offers the purest of parkland layouts. Often dismissed as pretty but ultimately not very challenging, parkland courses tend to be overlooked by a lot of golfers, me included, in favour of links or heathland layouts. But, as I find out over the next few hours, this Midlands beauty, which hosts Regional Qualifying for The Open, offers a wonderful golfing experience, and a true test of your game.
Harry Vardon laid out the course in 1908, and although Harry Colt was asked to make it a little less punishing for the members, 14 of the original Vardon holes still exist today. The land he had to work with was good golfing terrain. Lovely springy turf sits on top of free-draining gravel, and the holes wind their way through mature woodland. There's a lovely mix of holes here, with some short sporty par 4s to contrast with tough two-shotters and an equal number of par 3s and 5s.
For me, what really defines the course is the superb bunkering. There's no finer example of this than at the 326-yard 14th, where a long fairway bunker runs down the inside of the sharp dogleg, tempting big hitters to take it on and possibly drive the green... if they can miss the four greenside traps.
The club prides itself on the quality of the greens. Even in early April they're rolling at a good speed and, more importantly, very true. The putting surfaces feature plenty of interesting slopes, and I'd imagine if you get above some holes in the summer it's time to close your eyes and pray.
One of the most recognisable features of Little Aston is the quirky putting green that sits directly in front of the clubhouse. This is no ordinary putting green, where you'd aimlessly knock a few balls around before going out to play. Instead, the nine holes wind their way through elegant shrub borders. With some sharp slopes, there's the possibility of going 'out of bounds' on most holes, as I find to my cost during our post-round circuit. I imagine hours of fun are to be had here on a summer's evening.
There's a very traditional feel to the club, and the clubhouse is home to a wonderful collection of fascinating trophies, prints, paintings and collectables. It also serves a superb pint of Marston's Pedigree and a delicious steak and ale pie. For all of the above reasons I look forward to visiting again, and hopefully bettering my score of 30 points.
Joining the M6 at 5pm on a Friday evening rarely leads to anything other than deep frustration, as you inch your way along the Tarmac. However, the motoring gods are on my side on this occasion, and it's an uneventful drive up to the Wirral for an overnight stay at the Hillbark Hotel. The hotel, which enjoys the status of being the UK's smallest five-star property, is a truly impressive Elizabethan-style mansion and combines grand style with a very relaxed atmosphere. There are 18 individually designed bedrooms, a luxurious spa and a choice of restaurants, including a fine-dining option by award-winning chef Stewart Warner, in which I enjoy a sensational eight-course tasting menu.
I'm not surprised to hear that the hotel is already fully booked for the 2014 Open at Hoylake, but if you're planning a trip to play some of the famous courses that make up England's Golf Coast and want a luxurious base, this is the place.
Royal Liverpool
"Blown upon by mighty winds, breeder of mighty champions," is how the great golf writer Bernard Darwin described the Hoylake links, and it's rare to have a day when the wind isn't whipping in off the Dee Estuary and having a say in proceedings. Today, though, is one of those rare days. I honestly think these are the stillest conditions I have ever played in here. At most the breeze equates to half a club, but most of the time the flags hang limp - surely an invitation to get one back on the links. As you can probably guess, though, it was an invitation I failed to accept. In truth, even with no wind Hoylake is an uncompromising golf course. From the 1st hole, where out of bounds threatens both the drive and second shot, to the 18th, where fairway and greenside bunkers swallow anything off line, it has a knack of exposing your weaknesses and handing out some hefty punishments.
Even though The Open here is 16 months away, the course is in superb condition, and with a few weeks' intensive preparation it could comfortably host the world's best. There have been a few subtle changes since Tiger Woods triumphed in 2006, with the introduction of some 'broken ground' alongside some fairways, which will ensure that if you stray off line an uneven lie will almost certainly await you.
The number of bunkers has also been reduced, but the collection areas have increased, so you're just as likely to find yourself staring at some lovely revetting work as you were before. I think we can expect another top-class winner to be crowned here in July 2014. Fed, watered, and my 25-point return dissected, it's back into the car for a four-hour drive to Scotland to collect Bill at Edinburgh airport. The stretch of M6 and M74 that takes you from England to Scotland - through the Lake District and into the Southern Uplands - is undoubtedly my favourite motorway drive in the UK. With the BMW on cruise control, and an afternoon's sport on the radio, the miles go blissfully by.
Even though the satnav suggests I go on up the M74 and across via the M8, I can't resist turning off on the A702 and heading up to Edinburgh the scenic way. Time to shift driving modes from 'Comfort Plus' to the 'Sport' setting I feel. The rev counter and speedometer dials on the electronic dashboard go red to remind you, as if you really need it, that this car could go very fast indeed. Sixty minutes of Top Gear heaven later, and I pick up Bill and we head across the Forth Road Bridge and into Fife. The sense of anticipation always builds as you get closer to St Andrews, and as we round the bend on the A91, there it is, the Auld Grey Toon. Jubilee Course, St Andrews Links
Given the history of the Old Course, the pedigree of the New and the profile of some of the more modern designs in the St Andrews area, it's hardly surprising that the spotlight only gets fleetingly shone on the Jubilee. That's a shame, as it really is a cracking golf course. Originally laid out in 1897 as a 12-holer, on the thin strip of land next to the West Sands, the course was extended to 18 in 1902. Then, in 1988, it was significantly revamped by Donald Steel. The end result is that the Jubilee is now arguably the toughest and most scenic of the courses in the town.
Raised tees and greens set into the dunes make it exciting to play, and there are a number of outstanding holes. My personal favourites are the 2nd, 8th and 15th - a trio of mid-length par 4s that all beg you to hit good approach shots to eye-catching greens framed by either gorse or wild grasses.
Sadly, my game isn't on top form and the combination of strong winds and poor ball striking catch me out time and time again. As a result, I'm at the wrong end of the results in the Association of Golf Writers' President's Putter competition that I'm playing in. Oh well, there's always tomorrow. Old Course, St Andrews Links
Even on a cold, grey windy day with rain in the air, the feeling I get standing on the 1st tee of the Old Course in the shadow of The R&A Clubhouse is hard to describe. I've been fortunate enough to play the Old a handful of times. On each occasion, when the moment arrives to hit your opening drive down the widest fairway in golf, every swing thought you've got goes out of the window. All you can think about is that you're about to walk in the footsteps of the game's greats, and to take on the most unique test of golf there is. I'm happy to get the ball airborne and see it sailing over Granny Clark's Wynd.
Today is the media day for the Ricoh Women's British Open, and I have the added pleasure of playing in a fourball with one of the brightest talents in ladies' golf, Melissa Reid. It's always a fantastic experience to watch a professional play at close quarters, but today, in a five-club wind, it's an education in effortless ball striking and course management.
Where us mere mortals have to aim out miles to the left or right to allow for the wind, and then cross our fingers and hope our balls don't end up in one of the Old's 100-plus bunkers, Melissa just powers the ball through the wind and keeps it away from the sand. I'll be putting a couple of pounds on her to win the Ricoh when she returns in September.
I score 29 points. Considering the high winds I'm happy with that. I struck the ball better than I have all year, and had it not been for a few three-putts on the double greens it could have been really quite good. Are those the green shoots of recovery poking through?
Golf House Club, Elie
The final morning of my trip dawns bright, and it's significantly less windy. It's perfect golfing weather in fact. After a short drive south from St Andrews, I arrive at the quirkily titled Golf House Club in Elie.
Today, I'm playing with a brace of Scots, ex-GM editor (and club member) Colin Callander and contributing editor Fergus Bisset. Before taking on the blind drive up and over the hill at the 1st, I make the obligatory trip into the starter's hut to look into a periscope taken from the submarine HMS Excalibur, and see how the hole unfolds.
As befits a club with an interesting name, the holes are intriguingly monikered, too. Wickets, Provost, Doctor, Peggy's, Croupie and Suckielea. And they are as interesting as they sound, despite there being no par 5s and only two par 3s, the course offers wonderful variety. Nowhere is this better underlined that by looking at the 214-yard difference in length between the shortest and longest par 4s!
The stretch from the 6th through to the 14th takes you out to, and then along, the rugged coastline, and will be the holes that live longest in the memory. If I have to pick one to take away with me, it's the 10th.
The hole is drivable if the wind isn't against you. However, playing as it does over a crest to a green right on the shoreline, you don't find out whether a magical two is on the cards until the last moment. My drive makes it over, but lies just short of the green. I manage to cosy up the first putt and hole the second. It's only my third birdie of the trip, but it feels great.
If I had to describe Elie in one word it would be 'fun'. I don't tear it up, but I have a smile on my face at every turn. The course is a joy to play, and we whistle round in just under two and half hours. I can definitely feel my game is on the up.
Before I head back to St Andrews to collect Bill from a press conference, there's just time for Colin to take us down to the harbour to and show us one of his favourite pubs, the Ship Inn. It's a beauty. The snug interior brims with character, and outside there's a fantastic terrace that overlooks the beach and town. This is the sort of place I could spend a long time in! However, with a nine-hour drive ahead of me it's a pint of lime and soda rather than a Belhaven Best.
As I leave the pub, I vow to return one day to play the lovely course at Elie. Who knows, next time I might even make a two at the 10th and have a genuine excuse to celebrate in the Ship Inn.
Mike has been a journalist all his working life, starting out as a football writer with Goal magazine in the 1990s before moving into men's and women's lifestyle magazines including Men's Health, In 2003 he joined Golf Monthly and in 2006 he became only the eighth editor in Golf Monthly's 100-plus year history. His two main passions in golf are courses, having played over 400 courses worldwide, and shoes; he owns over 40 pairs.
Mike's handicap index hovers at around 10 and he is a member of four clubs: Hartley Wintney, Royal Liverpool, Royal North Devon and the Royal & Ancient Golf Club of St Andrews.