How to practice video
Neil Plimmer has some tips on how to practice more efficiently and bring your range swing to the course.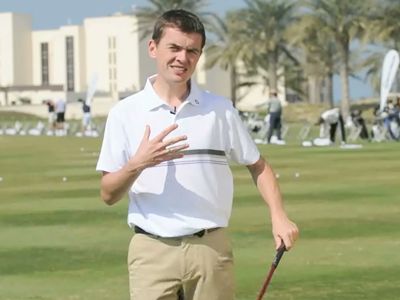 Neil Plimmer has some tips on how to practice more efficiently and bring your range swing to the course.
Try these tips on how to practice if you hit the ball well on the range but not on the course, and your golf game lacks focus and direction.
There are three environments in which we play golf; course, range and teaching studio. Many players suffer because their practice and lesson environments are different from the playing one.
The range can be extremely helpful but what matters is what you do out on the course. As those who take part in regular medal competitions know, the way we swing on the course can be different from on the range.
For instance, does your driving-range swing change when you're faced with water all down the right-hand side of a hole or if you face a stiff breeze?
Is your strategy right? You should bring the three different golfing environments closer together. Why not have a playing lesson in which the pro can see for himself how you respond to certain situations?
I'm not a fan of players endlessly hitting the same shot on the range because this situation never occurs out on the course. So why not take your learning to the course instead and find a technique that helps you score your best.
Next time you're on the range, try never hitting the same club twice in a row. For every ball, pick a new club and a new target to aim for.
This will help you replicate 'course golf' whilst on the range and keep your mind focused to the constantly changing targets.
Another game to try is to play your home course whilst on the range. Start with the club you would usually hit off the 1st tee.
Then, depending on how you hit the tee shot, choose a club for the approach to the first green. Repeat this process for all 18 holes. You should find that next time you're out on the course, hitting the shots feels more comfortable.
Tom Clarke joined Golf Monthly as a sub editor in 2009 being promoted to content editor in 2012 and then senior content editor in 2014, before becoming Sports Digital Editor for the Sport Vertical within Future in 2022. Tom currently looks after all the digital products that Golf Monthly produce including Strategy and Content Planning for the website and social media - Tom also assists the Cycling, Football, Rugby and Marine titles at Future. Tom plays off 16 and lists Augusta National (name drop), Old Head and Le Touessrok as the favourite courses he has played. Tom is an avid viewer of all golf content with a particularly in depth knowledge of the pro tour.