5 things you may have missed this week
We think some of these stories may have slipped under the radar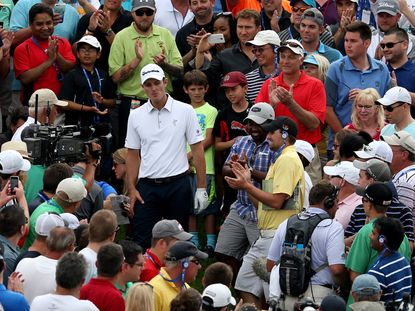 There were some moments on and off the course this week that may have passed you by.
When a certain major champion shoots 85 it's easy for other moments to go unnoticed.
We've compiled the five things you might have missed while the world and his wife were analysing why the aforementioned champions' swing just doesn't cut it.
Here they are in no particular order...
1. Mickelson's tip
Phil Mickelson is generally perceived to be one of the nicest guys around, but even this story is enough to make the most hardened cynic crumble.
'Lefty' was feeling thirsty while at the Memorial Tournament and stopped off at a lemonade stand to buy a cup from two young children.
The youngsters were rewarded for their business acumen with a $100 bill, leaving them with an almighty $99 at their disposal. When asked what they'd spend the money on, one replied a Kindle and the other a Nerf gun. Sweet stuff.
2. 15-year-old makes the US Open
Apart from having a name suitable for a wrestler or an 80s action hero, Cole Hammer is also a special golfer.
At just 15 years old, he qualified for the US Open at Chambers Bay next week. His rounds of 64 and 68 have given him the opportunity to compete alongside some of the biggest names in the sport.
His coach also works with Patrick Reed. If he can make anything like the waves Reed has then he'll be set for a promising career.
3. Rose's ball hits spectator
Justin Rose needed his bunker shot to be accurate on the 18th hole of the Memorial Tournament on Sunday. Unfortunately for one of the spectators, Rose's accuracy deserted him and his shot hit him on the head.
The 2013 US Open winner went over to apologise and shook the hand of the spectator, who luckily was OK.
We say that golf is a game that requires you to use your head. Just don't use anyone else's.
4. Ko makes it 53 events without missing a cut
Lydia Ko continues to take the women's game by storm and did so again at the weekend.
Although she didn't win the Manulife LPGA Classic, she did make her 53rd consecutive cut as either an amateur or a professional.
Ko finished the event T27, but she continues to astound those around her.
5. Castro brothers almost meet in play-off
We see a lot of sibling rivalry in football, rugby and other team sports, but how often do we see it in golf?
During sectional qualifying for the US Open, Franco Castro missed a putt on the 18th, meaning he avoided heading into a play-off with his brother Roberto.
Roberto took one of the three spots, but Franco could yet meet him at Chambers Bay given he is now a first alternate.
Will Medlock graduated from UEA with a degree in Film and Television before completing a Masters in Sports Journalism at St Mary's in London. Will has had work published by The Independent and the Rugby Paper.