Bunker trouble at Whistling Straits
How confusion over a local rule cost Dustin Johnson a play-off place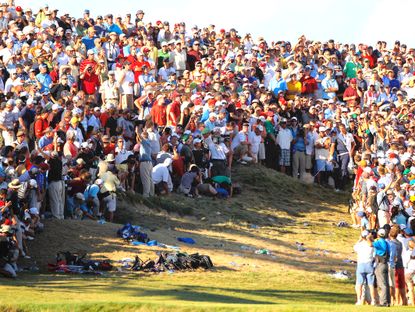 (Image credit: Getty Images)
Golf Monthly Newsletter
Golf tips and expert instruction, golf club reviews and the latest golf equipment.
Thank you for signing up to . You will receive a verification email shortly.
There was a problem. Please refresh the page and try again.
How confusion over a local rule relating to bunkers cost Dustin Johnson a play-off place at the 2010 USPGA Championship
There is many a famous bunker in golf, such as the Himalayas at St Enodoc (opens in new tab), or the Road Hole one at St Andrews (opens in new tab).
But Whistling Straits has probably the most famous bunker that looks-like-a-waste-area. Its fame, or infamy, is all down to Dustin Johnson in the 2010 USPGA Championship.
A bunker, as defined in the Rules of Golf, is 'a hazard consisting of a prepared area of ground, often a hollow, from which turf or soil has been removed and replaced with sand or the like. Grass-covered ground bordering or within a bunker is not part of the bunker. A wall or lip of the bunker not covered with grass is part of the bunker.'
A waste area has no official definition as The Rules of Golf do not mention waste bunkers or waste areas. This is a casual term used by golfers to describe sandy areas which are often places where the gasrs or topsoil has eroded leaving the sandy base exposed.
The difference is important, as there are things you can't do in a bunker that you can in a waste area, One of these is to ground your club.
In the final round of the USPGA Championship of 2010 (opens in new tab) Dustin Johnson had a one shot lead, after birdies on 16 and 17.
His tee shot on the final hole, a 500-yarder of a par 4, clattered into the crowd. When they parted his ball was resting on a sandy area.
"I just thought I was on a piece of dirt that the crowd had trampled down," Johnson said afterward. "It never once crossed my mind that I was in a bunker."
Johnson grounded his club in addressing the ball and played out, hitting the ball short and left of the green. He chipped on and but missed his putt, for a bogey that looked to have put him into play-off.
However rules officials were aware that Johnson had grounded his club before his second shot on the hole, and Johnson agreed that he had. So his 5 at the final hole now became 7. Far from being in the play-off, he had finished in 5th spot.
Johnson's confusion was that a local rule defined all sandy area sat Whistling Straits as bunkers. There are many such areas at Whistling Straits - more than 1,000 of them, some like traditional bunkers in appearance, others less so.
For, what they hoped would be avoidance of al doubt, all these areas were to be considered as 'bunkers' during the tournament, as it would be "even harder to say that some of these are not bunkers and some of them are because then how do you define those?" explained Mark Wilson, co-chairman of the PGA of America rules committee about what he described as "a unique course with unique characteristics."
Each player was given a sheet with the local rules. It stated:
"All areas of the course that were designed and built as sand bunkers will be played as bunkers (hazards), whether or not they have been raked. This will mean that many bunkers positioned outside of the ropes, as well some areas of bunkers inside the ropes, close to the rope line, will likely include numerous footprints, heel prints and tire tracks during the play of the Championship. Such irregularities of surface are a part of the game and no free relief will be available from these conditions."
There was sympathy for Johnson from, Nick Watney, who played in that final two ball with Johnson. "I don't think anyone reads the sheet. We get a sheet every week. I've never seen fans in a bunker with a player. That was a little odd."
But Johnson admitted: "Maybe I should have looked to the rule sheet a little harder."