Gallery: One Direction's Niall Horan caddies at Masters Par 3 Tournament
Rory McIlroy has a new caddy - for one day only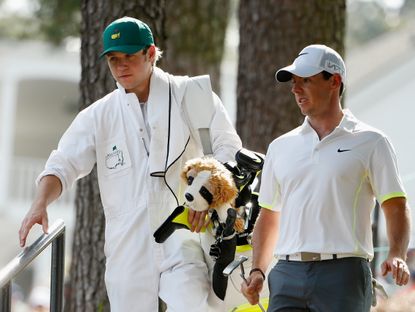 (Image credit: Getty Images)
One Direction's Niall Horan was one of those involved in the Masters Par 3 Tournament at Augusta National
Jack Nicklaus celebrates after making a hole in one on the 4th hole. At 75 he became the oldest man to make a hole in one in the Masters Par 3 Tournament. His 8-iron on the 123-yard hole landed about 15ft past the pin and spun back.
Jack was playing with Ben Crenshaw and Gary Player, the only two men to have three holes in one in the Masters Par 3 Tournament. It was Nicklaus' first hole in one at Augusta.
Camilo Villegas of Colombia, here with his partner Maria Ochoa, made two holes in one in this year's contest. However it was not enough to give him victory...
... as he lost in a play-off to Kevin Streelman. Streelman says he is not worried about the 'curse of the (opens in new tab) Masters Par 3 (opens in new tab) Tournament', whereby no-one who has won it has also won the Masters in the same year. His caddie was Ethan Couch, who has a benign but inoperable brain tumour. "This isn't about me today," said Streelman. "It's about helping him out and showing him a great day."
Rory MacIlroy had One Direction singer Niall Horan on his bag.
One Direction's Niall Horan is going in the wrong direction as he slips on some pine needles.
Niall Horan prepares to play Rory's tee shot on the 9th for him. He hit it into the water.
Tiger Woods had his daughter Sam, 7, and Charlie, 6 - on his bag. Or he would have had if he had a bag. Instead the Woods clan just carried around a few clubs.
Most wives and girlfriend wore the Augusta caddy overall. But Tiger Woods' girlfriend, skier Lindsey Vonn, who went round to help guide his children, took a different sartorial attitude.
Charl Schwartzel had two caddies - his wife Rosalind and their daughter - but still ended up having to carry his own bag.
Jason Day helps his son Dash to line up a putt with a driver....
..but he still missed. Erik Compton watches on in the background.
Picture credits: Getty Images
Contributing Writer Golf courses and travel are Roderick's particular interests and he was contributing editor for the first few years of the Golf Monthly Travel Supplement. He writes travel articles and general features for the magazine, travel supplement and website. He also compiles the magazine's crossword. He is a member of Trevose Golf & Country Club and has played golf in around two dozen countries. Cricket is his other main sporting love. He is the author of five books, four of which are still in print: The Novel Life of PG Wodehouse; The Don: Beyond Boundaries; Wally Hammond: Gentleman & Player and England's Greatest Post-War All Rounder.