Watch Jack Nicklaus hole-in-one at Augusta
After teeing it up for over 40 years at Augusta, Jack Nicklaus gets hole-in-one at Augusta.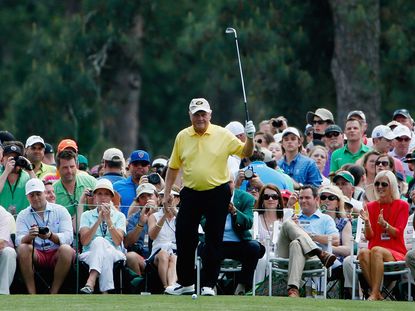 After teeing it up in Augusta for over 40 years, "The Golden Bear" struck gold one more time check out Jack Nicklaus hole-in-one here
Watch Jack Nicklaus hole-in-one at Augusta
It's hard to believe Jack Nicklaus can continue to make history.
At the age of 75, "The Golden Bear" turned back the clock on Wednesday when he knocked in a hole-in-one on the 4th, during the Par 3 Contest at Augusta.
More impressivly, it was his first one at the historic venue, in over 40 years of playing in the Masters tournament.
The six-time Masters champ used his 8-iron, knocked it past the flagstick, and watched the ball roll over 30 feet back to the center of the cup.
http://www.youtube.com/watch?v=cSRf-8F4dPQ
It was iconic moment with Nicklaus turned to celebrate with Gary Player and Ben Crenshaw, three players with a combined 11 Masters titles.
As the cheering continued, players across Augusta held up their putters to honor Nicklaus as he went to collect his ball.
Had a Hole In One Recently? Join our Hole-In-One Club
The Nicklaus ace was one of five on the day, tying a record set in 2002.
Camilo Villegas tried to steal the show, sinking two hole-in-ones on the day.
But even that wasn't enough to win this year. Kevin Streelman ended up winning the 2015 Par 3 contest in a playoff over Villegas.
More than just the action on the course, the Par 3 contest brought plenty of fun for all the players.
Rory McIlroy was caddied by his long-time mate and 1D member Niall Horan. The Grand Slam hopeful even let his Horan take a tee shot on 9. Horan, who carries a decent handicap let the pressre get to him, hitting a low, driving shot into the pond.
Rory was paired with Tiger Woods, who was playing in the contests for the first time since 2004, when he had an ace of his own when playing with Arnold Palmer and Mark O' Meara.
Tiger was caddied by his kids, Sam and Charlie.
In the end, the day belonged to Nicklaus, who even at 75, showed why he is still one of the best.
A US native, Taylor enjoys hacking from the rough and scrambling to save bogey on a par 3. Follow Taylor on Twitter @taylorumland