Augusta hole-by-hole guide: Hole 17 - Nandina
Get a hole-by-hole guide of Augusta National Golf Club course ahead of the US Masters. Hole 17 - Nandina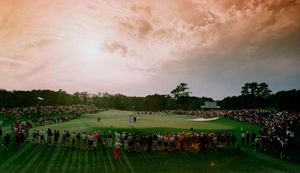 Nandina Par 4 440 yards
Hole Guide:
This hole features the famous Eisenhower Tree which stands to the left-centre of the fairway. Now 210 yards from the tee, it was named after the former president and member because he hit it so many times and campaigned to have it removed.
The green here is more straightforward than others at Augusta – there are only two bunkers to deal with at the front.
This hole played second hardest in 2006 with players averaging 4.28 shots. Amazingly there hasn't been an eagle here for nine years, Davis Love III bagging a 2 here in 1998.
More Augusta Masters Holes:
1 | 2 | 3 | 4 | 5 | 6 | 7 | 8 | 9 | 10 | 11 | 12 | 13 | 14 | 15 | 16 | 17 | 18
Betting experts, writers and video producers. Couple of guys in our early 20's looking to bring the sport that we love into a new era.'