How To Practise Chipping Under Pressure
Adding some focus to your practice will help you find a better touch around the greens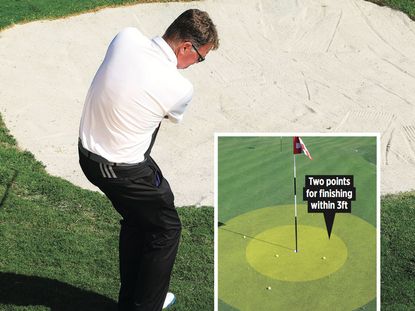 Get the Golf Monthly Newsletter
Thank you for signing up to Golf Monthly. You will receive a verification email shortly.
There was a problem. Please refresh the page and try again.
Adding some focus to your practice will help you find a better touch around the greens
How To Practise Chipping Under Pressure
Golf Monthly Top 25 coach John Jacobs shows some superb drills to help you improve your pressure chipping to help you make vital up-and-downs for lower scores.
1 Take the test
Getting up and down when you need to will be the difference between a good score and a mediocre one, so try taking the following test.
Create two rings around the hole using tee pegs – one 3ft away from the hole, the other 6ft.
Now hit the following shots: a 40-yard bunker shot, a 30-yard pitch, a greenside flop shot and a chip-and-run.
You get one point for each ball that finishes inside the 6ft ring, two points inside 3ft and four points for holing out.
Take this test regularly and try to beat your personal best to add some pressure to your practice.
2 Box Test
This will help your distance control.
You should be aiming to get your chips past the hole to give you a chance of holing out, and if you miss, you'll see the line for the putt.
Create a box around the hole, using tee pegs to mark the corners short of the hole and alignment sticks to mark the corners past it.
Now hit five shots from just off the green.
You get one point if the ball finishes inside the box but short, two points inside the box but past and three if you hole out.
Using alignment sticks will help your depth perception.
3 Move Away Drill
You might think that touch is a natural attribute, but you can certainly develop it in practice.
Create a semi-circle of tees around the hole and then place five balls, each one 5ft further from the hole than the one before.
You get three points for each ball that finishes inside the semi-circle and four points if you hole out.
This will help you make those subtle changes in speed you need to be a great chipper.
Do it three times in one practice session and you should see a rapid improvement.
Expand 10 Tour Pro Ball Striking Tips
10 Tour Pro Ball Striking Tips
Need help with your ball striking? Here are…
Expand 10 Ways To Improve Your Golf Strategy
10 Ways To Improve Your Golf Strategy
Use these simple strategy tips to start scoring…
Expand 10 Ways To Hit The Ball Further
10 Ways To Hit The Ball Further
Here are 10 simple ways you can hit…
4 Notebook
One of the most important items for any golfer is a notepad.
This is where you can track your improvements and jot down some notes.
Running through these tests once and month and then noting down the scores will create all-important pressure.
You can also note down other drills you might think be useful and refresh your practice.
This will really help you make the most of your precious time and avoid those aimless sessions that do more harm than good.
Related: Best Golf Net - get the perfect setup at home
Checklist:
Regularly test yourself in practice to improve your touch
Aim to get your chips past the hole for a chance of holing out
Write down your results and aim to beat your score
Shot on location at Las Colinas Golf and Country Club, Spain
Get the Golf Monthly Newsletter
Tips on how to play better, latest equipment reviews, interviews with the biggest names and more.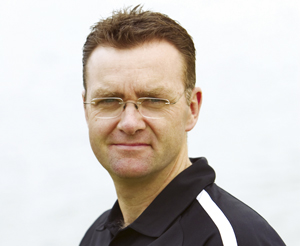 Location: Cumberwell Park
John has been Head Professional at Cumberwell Park in Wiltshire since it opened in 1994. He gets as much pleasure teaching beginners as he does county players, although being Wiltshire's Head Coach, Boys Coach and Girls Coach means he's always in demand. He also works with England Golf, and was England Coach Of The Year in 2020.
He's had the pleasure of working with many top players over the years, and has fond memories coaching the likes of Tommy Fleetwood, Matthew Fitzpatrick and Tom Lewis before they made the leap into professional golf. John specialises in swing analysis and short game development.