Optimal Driver Launch Angle Tips
PGA pro Gareth Lewis shares his tips on how to create the optimal driver launch angle for your game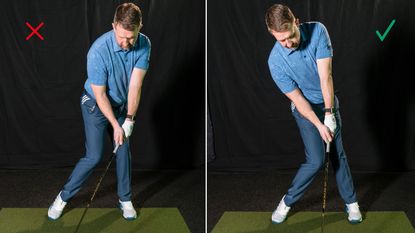 (Image credit: Tom Miles)
One of the things tour players do so well is optimise their launch angle when hitting the driver. It's for that reason players like Rory McIlroy are able to breach the 300-yard mark with ease. While most of us don't have access to the same kind of technology that helps the world's best, there are still ways we can all improve in this area. In the video and article below, PGA pro Gareth Lewis shares his tips on how to optimise your driver launch angle.
When hitting a driver, what is the optimal launch angle? Well, manufacturers and tour technicians around the world will give us a guide and say around 15 degrees of launch with around 2,500-3,000 rpm of spin will generate the most efficient launch conditions. But it very much depends on the speed you are swinging the golf club.
For example, if your swing speed is around 80mph, you'll probably benefit from a launch angle of around 17 or 18 degrees and spin of over 3,000rpm. The reason for this is that the extra spin is going to keep the ball in the air for longer and increase the carry distance.
If you're swinging at 90mph, you can bring the launch down, perhaps into the region of 14 to 16 degrees with spin of between 2,500 and 3,000rpm.
And for those lucky enough to swing the club at 100mph or more, the launch can come down again. This time, something in the region of 12 to 15 degrees will usually suffice, with spin of 2,000 to 2,500rpm.
Angle of attack
It's important to remember, though, that it isn't just about swing speed. You have to consider your angle of attack as well. It's all well and good creating speed, but if you're not hitting up on the ball, you're not going to get the carry distance. You need to put all these pieces together to create the ideal launch.
But first, you need to make sure you're in the best driver address position possible. That means working on your ball position and how to set your spine angle.
From there, you're ready to load into your trail side in your driver backswing and then rotate your hips for power coming through to impact. Do all that and you'll notice you've been able to shallow out your driver swing, making it far easier to hit the ball with an ascending attack angle.
Booking some time on one of the best golf launch monitors will allow you to gather accurate data so you can assess your progress, and if you're still struggling, try out some driver drills that are sure to help.
Custom fitting
Without overanalysing how to increase your swing speed, having equipment tailored to your game will immediately give you a boost. For me, I'm currently using the TaylorMade Stealth Plus - which is the lower-spinning model - set to eight degrees as I'm fortunate enough to have sufficient clubhead speed to knock the loft down without sacrificing carry distance. It's my speed that's going to keep the ball in the air.
However, there are other options. There's the standard TaylorMade Stealth that's available in a range of lofts. You can also add loft for a higher launch or you can change the head to alter the spin. Then there's the draw-bias TaylorMade Stealth HD that will be a hit if you're desperate to fix your slice. Shafts also play a part in creating the ideal launch conditions for your game.
So, as you can see, there's a lot to consider when it comes to getting the optimal driver launch angle. While the guide and tips above will get you started, the best way to truly dial in those numbers is to go for a custom fitting.
Gareth is a well respected professional with over 20 years experience. Gareth has previously worked at various high profile and world-renowned facilities, the most recent being Royal St.David's Golf Club in Harlech, North Wales, where he held the position of Club Manager and Head Professional.
He has a passion for coaching, custom fitting and retail and also enjoys regularly competing and playing socially. Gareth has had success coaching players of all abilities from a Welsh Professional Champion and Welsh Amateur Internationals to the absolute beginner. Gareth's passion for all sports and enthusiasm to continue learning makes his coaching style very adaptable and relatable, which is why he also has a good track record of coaching elite athletes from other sports. More details can be found at www.lewygolf.co.uk