How To Find The Right 14 Clubs For Your Home Course
Every golfer is different and so is every course, so read these tips to help you find the right clubs to best suit where you play each week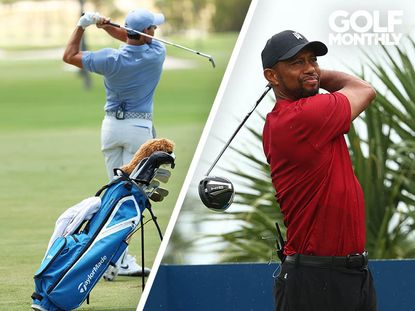 (Image credit: Getty Images)
Every golfer is different and so is every course, so read these tips to help you find the right clubs to best suit where you play each week
How To Find The Right 14 Clubs For Your Home Course
Where is the trouble off the tee?
If you play a golf course where there are numerous penalty areas or out of bounds stakes on the same side then you will want to factor this in when picking your driver. If you simply cannot afford to miss right at your home club, a good option may be to purchase a draw-bias driver or one with adjustability to help promote a draw. Alternatively, it might be that your club has three really tough holes and, on those holes, the trouble is down the left. In this scenario, it is worth considering a driver set up that will help prevent the ball from going left. Either way, taking one side of the golf course out of the equation by knowing that you are unlikely to miss either right or left may well help you shoot lower scores.
What is your second driving option?
Most golfers will play a driver and a 3-wood and then either a hybrid or a 5-wood because, understandably, they want even distance gaps at the top end of the bag. However, for many golfers, more important than having even distance gaps is carrying a reliable second driving option. Whether that's a 4 wood, a utility iron or a hybrid, it's definitely something worth thinking about because keeping your ball in play is a must if you want to get your handicap down. Your second driving option will often become your go-to club on difficult driving holes and whenever you are forced to lay up. This can make it a crucial component of your bag, even if it causes slightly uneven distance gaps at the top end.
VIDEO: Tiger Woods What's in the bag?
How often do you hit 3 wood?
If you like a 3-wood off the tee and are happy to play it off the deck then it can be a superb club to have. However, if your 3-wood is not your go-to second driving option then you may want to ask yourself how often you actually use it. Many golfers struggle with hitting fairway woods off the deck and it can be an intimidating shot to face, especially under pressure. How long are your club's par 5s? If they're not too long or require lay ups then you might want to put a more confidence-inspiring and easier-to-launch, higher lofted fairway in the bag like a 16.5 or 18 degree. If you find yourself hitting 12 wedge shots and one fairway wood in a typical round then it might be worth taking the fairway wood out and adding in a wedge. Remember to play to your strengths and carry clubs that you're happy to hit and are confident using.
How thick is the rough at your club?
The thickness of your club's rough is a key factor in deciding how to set up the top end of your bag. If you play a links course then most of the rough, aside from the real knee-high stuff, will likely be tame and you should easily be able to hit longer irons out of it. However, many parklands will have thick, juicy rough and in this scenario your best option may be to stick a hybrid in. From thicker lies, hybrids are much easier to to hit with more mass behind the ball and a CG usually placed low and back to help the ball get up in the air.
What are the conditions like at your course?
If you play at an open parkland or a links course you will play most of your golf in breezy conditions. The last thing you'll want are clubs that balloon up in the air, so go for lower launching clubs, like models designed to keep spin down and utility irons instead of high-launching hybrids. On the other hand, if you play at an American-style parkland, you may want to favour carry over run and choose your clubs accordingly. High-launching fairway woods and hybrids will help your ball carry further and come down softer. Launch monitors are great but you need to factor in what happens in a real life environment as well!
Be honest with yourself about your ball striking
Yes blades look lovely and yes, there's nothing quite as sweet as flushing one out of the middle but ask yourself, honestly, how good is your ball striking? It's key to pick irons that will help you find as many greens and hit as many good shots as possible, so you may be better off with a forgiving, high-launching set. If you're not a great ball-striker then it really should be a simple decision to go for a more forgiving set and take out the 3 and 4-irons and add in some hybrids. Even the likes of Rory, DJ and Morikawa, some of the world's best ball strikers, are using hybrids these days, maybe it's time you do too?
VIDEO: TaylorMade SIM Max irons review
How long is your course?
If you play at a short golf course you might want to drop something from the top of your bag and add in an extra wedge, especially if you regularly find yourself with awkward yardages. If your course has lots of par 4s under 300 yards then you're likely to hit a lot of wedges from all sorts of different numbers. On the other hand, if you play at a course where you're faced with lots of approaches of 180-220 yards then you may want to add in something extra at the top of the bag to help with gapping and remove a wedge.
How fast are the greens?
Do your club's greens tend to be on the quicker side? If so, you'll want a putter to match. A softer feeling putter with an insert might help you hole more and avoid three putts, whereas if your club has slow greens then a firmer-feeling flat stick will be your preferred option. If your greens are slow then you'll likely be using a longer backswing and might want a toe-hang putter as you'll have more arc in your stroke. This is something your local professional will be able to help with and is well worth taking into account when choosing your putter.
Choose your golf ball
And finally, don't forget that the golf ball is the only piece of equipment you use for every single shot. Make sure that once you have chosen a model of golf ball, you then stick to it. Find one that's right for your game and once you've picked it, keep it in use as you will develop a great feel for how it plays on all those delicate and crucial shots around the green. Your game will respond better when using the same ball.
Articles created in partnership with TaylorMade.