How Much Sand Should You Take For Perfect Bunker Shots?
In this instruction feature, John Jacobs offers some simple tips to help golfers nail their entry point in bunkers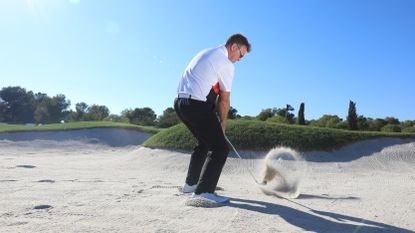 (Image credit: Tom Miles)
One of the keys to being a good bunker player is to take a consistent amount of sand. It can be hard to work out how much that is, so in the video and article below, PGA pro John Jacobs shares his top tips that'll help you become a bunker master in no time...
If you've always struggled with how to play bunker shots, trying to nail a consistent entry point and angle of attack is a good place to start. This will also make it far easier for you to control the distance, but just how much sand should you take for perfect bunker shots?
Some players take a little more than others but a good thought is to create a splash that is around the size of a £20 bank note. Imagine the ball is sat on the middle of that note – that's the ideal amount of sand to dislodge either side of the golf ball.
Distance control drill
Here is a great drill to help improve your distance control. Head to the practice bunker and hit a normal splash shot with your usual sand wedge. Now replace your sand wedge with your 8-iron. At address, move the ball forwards in your stance, open the face a little more and drop your hands down. Now make a normal swing. You'll be surprised by how high the ball flies and how softly it lands.
Now hit the same shot with your 6-iron. Move your hands down the grip, move the ball even further forward and drop your hands down even more. Make a normal swing. This drill is a great way of adding some versatility to your short game without having to change the swing itself. Crucially, you should try to keep the size of the splash the same throughout.
Shallow splash drill
You also need to think about speed. I find in my coaching that players swing far too aggressively when in the sand. The club is swung on too steep an angle and it digs through impact, resulting in massive inconsistency. Instead, you want your splash to be nice and shallow.
So, for this drill I want you to swing the club as softly as you can. Make sure you try to dislodge the same £20-note-sized amount of sand and you will be surprised at how softly you can swing and still get the ball out. This ability to take speed off will really help you improve your bunker play.
Location: Cumberwell Park
John has been Head Professional at Cumberwell Park in Wiltshire since it opened in 1994. He gets as much pleasure teaching beginners as he does county players, although being Wiltshire's Head Coach, Boys Coach and Girls Coach means he's always in demand. He also works with England Golf, and was England Coach Of The Year in 2020.
He's had the pleasure of working with many top players over the years, and has fond memories coaching the likes of Tommy Fleetwood, Matthew Fitzpatrick and Tom Lewis before they made the leap into professional golf. John specialises in swing analysis and short game development.