Should Europe Host The Ryder Cup In Dubai?
It has been suggested. But is it really that daft an idea to hold a Ryder Cup in Dubai?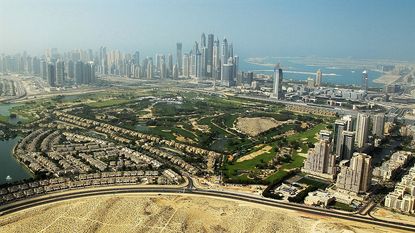 Taking the Ryder Cup to the UAE is an idea has been regularly put forward over recent years, So is it really that daft an idea?
Should Europe Host The Ryder Cup In Dubai?
Holding the Ryder Cup (opens in new tab) in Dubai may sound a bizarre notion. But it is a suggestion that has been floating around for several years now.
Donald Trump was one of those who thought it was a good wheeze. But this admittedly came from self-interest, in connection with Trump building a course in Dubai. "I'm not saying we'll get the Ryder Cup, but I think we'll have a great chance," declared Trump bullishly at the time.
When asked to respond to this in a press conference before the Irish Open of 2014, Graeme McDowell had replied: "It sounds a little kind of crazy. But when you look at what Dubai and the Middle East means to the European Tour, it would be a pretty amazing Ryder Cup venue. They have got some amazing golf courses over there. I don't think the Americans would have a problem with it. It would be a fun place to have a Ryder Cup."
Related: Future Ryder Cup Venues (opens in new tab)
There are several snags of course. One of them is that Dubai is not in Europe.
So Europe would be giving away home advantage to a certain extent. However the European Tour has its headquarters in Dubai and the European players play there regularly.
But would Europe get its typically large partisan following? Unlikely. Dubai would be expensive for European fans to get to and stay in. One thing that makes the Ryder Cup special – and why it was not held without spectators in the pandemic, as it could have been – is the atmosphere created by the noisy partisan crowds.
Also when Europe have taken the Ryder Cup to venues outside of the British Isles, it is with an eye to growing the game in other parts of the Continental Europe.
But money talks and Dubai has a lot of it. It has the headquarters of the European Tour. It has influence and connections. So it would not be a total shock if it were to happen.
But would it be the right thing? I doubt it. Will it happen? I also doubt it.
Contributing Writer Golf courses and travel are Roderick's particular interests and he was contributing editor for the first few years of the Golf Monthly Travel Supplement. He writes travel articles and general features for the magazine, travel supplement and website. He also compiles the magazine's crossword. He is a member of Trevose Golf & Country Club and has played golf in around two dozen countries. Cricket is his other main sporting love. He is the author of five books, four of which are still in print: The Novel Life of PG Wodehouse; The Don: Beyond Boundaries; Wally Hammond: Gentleman & Player and England's Greatest Post-War All Rounder.