2017 Titleist DT TruSoft Golf Ball Review
Watch and read this 2017 Titelist DT TruSoft golf ball review to see how it fared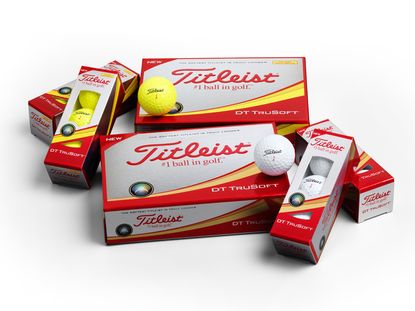 You won't find a better ball for this little money. It blends soft feel with piercing flights and consistency, so really is little to dislike.
Reasons to buy
+

This ball offers excellent value at just £23 per dozen, which will likely be under £20 in most pro shops. It also surprised us at how soft it felt on chips and putts and, as you'd expect, had all the consistency and durability of a Titleist ball.
Reasons to avoid
-

This ball is partly designed for price-conscious golfers, so you don't get a urethane cover that creates spin like on the Pro V1. This can be compensated for by landing the ball short, but when you're short sided it's very tough to get close.
Watch and read this 2017 Titelist DT TruSoft golf ball review to find out more about the ball with the softest core in Titleist's range
Key Technology
Compared to the previous Titleist DT TruSoft ball, this new 2017 version has been designed to maintain the softness you'll experience, but while adding a few extra yards of distance. This was made possible thanks to its TruTouch Core getting larger and its TruFlex Cover getting thinner, which together reduce long game spin. As you'd expect at this great value price point, you only get an ionomer based cover, but the ball's dimples have undergone minor improvements to eek out any extra distance possible.
Performance
During our testing at West Hill Golf Club we were pleasantly surprised by how similar the new DT TruSoft felt when putting and chipping when compared to the premium golf balls we test. We'd go as far as to say that if you were to blindfold 50 average club golfers, the vast majority wouldn't pick it out as a £23 per dozen ball based on feel alone. It also seemed to live up to the billing off the tee, flying on consistent and long trajectories. Of course, it's lower cost does come with the caveat of its firmer ionomer type cover, and while the 2017 DT TruSoft feels very soft, it's noticeable how it can't check up like the Pro V1 does. We know many golfers will happily take a little less greenside spin for a little more cash in their wallets, but we also know for others, stopping power around the greens is a feature they must have in a ball. Your preferences and budget will certainly lead you here.
Will Suit
We all know that premium golf balls are expensive, so if you're looking for genuine long game performance and soft feel for your short game without the hefty price-tag, this new ball from Titleist is well worth testing.
Jake O'Reilly specilaises in equipment coverage, and joined the Golf Monthly team in 2013. Before this he graduated from the University of Huddersfield with a Sports Journalism and Media degree, and worked at a number of British golf magazines. Follow Jake on Twitter
@jake0reilly