G/FORE Daytona Plus Carry Bag Review
Mike Harris has a new favourite golf bag in the form of the G/FORE Daytona Plus, designed in collaboration with Vessel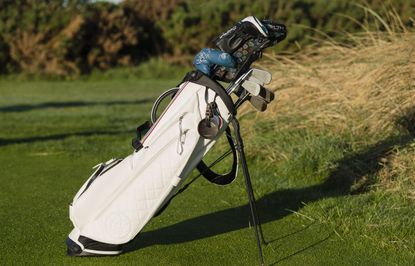 (Image credit: Tom Miles )
This premium bag combines everything that's great about G/FORE'S bold styling, with Vessel's high quality craftsmanship and fine attention to detail. The styling might not appeal to everyone, but G/FORE fans and those after something different from a premium golf bag are sure to love it.
Reasons to buy
+

Incredibly comfortable to carry

+

Can be used on a trolley/cart

+

Lightweight but feature packed

+

Premium materials and stand out design
Reasons to avoid
-

Very bold styling will not be for everyone

-

White color prone to getting dirty

-

Only water repellent, not waterproof
Why you can trust Golf Monthly Our expert reviewers spend hours testing and comparing products and services so you can choose the best for you. Find out more about how we test.
According to G/FORE, this is the brand's best-selling carry bag, and it's easy to see why, as it offers standout looks, tons of features and great versatility. Before taking a deeper dive into the design and its impressive features, a word on Vessel, makers of this standout bag.
We've tested a few bags from this super stylish, Californian brand, such as the Vessel VLX 2.0 stand bag, and it's the high quality materials and craftsmanship that really sets its products apart; it's one of the reasons why this premium brand is favoured by Tour pros and discerning golfers alike. The only way you'd know this G/FORE bag was made by Vessel is the subtle dual logo on the base of the bag.
G/FORE tends not to do things by halves. This bag oozes style and attitude, and, whilst it might not appeal to everyone, I've been an admirer of G/FORE's bold style for some time having tested a lot of the brand's footwear and apparel.
In the 35 years I've been playing golf, I must have used 50 plus golf bags, from pencil bags to Tour bags, and what's for sure is that not all bags are created equal - some have really disappointed while others have shone. For the last few seasons I've been using a Ping Hoofer Craz-E Lite stand bag. It's been a trusty bag that never let me down and I got to the point where I didn't think I'd find something to topple it, but after a few months with the G/FORE Daytona Plus, I've got a new gamer. I reckon it's the best golf bag I've ever used.
Image 1 of 10
On paper it's a touch heavier than my Ping , but on your back walking the course it doesn't feel any heavier because the strap system is so good; once you get it balanced on your shoulders, it's perfect. I also love how you can make it a single strap if you want by clipping the straps on and off. It's remarkably sturdy, too, with the chrome plated fiberglass legs and feet ensuring it's never in danger of toppling over.
Although I prefer to carry, there are times when I use a trolley. The Daytona Plus shows all its best qualities when being carried, but it still looks good when mounted, and trolley users will find that it sits comfortably without the legs kicking out thanks to the retaining straps - a feature I think is frankly a non-negotiable on carry bags.
I will say that it's probably not the perfect choice if you're someone who likes to pack the kitchen sink when golfing, but I'm more than happy with the space it offers. The pockets include a large garment compartment that will easily fit a set of waterproofs, a velour water resistant pocket for valuable items, cooler-lined water bottle sleeve, magnetic velour-lined rangefinder pocket, and a pen pocket.
The attention to detail is what impresses me the most. For example, there's a small loop for putting your towel and/or bag tags on, and a really good fixture for your umbrella. Everything about it says style, from the G/FORE logos on the pulls to the tone on tone stitching. I love the quilted panels, too, and the 'No 1 cares what you shot' slogan that features on the puller for the main pocket. Again, this might not be everyone's style, but I'm a big fan of the brand's funny, attitude-packed styling.
I found it really hard to find any faults. I thought the 4-way divider wouldn't be enough (my Ping bag has a 5-way top) and that clubs would crowd. However, I can pull my clubs out without any difficulty, and there's more than enough room for a full set.
Although you can wipe the bag clean, the Snow (white) color is always going to get grubby despite your best efforts to keep it looking like new, so when the UK winter kicked in I stored it away until spring. G/FORE has at least made the bottom of the bag black, which is where most mud kicks up. And, if you want a more year-round color then there's Twilight (Navy) or and Petrol (Blue). The fourth color - Knockout Pink - takes eye-catching to a new level!
Of course, a premium bag of this nature will set you back a few dollars - we're talking approximately $350. However, most premium bags/best stand bags from the big name OEM brands on the market will cost you in the region of $300. Spend that little bit more and you're going to get something quite different, a product very few golfers will have.
True, you need to have some confidence to use such a standout bag, especially if you're having a bad day on the links, but that's not put me off, and if you're after an alternative to the ubiquitous stand bag emblazoned with a huge brand logo on the side then the G/FORE Daytona Plus is a great choice.
Mike has been a journalist all his working life, starting out as a football writer with Goal magazine in the 1990s before moving into men's and women's lifestyle magazines including Men's Health, In 2003 he joined Golf Monthly and in 2006 he became only the eighth editor in Golf Monthly's 100-plus year history. His two main passions in golf are courses, having played over 400 courses worldwide, and shoes; he owns over 40 pairs.
Mike's handicap index hovers at around 10 and he is a member of four clubs: Hartley Wintney, Royal Liverpool, Royal North Devon and the Royal & Ancient Golf Club of St Andrews.