Tiger Woods Will 'Love' To Play In The Seniors – And He'll Use A Cart
Jack Nicklaus says Tiger Woods has told him he's planning on playing the PGA Tour Champions circuit and will use a cart when he does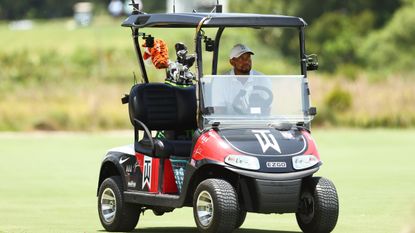 (Image credit: Getty Images)
Jack Nicklaus says Tiger Woods is eager to play on the PGA Tour Champions circuit once he turns 50 – and could even use a cart to help him get through tournaments with his badly injured leg.
Woods was forced into somewhat of a semi-retirement after his horrific car crash in February 2021, where he'll now just play in a few exhibitions and the odd PGA Tour event alongside the Majors.
Fans and even fellow players have urged Woods to see if he can use a cart to help get around the golf course during tournaments, but that's something Tiger has so far refused to consider.
That may not always be the case though, as with his half-century fast approaching the great man could be considering getting a set of wheels for a career on the senior circuit.
Nicklaus says that Tiger has told him that he would relish teeing it up on the seniors, with the 82-time PGA Tour winner becoming eligible on his 50th birthday at the end of 2025.
"He's going to play the Majors, he can actually still hit the ball pretty well, he just can't walk," Nicklaus told Sir Nick Faldo's new podcast Sir Nick's Round Table Chats on YouTube.
"I told him, I said 'Tiger you're eligible to take a cart', but he said 'I'm not going to do that, when I get to the senior tour I will.'
"He'd love to play the senior tour. That's what I love about Tiger, he's a competitor, he loves competition."
The 47-year-old did return to regular PGA Tour action at the Genesis Invitational, which he serves as host, last month and managed to make the cut and play in all four rounds, but it's clear that will not be a regular occurrence.
Due to the damage to his leg and ankle, Woods will limit himself to the four Majors and just a couple more select events to use as tune-ups if his body allows, and as he said at Riviera he still believes he can challenge for a 16th Major title.
But from what Nicklaus says, Woods has also set his sights on the PGA Tour Champions, where you'd expect him to have a great chance of winning some big events and scratching that competitive itch beyond his 50th birthday.
Paul Higham is a sports journalist with over 20 years of experience in covering most major sporting events for both Sky Sports and BBC Sport. He is currently freelance and covers the golf majors on the BBC Sport website. Highlights over the years include covering that epic Monday finish in the Ryder Cup at Celtic Manor and watching Rory McIlroy produce one of the most dominant Major wins at the 2011 US Open at Congressional. He also writes betting previews and still feels strangely proud of backing Danny Willett when he won the Masters in 2016 - Willett also praised his putting stroke during a media event before the Open at Hoylake. Favourite interviews he's conducted have been with McIlroy, Paul McGinley, Thomas Bjorn, Rickie Fowler and the enigma that is Victor Dubuisson. A big fan of watching any golf from any tour, sadly he spends more time writing about golf than playing these days with two young children, and as a big fair weather golfer claims playing in shorts is worth at least five shots. Being from Liverpool he loves the likes of Hoylake, Birkdale and the stretch of tracks along England's Golf Coast, but would say his favourite courses played are Kingsbarns and Portrush.