'They Will Be Hitting The Ball 500 Yards' - Player Issues Stark Warning
Gary Player didn't hold back when asked for his comments on golf's great distance debate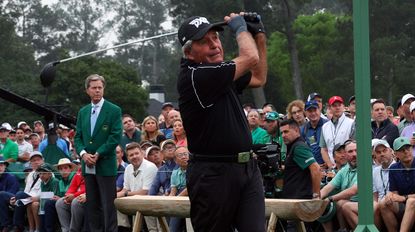 (Image credit: Getty Images)
Three of the game's legends have weighed in on golf's distance and bifurcation debate, with Gary Player predicting that it won't be long before players are "hitting the ball 500 yards" if nothing is done to rein it back.
After Player, Jack Nicklaus and Tom Watson got the 2023 Masters off to its usual traditional start just before 8am, the trio shared their views on how the game has changed and what can be done to keep a fair balance of distance and skill.
The South African, who triumphed at Augusta on three occasions, received rapturous applause after hitting the first shot of this year's Masters straight down the middle of the fairway.
At 87, Player can evidently still hit a long ball, but he'd like to see those in charge of the game address how far players are hitting their driver before it causes significant problems for the game and the environment.
"What perturbs me, is I said years back, I said on British television to Peter Alliss on BBC that players would hit the ball 400 yards, and he told me I was talking nonsense," said Player, who sparked controversy last week when he claimed that he had to beg to play a round at Augusta.
"And now what I know is a fact, they will be hitting the ball 500 yards. They hit the ball 474 at the long driving. Jack and I were watching television the other day, we have never had a big man play golf here, guys, and ladies.
"These guys had thighs this big. They were 6'8". So thank goodness Augusta have been smart and have tried to get the players today to hit the same clubs we hit in our time. And of all the tournaments in the world, they have done the best."
Player went a step further, adding that he didn't think reining the ball back 20 yards would even be enough.
"So we are in our infancy," he said. "We haven't seen anything yet. So they have got to cut the ball back; otherwise, the technology and the whole objective of golf is going to be imbalanced. I get pretty concerned about how much they are going to cut the ball back.
"Personally I'm really delighted to see them making an effort. There's been a lot of talk about it. Twenty yards is not enough. If you look into the future, you have to cut it back for pros. Leave it for the amateurs as it is. But for the players, you have to cut it back 40 yards."
Golf's governing bodies have confirmed that they have proposed a way of bifurcation where elite golfers use different golf balls to recreational golfers. A new Model Local Rule has been proposed for January 2026 where competition organisers could enforce it to ensure competitors play golf balls that go shorter than the current legal models on the market used by pros and amateurs alike.
Both Watson and Nicklaus shared Player's views on the ball. Nicklaus, himself a keen course designer, is worried about where the game is going and fears that golf will "run out of land".
"I don't know whether there's an imbalance," said Nicklaus, who was in top form on the tee and also struck one straight down the middle. "I think we are going to run out of land if we keep trying to fight the imbalance if it's there."
Meanwhile, Watson, championed the use of a "pro ball", although he did point to the challenges this this would present the authorities and the game's manufacturers.
"Now, do we bifurcate? The great term, "bifurcate." I was against that until recently when I said, you know, I think it's best to have a pro ball to play with and then let everybody else play with a longer ball," said Watson. "That's the way I look at it."
"Then, you know, it begs the question, okay, what do you do with the elite amateur competitions or the elite junior competitions where these kids carry it 270, 280 in the air?
"You can make a Local Rule that says that you have to play with the pro ball, but then what does that do for how people prepare for the tournaments and play the game normally, the elite amateurs? Do you play with the shorter ball or the longer ball? That's the crux of the issue there if you bifurcate."
Michael has been with Golf Monthly since 2008. As a multimedia journalist, he has also worked for The Football Association, where he created content to support the men's European Championships, The FA Cup, London 2012, and FA Women's Super League. As content editor at Foremost Golf, Michael worked closely with golf's biggest equipment manufacturers, and has developed an in-depth knowledge of this side of the industry. He's now a regular contributor, covering instruction, equipment and feature content. Michael has interviewed many of the game's biggest stars, including six world number ones, and has attended and reported on many Major Championships and Ryder Cups. He's a member of Formby Golf Club.