What golf teaches you to be thankful for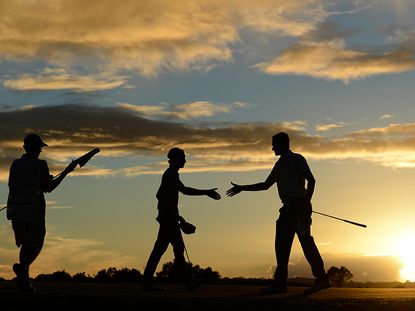 (Image credit: Getty Images)
We're not only thankful for golf itself, but for the things that golf teaches us to be thankful for. In the spirit of Thanksgiving, be reminded of what golfers take away from the sport that make them so grateful.
Today marks the unofficial start of the holiday season and the warm, fuzzy spirit of giving. Thanksgiving is a time for families to come together, enjoy delicious food, binge watch football and reflect on what they're most thankful for in their lives. What many people don't think about as they stuff their face with pumpkin pie is how the game of golf can actually make you realise just how much there is to be thankful for.
Family
Although they might have embarrassed you at multiple points in your life, your family will always be your number 1 fans. They're there for every hole-in-one and every missed putter, constantly giving you unconditional support. Take the Spieth family for instance—there to greet Jordan after every hole. He often shares how much his special needs sister, Ellie, teaches and inspires him everyday.
Friends
What would you do without your golfing buddies? They're the people you turn towards to escape and take your mind off the stressors of everyday life. Sharing stories, golf tips and large amounts of time together has automatically made them a crucial part of your life.
Health
The fact that you are even able to play golf is something to be thankful for. Not everyone can swing a club or even walk around the course. Having your health and being able to get out and play is something that many take for granted.
Travelling
We understand…your weekend golf outings are sacred. Being able to travel and get away to play a few rounds allows you to see the world while doing what you love. Of course, heading to a warmer fairway in the dead of winter always helps. Think of how much you've learned just from travelling, let alone the game of golf.
Fresh Air and Sunshine
Nothing beats the smell of fresh cut grass and the sun beating down on your face as you begin a new game on the course. Being outside and not stuck in the office is something to be thankful for in itself…having beautiful weather is just an added bonus!
Guidance
How do you even know how to play the game of golf? Was it your father that taught you when you were young? A coach that helped you perfect your swing? The mentors and teachers you've had along the way have probably not only shaped how you play golf but who you are as a person. You have such influential people in your life, all thanks to golf.
Ability to learn
Not only can you learn how to adjust your swing and fix your chipping problems, but you've picked up on a lot while playing the game of golf that you probably haven't thought about before. You know how to be gracious towards others you are competing against, patient with those still learning how to play, and persistence in order to reach your goals. While tackling challenges in golf, you've also learned valuable life lessons that have made you a more respectable person.
Tom Clarke joined Golf Monthly as a sub editor in 2009 being promoted to content editor in 2012 and then senior content editor in 2014, before becoming Sports Digital Editor for the Sport Vertical within Future in 2022. Tom currently looks after all the digital products that Golf Monthly produce including Strategy and Content Planning for the website and social media - Tom also assists the Cycling, Football, Rugby and Marine titles at Future. Tom plays off 16 and lists Augusta National (name drop), Old Head and Le Touessrok as the favourite courses he has played. Tom is an avid viewer of all golf content with a particularly in depth knowledge of the pro tour.