'He Knew The Consequences' - PGA Tour Chief Confirms McIlroy Will Lose $3m PIP Bonus
Rory McIlroy missed his second designated event at Harbour Town which is against PGA Tour rules he helped set out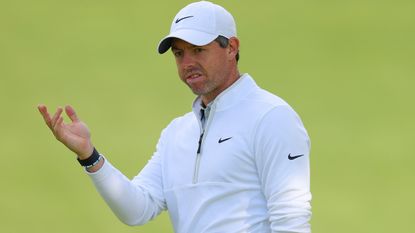 (Image credit: Getty Images)
PGA Tour commissioner Jay Monahan has confirmed that Rory McIlroy's decision not to play the RBC Heritage after the Masters has cost the Northern Irishman a whopping $3m.
McIlroy skipped the trip to Harbour Town directly after missing the cut at Augusta National, saying he needed a break for his "mental and emotional well-being" after such a disappointing Masters experience.
It was a second designated event he'd missed this season though, which under the PGA Tour rules for the Player Impact Program (PIP) means it will hit him in the pocket.
Players get 75% of their PIP money at the start of the year, but that final 25% can be withheld if players miss two elevated events without any medical excuses.
McIlroy seemed to be holding out hope of being let off by Monahan, judging by his comments ahead of the Wells Fargo Championship this week at Quail Hollow.
"I had my reasons not to play Hilton Head," McIlroy said. "I expressed those to Jay, and whether he thinks that is enough to warrant … again, I understood the consequences of that decision before I made it. So whatever happens, happens."
However, Monahan says that it's a pretty clear-cut case and confirmed that McIlroy would indeed be missing out on that final $3m payment.
"If I recall, he had a conversation with you guys yesterday," Monahan said of McIlroy. "He knew, as he said, the consequences.
"So, first of all, players should be able to make a decision not to play. I think that's the beauty of our model. But he knows the consequences of that based on that criteria, and that's our position."
With a reporter asking for clarification: "So the plan is to withhold $3 million, is that correct?". Monahan's response was definitive: "Correct".
He added: "When we made the commitment to this schedule with the Player Impact Program, we adjusted for one opt-out and for any second opt-out, you forfeit 25% unless there were some medical issues.
"So based on that criteria it's actually fairly cut and dry."
The irony of McIlroy being the one to pay the price of rules he in part had some help in creating is not lost on many - although from next season playing in designated events will not be part of the PIP criteria.
Paul Higham is a sports journalist with over 20 years of experience in covering most major sporting events for both Sky Sports and BBC Sport. He is currently freelance and covers the golf majors on the BBC Sport website. Highlights over the years include covering that epic Monday finish in the Ryder Cup at Celtic Manor and watching Rory McIlroy produce one of the most dominant Major wins at the 2011 US Open at Congressional. He also writes betting previews and still feels strangely proud of backing Danny Willett when he won the Masters in 2016 - Willett also praised his putting stroke during a media event before the Open at Hoylake. Favourite interviews he's conducted have been with McIlroy, Paul McGinley, Thomas Bjorn, Rickie Fowler and the enigma that is Victor Dubuisson. A big fan of watching any golf from any tour, sadly he spends more time writing about golf than playing these days with two young children, and as a big fair weather golfer claims playing in shorts is worth at least five shots. Being from Liverpool he loves the likes of Hoylake, Birkdale and the stretch of tracks along England's Golf Coast, but would say his favourite courses played are Kingsbarns and Portrush.