REAL Golf Campaign: Q&A with broadcaster, Michael Barratt...
Jeremy Ellwood speaks to veteran broadcaster Michael Barratt about the REAL Golf Campaign, an initiative dedicated to restoring the game to its roots…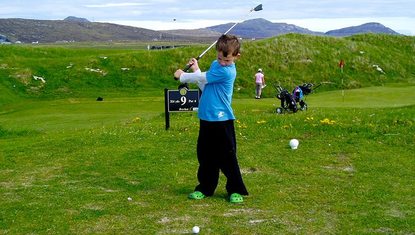 Jeremy Ellwood speaks to veteran broadcaster Michael Barratt about the REAL Golf Campaign, an initiative dedicated to restoring the game to its roots…
What is REAL Golf all about and why the need for it now? REAL Golf aims to restore our great game to its roots – Recreational, Enjoyable, Affordable and Less time-consuming. The dramatic decline in participation and the closure of clubs worldwide in recent years suggest that even 'now' is rather late for us to seek our objectives! But we're determined to press ahead.
Do you get the feeling from initial feedback that there is a groundswell of support for your views? Initial feedback strengthens our belief that there is a real need for our campaign. We have already had many hundreds of reasoned responses to the survey we established on our website (www.realgolfcampaign.org) and comments about the need for change are published frequently in respected journals like Golf Monthly.
We even have many quotes from major figures like Jack Nicklaus, Arnold Palmer and Tony Jacklin calling for changes in essentials like the nature of the ball, rule complexities, length of courses and so on.
Why has golf become the way it is relative to how it was, and is it all bad? We believe that golf has developed the problems it now faces for a number of reasons: what might be called the 'elitism' of the professional tours; exceptionally talented (and time-rich!) amateurs; the failure of the governors of the game, The R&A and the USGA, to take sufficient action in matters like ball and club development.
Then there's the failure of 'ordinary' club administrators to recognise the consequences of slow play or the need for changes to match the demands of modern society; the need to attract young people who are tempted by the popularity, availability and relative cheapness of other sports; the pressures of business, especially in a threatened economy; the need to recognise woman's place in the club structure, and so on.
Which do you see as the key element of REAL Golf's four focus points? We have still to establish what may be regarded as the key elements of our campaign. That's why we have been laying so much emphasis on the need to collect the views of golfers at every level, all over the world. That has been our first step – so that we can pursue with confidence the objectives which golfers worldwide really, really espouse.
Whose responsibility is it to do something about it? One of the main problems we'll ultimately have to face is that, even if we achieve (as we surely will!) general agreement about our objectives, there will be an attitude that it's someone else's responsibility to create change. The governing bodies? Ah, yes, it's up to them! But it isn't.
It's going to require honest endeavour from everyone, including club managers, commercial bodies and golfers themselves to start the (restricted!) ball rolling. That, I suppose, will prove our biggest challenge and why we will need practical support from the media and everyone else who agrees that, unless we achieve change, the game we love will die on its feet.
What do you see as the potential repercussions for the game if nothing is done? I may be accused of sensationalism when using a phrase like "dying on its feet" but I truly believe that is the extent of the danger golf faces. And I'm not the only one by any means. Those are precisely the words used by Vivien Saunders, for example, when talking to us recently, and Tony Jacklin has confessed to "fearing for its future".
As I write, word has just come through that a major club within five miles of my home (in the 'rich' South-East!) has gone into liquidation. It's by no means the first in recent months and, barring miracles (and a successful REAL Golf Campaign!) it won't be the last.
Do you feel something can be done or do you fear that it may already be too late? It's never too late! There are already signs that 'ordinary' golfers, club managers, course designers and media commentators are rallying to the cause. We are being sensibly cautious in reporting on the results of our survey but it's beginning to show quite clearly that there is a body of opinion worldwide ready to fly our flag. Let's hope that the governors show signs of taking notice before long . ..
The leading website from the world's oldest golf magazine, we're the go-to destination for amateur and keen golfers alike who are keen to up their golfing game. As well as expert course reviews, news and tips to improve your handicap our golf-focused travel content will help you pair teeing off with your travels in some of the best destinations around the globe.