Olympic legend Michael Phelps partners with Ping
Michael Phelps will use a set of 14 custom-fit Ping clubs as he attempts to improve his golf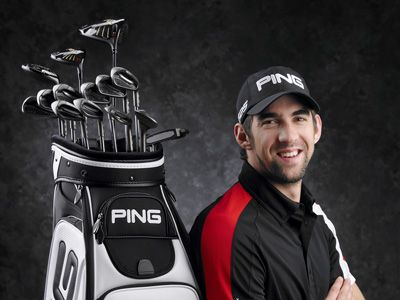 Ping has announced that legendary Olympic swimmer Michael Phelps will use a set of the brand's custom-fit golf clubs as he bids to reach single figures.
Phelps - whose love for golf has been well documented in recent times - will use Ping's new G25 driver, fairway woods, hybrids and irons, along with Ping Tour Groove wedges and a Scottsdale True Roll putter.
The American makes his official PING debut in the pro-am of this week's Waste Managament Phoenix Open, where he will partner fellow Ping player Bubba Watson. The 18-time Gold medalist also took part in last year's Alfred Dunhill Links Championship.
"I know how difficult the game of golf is, but I'm really serious about getting better and the experts at Ping have helped me a lot," said Phelps.
"They looked at my swing on the range and dialed me into clubs that perfectly fit my stance and swing.
"Ping has a long history of helping golfers playing better, so I'm excited to see how much I can continue to improve my game with the help of their equipment."
Phelps will use irons that are one inch over standard length and three degrees upright. His clubs have also been painted with gold and red and white and blue accents.
"We've custom built Michael's clubs to ensure he has every chance to improve and we believe he'll dedicate himself to golf with the same intensity he gave to swinning," said John Solheim, Ping Chairman and CEO.
"His global presence as a golfers will bring PING tremendous exposure and just as importantly shed additional light on the game in general."