What Is Stroke-And-Distance Relief?
It's one of the most common rules in golf and you probably do it without thinking but do you know the detail? Rule 18 tells us all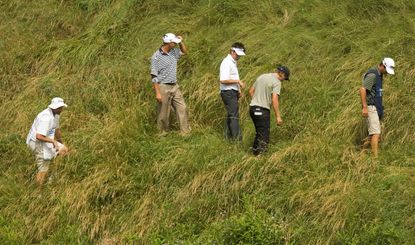 (Image credit: Getty Images)
What Is It?
At any time during the round, a player may take stroke and distance relief by adding one penalty stroke and playing from where the previous stroke was made. This can be taken no matter where the ball is on the course and even when a rule requires the player to take relief in a certain way (e.g. when in a penalty area).
Once the player puts another ball in play, the original ball must not be played. Unfortunately this is true even if the original ball is then found. This would not apply if the player declared a provisional ball. When a ball is lost, or out of bounds, stroke and distance relief must be taken
Lost Ball
A ball is deemed lost if it is not found within three minutes of a player, or their caddie, beginning the search for it. If a ball is found in that time but it is uncertain whether it is the player's ball then they must promptly attempt to identify the ball. They are allowed a reasonable time to do so, even if that happens after the three-minute search time has ended. If the player is unable to identify their ball in a reasonable time, it is deemed lost.
Out Of Bounds
A ball at rest is out of bounds only when all of it is outside the boundary edge of the course. A ball is in bounds when any part of the ball lies on, or touches, the inside of the boundary. A player may stand out of bounds to play a ball.
What To Do If A Ball Is Lost Or Out Of Bounds
If, by the above definitions, a ball is lost or out of bounds, stroke-and-distance relief must be taken. The player must play from where the previous stroke was made and add one penalty stroke. If a player plays from the wrong place, they receive a general penalty under rule 14.7a – Two stroke penalty in stroke play or loss of hole in match play.
Provisional Ball
If a ball might be lost outside a penalty area or be out of bounds, to save time the player may play a provisional ball. Check out our tell all piece on when, and how, to play a provisional ball.
James joined Golf Monthly having previously written for other digital outlets. He is obsessed with all areas of the game – from tournament golf, to history, equipment, technique and travel. He is also an avid collector of memorabilia; with items from the likes of Bobby Jones, Tiger Woods, Francis Ouimet, Arnold Palmer, Lee Trevino, Adam Scott and Ernie Els. As well as writing for Golf Monthly, James' golfing highlight is fist bumping Phil Mickelson on his way to winning the Open Championship at Muirfield in 2013. James grew up on the east coast of England and is the third generation of his golfing family. He now resides in Leeds and is a member of Cobble Hall Golf Club with a handicap index of 1.7. His favourite films are The Legend of Bagger Vance and Tin Cup.