Motocaddy introduces M1 Pro showcase video
Motocaddy has produced an animated showcase video of its compact new M1 PRO electric trolley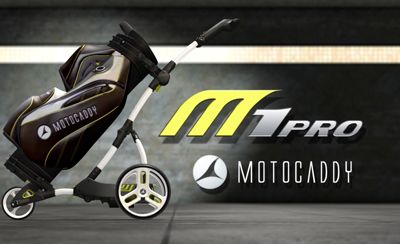 Motocaddy, the top-selling trolley brand, has produced an animated showcase video of its compact new M1 PRO electric trolley for screening in-store, online and on its own website.
The video highlights the easy-to-master three-point folding system and twin-tube frame design, developed to allow golfers to fold it down with the battery still in place and easily fit into the smallest of car boots.
Motocaddy's Marketing Manager, Oliver Churcher, said: "The compact folding M1 PRO trolley has proved to be extremely popular already. This new video will further highlight its key product features and has been designed for a wide range of screening applications."
The video also puts the spotlight on the sleek multi-function display screen with its battery life power indicator, Adjustable Distance Control (ADC) and nine speed settings.
In addition, an integrated accessory station accommodates scorecard, drink and umbrella holders, plus the inbuilt device cradle designed for use with the trolley's patented GPS charging port.
More than 40% smaller than S-Series models and weighing just 10.5 kg, the M1 PRO is designed to fit into the smallest of car boots.
It is available in Black or Alpine matt finishes from £399.99 with 18 hole Lead-acid battery; £549.99 with 18-hole Lithium battery; and £599.99 with the 36 hole Lithium option.
Betting experts, writers and video producers. Couple of guys in our early 20's looking to bring the sport that we love into a new era.'