Why Are South Koreans So Good At Golf?
Tom Mackin looks at why South Koreans are dominating in this special report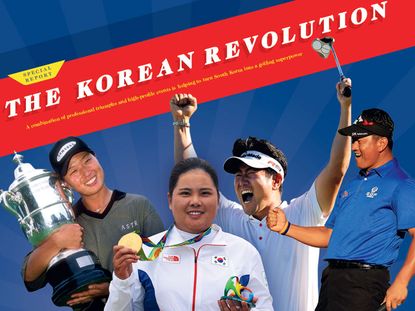 Tom Mackin brings this special report on the Korean Revolution - Just why are South Koreans cleaning up on the LPGA Tour and making their mark in the men's game too?
Why Are South Koreans So Good At Golf?
At the 2016 Rio Summer Olympics, the expectation for the Korean women's golf team was simple: win. Not just the gold medal. Or the silver. But all three medals. Such is the standard now for a country that currently has half of the 50 top-ranked women's professional golfers in the world.
The medal sweep did not happen – Inbee Park did win the gold by five strokes, but Lydia Ko (from New Zealand, although she was born in South Korea) won silver and Shanshan Feng (China) took the bronze – but it's a small blemish on the outstanding record Korean women have compiled in both the professional and amateur ranks.
The resume includes wins in seven of the last 10 US Opens (most recently Sung Hyun Park this year) and the 2016 US Women's Amateur (Eun Jeong Seong); five British Women's Open titles (starting with Se Ri Pak in 2001); and the past two LPGA Rookies of the Year (In Gee Chun and Sei Young Kim).
Making that success more impressive is that it comes in a sport that generally ranks fourth in popularity behind men's soccer, baseball and basketball in South Korea.
"Golf is seen by people as the elite sport," says Peter Rutherford, a Scotland native who lives in Seoul and works for Thompson Reuters as chief sub-editor for sports in Asia.
"A lot of guys don't want to admit being golfers. When there's trouble with North Korea and you're a government minister caught out on the golf course rather than being at your desk, your job is on the line. It has changed a lot, though, since Se Ri Pak and the other Koreans started winning."
A pivotal moment
That historic win in the 1998 US Women's Open by Pak, who retired last year with 25 titles and is the first Korean to be inducted into the LPGA Hall of Fame, remains a potent driving force for the generations that have followed in her footsteps. Beth Ann Nichols, who has been covering the LPGA for Golfweek since 2006, says that win still resonates almost two decades later.
"Even players who were too young to remember Se Ri win talk about how their parents were influenced by the 1998 US Women's Open," she says. "If they didn't see Pak take her socks off live on TV at Blackwolf Run (in Wisconsin), they've certainly seen the image enough over the years to appreciate what it means. World No. 1 Lydia Ko got her picture taken with Pak at age six when she attended her first LPGA event in South Korea – Ko was outside the ropes and Pak was in the background hitting a shot. Lydia brought the picture to show Se Ri when she got on tour."
After South Korea won its fourth Espirito Santo trophy at the 27th Women's World Amateur Team Championships in Mexico last year, team captain Sang-Won Ko responded to a query all of her golf-playing countrywomen get these days.
"I travel a lot and the first question is always, 'Why is your women's game so strong? And my first answer is we have a greater number of players and they are trying really hard," she told Global Golf Post in September. "Their target is to turn professional. We may be a small country but we have more than 3,000 junior players and they are willing to turn professional, which is huge compared to the US and Europe."
Nichols has seen that dedication at countless LPGA tournaments. "The work ethic is an obvious one," she says. "Korean players pepper the practice areas on Monday and are often the last to leave throughout the week. Inbee Park, however, is an exception to that rule. She doesn't practise for the sake of practising and should be a role model for how to lead a balanced life."
Nichols recounts a conversation she had with a Korean journalist during the 2016 KEB Hana Bank Championship about the topic. "He said that for Korean players, it's about survival," she recalls. "The hunger to win stems from their culture. But really, I think that comes down to their strong minds. They are built to win; they are expected to win; and they feed off that."
Eun Mi Oh, who played professionally from 1990 to 2002, believes the concentration of Korean women is beyond comparison. "For a long time, people in Korea have been taught to be diligent and faithful," Oh says. "We have been taught the values of Confucian tradition, like patience and persistence; both are beneficial to play golf."
A world-class destination
The Korean Golf Association, founded in 1965, has 545 member courses with 11,300 registered players in a country of approximately 50 million people. A number of international tournaments have helped raise the country's golf-destination reputation. In 2015, The Presidents Cup was played at the Jack Nicklaus Golf Club in Incheon – the first time it had been held in Asia. That same club hosted the Asia Pacific Amateur championship last year. In October 2017, the PGA Tour will visit the country to play the CJ Cup @ Nine Bridges.
The popularity of the women's game motivated the LPGA to open a Seoul office in 2014 and its first retail apparel store there last year. More than a dozen are planned to follow. The LPGA KEB Hana Bank Championship has been played in Korea since 2002. In 2018, the UL International Crown will also be held in Korea, marking the first time the tournament will be hosted outside the United States.
However, for all the high-profile events and professional success, the game does not yet appeal to the masses. Access to courses is the main obstacle, according to Rutherford.
"It's just impossible to get memberships at many places. The financial resources aren't there. The golf simulator has brought a lot of people to the game. That gives them their first taste of it and it's only $16 to play. All the equipment is there and the technology is so good you can build a swing from it. Space is the biggest issue in the city. Look up at rooftops and you will see hitting nets."
David Fisher is vice president of international business development at Whistling Rock Golf Club, a private course ranked number two in the country by Golf Magazine Korea. The club's spectacular 27 holes, located an hour north of Seoul, are roamed by corporate members who pay just over £1 million up front for access. Impeccable conditions, art installations in the sprawling clubhouse and out on the course, gourmet food and a massive wine collection help fulfil its role as a place for executives to entertain clients.
Related: Golf Monthly Top 100 Courses
"Golf here is a full-day experience, with meals, drinks and time in the sauna," Fisher says. "You arrive in your suit and bring golf clothes with you. Sometimes members entertain guests longer than they actually play golf. The cost of membership attracts corporate executives. It's a point of pride for big companies in the country to have their own private course."
The recent boom years of course construction have levelled off due to a slight downturn in the economy. Many courses have been approved but shovels have yet to enter the ground, and the environmental standards and certification processes have lengthened.
Changing attitudes
A cultural shift in Korean society is also taking place, according to Rutherford. "It used to be that once you finished work, you would go out and drink. That isn't quite the case anymore. A lot of people now go and play golf after work with their boss at a simulator."
Fisher has seen the same trend start to evolve since he moved to South Korea from Southern California in 2014. "I have a friend who works from 9am to 6pm in Seoul. Instead of going to the gym before work, he goes to the driving range. And the place is packed," he says.
At the professional level, despite the success of KJ Choi (eight-time PGA Tour winner) and YE Yang (2009 PGA Championship winner), the pressure to perform for men is not the same. One reason is most Korean fathers want their sons to work for a corporation. Another is baseball or soccer are more appealing sports. Men also have to fulfil a mandatory 21-month military service, a process that has currently derailed the career of two-time PGA Tour winner Sang-Moon Bae, who concludes his service in late 2017.
"There's also a certain discipline that fathers give to their daughters that is different to their sons," Fisher says. "The daughters grow up stronger than in other cultures. And there's not as much opportunity for them in the corporate world."
With so many successful women golfers, there is a concerted effort to keep them playing at home. The KLPGA offered $22.5 million in prize money over 30-plus events in 2016. More appealing financially are the Japan Tour and LPGA, which at least double the KLPGA's total prize money. Last year, 34 Korean players were full-time competitors on the LPGA Tour.
"It used to be you went to America to prove yourself," Rutherford says. "Yes, the money was something, but you went to prove yourself. What do Korean golfers have to prove now? It also used to be that women were expected to do whatever their management told them. Now the women have more say. They don't like to travel around a country where they don't speak the language and live in hotels. Here they can stay in their own beds and make a very good living, along with invitations to the Majors."
Wherever they play, the pressure to win remains strong, thanks to the winning precedent that has been set.
"If you're not one of the top players, why are you out there?" Rutherford says. "That's huge pressure for young girls. I think that's why a lot of them give up so soon. If they don't quite hit the heights, the coach has got another 12-year-old that he's waiting to work with. Tough life, you know?"
Don't forget to follow Golf Monthly on Facebook, Twitter and Instagram
Get the Golf Monthly Newsletter
Tips on how to play better, latest equipment reviews, interviews with the biggest names and more.
The leading website from the world's oldest golf magazine, we're the go-to destination for amateur and keen golfers alike who are keen to up their golfing game. As well as expert course reviews, news and tips to improve your handicap our golf-focused travel content will help you pair teeing off with your travels in some of the best destinations around the globe.