Wayne Riley: My Favourite UK Courses
Since arriving on these shores Wayne Riley has been privileged to experience the finest courses around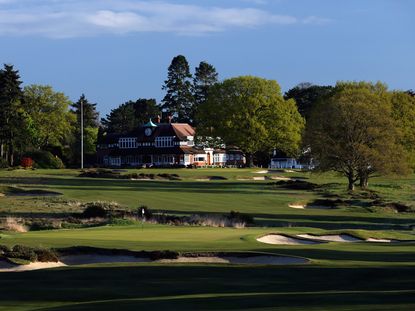 (Image credit: Getty Images)
Since arriving on these shores in 1983 Wayne Riley has been privileged to experience some of the finest courses around, and it's given him a real passion for course architecture
The golfing terrain of the British Isles is some of the best to be seen anywhere. Being Australian, though, I have to get something in for us! We have some pretty cool golf courses down under. Some of the places you probably haven't played are the sandbelt layouts in and around Melbourne. They are a must play at some point in your life. Seriously. They are reminiscent of your Surrey and Berkshire classics; heathland layouts that are total masterpieces in their own right. And that is coming from a Sydney lad!
As you might have guessed, there is a little bit of a rivalry between Melbourne and Sydney. Our cities don't compare. We win that one, but when it comes down to golf playgrounds, they win doing handstands. We have some nice courses, but there's only one classic in our territory: New South Wales Golf Club, a semi-links overlooking the birthplace of my nation, Bottany Bay.
When I first arrived onto your shores back in 1983 – gee whiz, has it really been that long? Have you good people really been putting up with me for that long! – I was so looking forward to experiencing the courses I'd seen on TV watching The Open Championship and read all about in Golf Monthly.
Golf course design has always been a passion of mine. Back when I played, I got as much satisfaction seeing a great golf course as I did playing one. Regardless of whether it was a links, parkland or heathland layout, I was always infatuated by what the designers were trying to achieve. Did they succeed, or did they totally stuff up and botch a great piece of land? I just love walking and analysing courses, it gives me a real buzz.
I really like parkland courses and I have played many good ones, especially in America, that the architects and members should be proud of, but they aren't my favourites. When it comes to links golf, who isn't a fan? It's man against the elements. Some say it's the truest form of the game, but I beg to differ. It's certainly the oldest form of the game, and the hardest, but the truest? Maybe yes, maybe no. There can be a lot of luck in links. Don't get me wrong, I won the Scottish Open around what many consider to be the hardest links out there – Carnoustie – so obviously I'm a huge fan of it, but when it comes to my preference, I find it very hard to beat heathland golf. It has an inland links and parkland feel all rolled into one.
Heathland courses are synonymous with rhododendrons and obviously heather, and when they are in bloom it just brings the wow factor. A lot of redesigning architects are getting their way with the boards that represent the members of great heathland courses. They are convincing them to take a lot of the heather, a lot of the rhododendrons and a lot of the ferns out. Yes, this helps the course and the greens to breathe better, but we need to make sure we're keeping a rein on it.
Sure, it's important for courses to evolve, like a Sunningdale (pictured above), like a Swinley Forest, like a New Zealand Golf Club. I truly believe there should be some form of manicuring here and there, but let's not go crazy. Taking vast swathes of heather out isn't a manicure. Let's go easy on these greats. Let's nurture them. Let's play these courses and recognise the great men who brought nature to the fore. Because let's face it, there isn't another game that is blessed with the beauty that golf is. Oh sorry, that's until you hit a drive straight into the jungle off the first tee.
If you're pushing me for my favourite heathland courses, I'd have to say Sunningdale, which is heaven on earth. If you wanted to play golf every day of the week, that's where you would choose, for sure. Swinley Forest is also right up there, and what an amazing lunch by the way, as is The Berkshire. All these brilliant places just offer the quintessential English golfing experience.
As I mentioned, golf course architecture is something I've been interested in for a while, and I've actually recently been approach with regards to designing a course out in Sri Lanka. I can't let on too much at the moment, and I'll keep you updated as things progress, but it's definitely an exciting opportunity. It's a 128-acre plot and I'll be flying out to have a look at it after the Senior British Open. It's a beautiful part of the world and it's coming on leaps and bounds, so I'm very much looking forward to it.
- Wayne Riley is a former member of the European Tour and two-time winner who is now part of the Sky Sports Golf Team. Wayne writes exclusively for Golf Monthly
Get the Golf Monthly Newsletter
Tips on how to play better, latest equipment reviews, interviews with the biggest names and more.
David joined Golf Monthly in 2015 as a content editor for the magazine and regularly contributes to the website. He has worked in magazine publishing and editing since 2003. He is a keen golfer and up until recently was a member of Blackmoor Golf Club in Hampshire. He has covered various big events and tournaments for GM, the highlight of which was witnessing Tiger Woods win his 15th Major at Augusta in 2019. Email: david.taylor@futurenet.com