'I Was Telling Everyone That I Was Going To Get Tanks On The Driving Range' - The Story Of Boomers and Swingers
Meet Nick Solski, the Manchester based-entrepreneur who is shaking up the game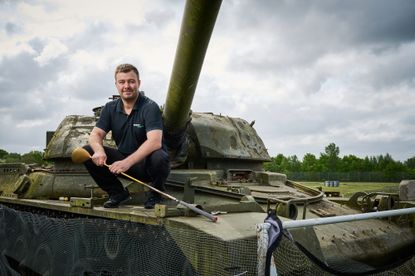 (Image credit: Future)
If you were to believe social media then the modern-day driving range is now an all-singing, all-flashing version of what many of us grew up with. While it will appeal to many, this hi-tech world plays a game that many of us are unfamiliar with when we want to have a bit of a fun or put in some serious practice.
Boomers and Swingers, 10 miles from Manchester city centre, is a driving range unlike any other and about as far removed from any of the above. In fact it doesn't even describe itself as a driving range – it's a ball whacking field without any flags. And it has decommissioned military tanks for targets.
"I was telling everyone that I was going to get tanks on the range, I had no idea how and then looked how much one might be it was around £150k. But I kept telling people that it would happen," explains Boomers and Swingers' owner Nick Solski.
"Then a regular customer came in and mentioned that a company had bought a warehouse in Worsley down the road and that they had three tanks that they needed to get rid of. An hour later we were drinking tea and choosing where to put them. They were in James Bond's Goldeneye. We've got a video of them coming in the first day, it was carnage but great fun."
Two of the tanks take pride of place in the middle of the range while the other is your first impression of the place, sitting in the car park.
Image 1 of 11
The driving range with a difference; no tokens, no flags, lots of fun
You can throw a (child's) axe on arrival
Makes a nice change from a Mars bar
Dial in your yardages (from bay 7)
The red button - no need to for any codes
A busy Tuesday morning at Boomers
There are plans for another clothes skip
Tank No. 3 in the car park
You can hit balls outside of the range too
Boomers and Swingers - remember the name
Free club hire, every day of the year
Solski took over what was Astley driving range seven years ago after a circuitous route that took him via El Paraiso in Spain, six years at Shrigley Hall before working at the David Leadbetter Academy at La Cala when the recession of 2007 kicked in.
"One of the members had a business selling different electricity and gas. I called one Chinese restaurant and they put the phone down on me so I decided that wasn't for me and I opened the PGA magazine and there was a job as the director of golf job in Lithuania. I wasn't qualified and I didn't know where it was but I applied and got a phone call from a Russian gentleman who lived on Bishop's Avenue in London.
"He invited me down and I was sitting at one end of the table and he was at the other stroking a cat. I guess that's where the craziness of the next few years started They had 53 golfers in the country and this amazing golf project and they offered me the job to grow golf and get more golfing visitors in. By the time I left over 8000 people had hit their first ball"
There would follow two years in the Ukraine, which would coincide with the Euro 2012, before ending up as the director of golf at Skolkovo GC where they would host a DP World Tour event.
"They asked me to build a winter wonderland facility when the course was closed with an Olympic size ice rink with the Bolshoi ballet orchestra playing. One member was a 10-time world figure-skating champion, we had putting mats on the ice with flashing golf balls, there were attendants doing curling and one wearing a velcro suit getting tennis balls hit at him, then I realised that it might be time to come home, it couldn't get any more surreal than that."
In the seven years that Solski has overseen Boomers and Swingers it has transpired into being many things to many people. There is a large slant on music with seasonal beats forming the backdrop to your ball whacking as well as 80s, indie, dance and mate and date nights. The artwork that decorates the bays is particularly cool with a knowing nod to the music scene that has helped shape its surrounds.
There's Foot Golf, kids' camps and lessons and it's part of the community. Any child on free school meals can sign up to the holiday camps and once a week a group of autistic youngsters will come down and hit balls on a Tuesday morning. Kids on alternative education provision will visit and lessons are adapted via golf tips and, if you are a carer looking after a parent or loved one, then you will get free balls to give you some respite from your normal life.
"There are no rules other than being safe. There's never a charge for club hire for both kids and adults so they can come back more often and it's not just a treat," explains Jack Brooks, who is Solski's right-hand man. "We appreciate the socio-economic status of the area so it can be a cheap few hours for the family. Quite a few kids have joined local clubs having started here and pros also practise here as it's nice and relaxed and you can hit off grass too."
Brooks has a handicap of +5 and plays for England. In 2019 he finished one shot short of winning the Lytham Trophy and, with a big summer, he may well feature on the GB&I Walker Cup team at St Andrews.
"I practised here anyway and I was looking for a job that would allow me to play tournaments and Nick's always supported that. Now I'm the director of golf and am trying to help take it onwards and upwards. No day is the same, you can have the place to yourself first thing on a Tuesday, then we'll have a DJ on a Saturday night where we'll have a pizza chef on. And it allows me to practise – I played in the Irish Amateur recently and I had 62 yards into a hole which is the same distance as the skip shot."
A bucket of balls here will cost you £10, which might sound pricey, though there are members' packages to help lighten the load. Amusingly they don't offer a silver, settling instead on gold, bronze and plastic. The thinking, though, is that the offering is more than just a soulless exchange of cash for a bar code.
"We're just as expensive as other ranges but we provide value. We can't afford to do it on the cheap but we provide interaction. Some supermarkets have opened loneliness lanes where someone will speak to you, people want interaction. We will walk up and down the bays and get people talking to one another by offering incentives to hit it in a skip. It's easy to make people happy. We want to use golf ball whacking to help physical and mental health. Some golf clubs have got it so wrong – you've got a like-minded group in the same place with a shared love but golf clubs can feel like the most anti-social place places ever," adds Solski.
"We're trying to make this a place to just come and you don't have to hit balls. We've built a decking area so you can come for a chat and a coffee, it's almost like a community centre with an activity linked to it. The token is the worst; swapping a £10 note for a copper token which you then put into a machine. That's a horrible experience, we want to flip that and make every small part of the range visit experience better."
From the moment you set foot inside the range then there is a warmth to it. They know your name, kids can throw a child's axe to get their competitive juices flowing and you get your balls by pressing a red button. There's a bucket of spare balls to ensure that you don't leave on a bad shot and there's a strong sense of loyalty with some members visiting as much as 20 times a month.
Solski achieved his Certified Club Manager in 2013 and everything is tracked, considered and there's a method behind the strategy. The attention to detail, in among all the metal targets and uplifting music, is beyond most golf clubs.
"One repeated bit of feedback is that our toilets are nicer than customers have at home. That's a deliberate move to understand what the customer wants. If you go to a restaurant and the food's great but the toilets aren't, that's what some people might remember."
Golf has to lighten up and more places like Boomers and Swingers are only going to help with this and to keep pushing up the participation numbers. So what advice would Solski give to anyone thinking about opening up a driving range, with or without a difference?
"If you don't like taking time to understanding your customers then don't bother. If you think that you're going to open a field, put TopTracer in and some flags out there and make some money, then there's no longevity in that.
"Look at yourself first and draw a list of things that you like/dislike and that you're good/bad at. If you like people and hard work, unplugging balls and complaints about the balls, then go for it."
And now for something completely different... The Three Royals
This year Nick and Jack will again be catering to the American Market by running a number of five-day bespoke golf trips to the North West of England which will include rounds at the Royals of Birkdale, Liverpool and Lytham & St Annes as well as offering 5* accommodation, luxury travel and some truly quintessential British experiences.
The trips will provide a fully-managed itinerary to ensure that you make the most of your time in one of the greatest corners in the golfing world. There will also be the opportunity to sample the other Top 100 courses in the area and there are other individual treats such as a hickory putter with your name on and the chance to watch a Premier League game.
"All packages are bespoke to deliver the most incredible fully-catered experience, you simply tell us when you want to visit and we will build a trip that you will be talking about forever. You will wake up at the dormy house at Lytham on day one, play five of the greatest courses on the planet and then experience all the great golf, music and culture that the North West has to offer."
Mark has worked in golf for over 20 years having started off his journalistic life at the Press Association and BBC Sport before moving to Sky Sports where he became their golf editor on skysports.com. He then worked at National Club Golfer and Lady Golfer where he was the deputy editor and he has interviewed many of the leading names in the game, both male and female, ghosted columns for the likes of Robert Rock, Charley Hull and Dame Laura Davies, as well as playing the vast majority of our Top 100 GB&I courses. He loves links golf with a particular love of Royal Dornoch and Kingsbarns. He is now a freelance, also working for the PGA and Robert Rock. Loves tour golf, both men and women and he remains the long-standing owner of an horrific short game. He plays at Moortown with a handicap of 6.