Golf Betting Blog: Dave Plane
Golf betting enthusiast Dave Plane uses market movements to make sense of the goings-on around the greens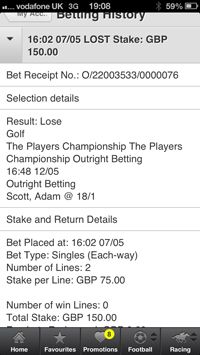 Golf Betting blog
As I was [more or less] saying last week (opens in new tab), the principle of FiTCiP (form temporary, class permanent) doesn't always ring true when it comes to the quest for making an honest buck out of gambling on golf.
Tiger Woods, however, won his second Players Championship (opens in new tab) on the Stadium Course at TPC Sawgrass in Florida at the weekend, perfectly endorsing both form legitimacy and class sentimentality in four rounds of brutally bloodthirsty potency, peppered with theatrical incident and inconsistency.
With only one tournament taking place, I was able to fully focus investment and attention, backing eight contestants, seven pre tournament and Tiger after round two:
Sergio Garcia (backed pre-tournament at 33/1) and Tiger Woods (on after round two at 2.88 on Betfair, who offered to boost overall profits by 20% for those risking more than £200 on the event) had a well-reported exchange of words after the third round (opens in new tab). As they went toe-to-toe on Sunday, I indulged in a heavy session of in-play trading. Going back in on Sergio at 15.5 after his bogey at four and laying before his tee shot at 7 when his price had plummeted to just under 5/1.
This left a position of a grand win for Garcia, £175 for Woods, just before he took the outright lead again putting in from the fringe of the 7th green as Garcia was walking up to make his approach.
Mini fist-pump and maxi-crowd delirium ensued, the whoop count exceeding that elicited by a 5-wood being removed from its cover.
I appreciate many readers may not use exchange betting, so please feel free to comment below if you have any questions. For those who do use Betfair and Betdaq: apologies for the patronising tone!
Out of my other selections, Streelman rallied well to return some top 10 money. While laying Garcia for a top 5 finish proved a good move as he imploded on 17.
The Players also raised the perennial punting question: "what represents value?" Tiger, sent off an 8/1 prospect, was eschewed by pundits and tipsters alike due to his price not offering sufficient perceived value to the golf gambling community.
Value, though, doesn't always need to mean backing at high double-figure odds. Obviously if a player is priced up at 50/1 and you think his chances are more like 33/1, lump on appropriately, but equally let's look back at the signs here and say that 8/1 was probably a fair price given form, class and track/state knowledge.
This was Tiger's 16th win in Florida, where he resides in presumably a happier circumstance than he has endured over the past couple of years.
I'm sure we're all feeling much happier for the great man nowadays, particularly as the cameras spent much of the weekend focusing on his new squeeze, skier Lindsey Vonn - the circle of redemption is complete and contentment for him can mean profit for us.
I've accordingly added him to my US Open portfolio. Twitter @planey2k (opens in new tab)
Dave has blogged for the past few years at Palphabet.blogspot.com (opens in new tab) on the many ups and downs associated with betting on a mulititude of sports.
Dave is an enthusiastic sports writer who enjoys golf betting. He also love horse racing and owns several horses.