Wet Lie Chipping Method Explained
Here's a handy and reliable wet lie chipping method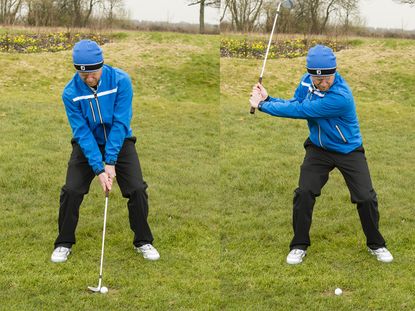 Golf Monthly Newsletter
Golf tips and expert instruction, golf club reviews and the latest golf equipment.
Thank you for signing up to . You will receive a verification email shortly.
There was a problem. Please refresh the page and try again.
In golf, you should always expect the unexpected. When the heavens open that can often mean playing greenside shots from lies that are less than favourable shall we say. Luckily, in the video and article below, GM Top Coach Andrew Jones offers some excellent advice in the form of his wet lie chipping method, which we think is a must for every golfer!
Facing a chip from a muddy or wet lie is a scenario no golfer enjoys. The margin for error on the strike is much smaller than usual and using your normal technique leaves this shot wrought with danger. That's why you need to employ a wet lie chipping method.
So I much prefer using a bunker shot technique. The only real change is the ball position that should sit a little more towards the centre of your stance. As with a bunker should you are not aiming to strike the ball directly here but to catch it slightly fat, striking the ground before the ball.
This is a huge change to the usual chipping technique - which you can see in our beginners guide to chipping.
The swing itself should be full and aggressive to ensure you have enough speed through the ground to advance the ball onto the green. Try this wet lie chipping method approach in practice – it really works from those horrible, muddy lies.
Pitching advice
In the winter, when the greens are soft, it makes sense when you pitch to throw the ball up in the air and carry it as close to the hole as possible. However, you will know how to pitch from muddy lies as the technique is slightly different. Having said that, this isn't always a good idea to choose a lofted club. Your shot selection process again starts with a close look at the lie. Examine how it is sitting because if your ball is in an area without much grass, a lower-flighted, running shot is a much safer option.
Being able to make a shorter swing with less loft takes disaster out of play. However, be warned that if the pin is at the back of the green, make sure you take enough club.
It's an amateur mistake to go for a running shot and leave it halfway. Don't be afraid to use a mid iron or even a hybrid to make sure you get the run you need to reach the flag.
Location: Sene Valley Golf Club
After turning professional in 1991, Andrew served as Assistant Pro at Royal Cinque Ports from 1993 until 1998, before spending three years as Head Pro at Lydd Golf Club. He remains in Kent, and now teaches at Sene Valley, Folkestone, where he's Director of Coaching.
Students learn best when...
They have bought into your vision, passion and enthusiasm as a coach and are prepared to go on the journey with you sharing experiences and opinions with an open mind to what is necessary to improve their game. Both the pupil and the coach need to be entering this relationship with eyes, ears and senses wide open and a willingness give it a go!
Greatest teaching influence:
Fellow Top 50 coach, former boss and mentor, Andrew Reynolds. In my early years as a trainee PGA assistant at Royal Cinque Ports, he instilled in me the importance of the analysis of ball flight and also identifying cause and effect within the swing. Other notable (Tour) coaches I have studied carefully during my development have been David Leadbetter and Butch Harmon.
Most common problem:
The grip. For me, it has to be the poor connection to the club itself that can have a fundamental and sometimes catastrophic influence on how we stand to, move and deliver the club to the ball.