Pre-shot routine tips for golf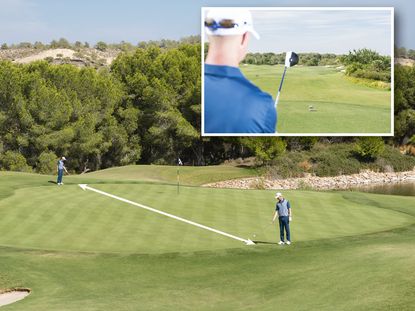 In this exclusive video, Ged Walters offers his pre-shot routine tips for golf to help you prepare both mentally and physically for the shot ahead
Pre-shot routine tips for golf
The first part of your pre-shot routine is where the decision-making needs to happen. As every golfer knows, good shots rarely happen if you aren't 100% focussed. This is when you need to build up a picture in your mind for exactly what a good shot would look like – how it would fly, where it would land and how far it would roll. As you look at the shot facing you, think about the weather conditions, how the ball is lying, the terrain of your landing zone and what the wind is doing. Take in as much information as you can because when this phase finishes, I want you to have a vivid visualisation of what you are trying to do. This will help you hugely when it comes to the execution.
Watch more long game tips videos
Your Yardages
If you want to improve your scores, it makes sense to do some homework, finding out exactly how far you hit the ball. Your yardages are exactly that – yours. They have no relation to how far anyone else hits the ball and they will form the foundation of your strategy. When working out which club to hit into the green, always calculate the number to the back. Few amateurs miss long but they often fall foul of the bunkers and trouble that lie short of the green. Having the distance to the back in your mind and picking a club that will get you as close to that spot without going past it, will allow you a little leeway on the strike as well. As you can see here, there is a 34-yard gap between the front and the back of the green – for most of us, that's a three club difference. When it comes to pre-shot routine tips for golf, figuring this part out is essential.
Watch more golf swing tips videos
Dress Rehearsal
Before you move into the shot itself, make a proper practice swing. I've placed a wooden block on the ground here to divide the 'practice' area and the 'performance' area. Try to replicate exactly what you are trying to do. Your practice swing is your dress rehearsal, the last swing you make before it matters so it makes sense to make it as realistic as possible. Too many players waste energy on a meaningless practice swings. Use yours to help set a more confident mindset by developing a genuine feeling for the shot and the swing you are trying to make.
Picking your target
Aligning yourself correctly is something we can all successfully do before every shot but you have to be precise, the target you pick has to be as small as possible. As soon as you start to get lazy or sloppy, small mistakes can quickly ingrain themselves into your routine. Trying to align your clubface to a target that is in the distance is incredibly difficult and can lead to mistakes. Stand behind your ball and draw an imaginary line from your target back to your ball, then pick out a spot that is no more than 6 inches ahead of your ball along this imaginary line. Try to see an imperfection or an object on the grass on that line to aim at. As you stand over the ball in the address position, this is your target to aim the clubface directly at. Once you have this target line, you are in a much better position to build your stance. The confidence you'll gain from aiming correctly is huge. These pre-shot routine tips for golf will not only help you set better address positions but they will help create a positive, focused mindset
In his current role, Neil is responsible for testing drivers and golf balls. Having been a part of the Golf Monthly team for over 15 years and playing off a handicap of 3, he has the experience to compare performance between models, brands and generations. For 2022 he thinks the main trend in drivers is: "In a word, consistency. Whilst all the brands are talking about ball speed (and the new drivers are certainly long), my biggest finding has been how much more consistent the ball flights are. Mishits don't seem to be causing the same level of drop-off or increase in the spin numbers. This means that more shots seem to be flying the way you want them to!" As far as golf balls are concerned the biggest development is in the, "three piece, non-Tour, urethane-covered section. For regular golfers, these models offer superb performance at both ends of the bag without denting your wallet quite as much as the premium Tour-played options."
Originally working with the best coaches in the UK to produce instruction content, he is now the brand's Digital Editor and covers everything from Tour player interviews to gear reviews. In his time at Golf Monthly, he has covered equipment launches that date back well over a decade. He clearly remembers the launch of the Callaway and Nike square drivers as well as the white TaylorMade driver families, such as the RocketBallz! If you take a look at the Golf Monthly YouTube channel, you'll see his equipment videos dating back over a decade! He has also conducted 'What's In The Bag' interviews with many of the game's best players like Rory McIlroy, Dustin Johnson and Jon Rahm. Over the years, Neil has tested a vast array of products in each category and at drastically different price-points.

Neil is currently playing: Driver: TaylorMade Stealth Plus Fairway Wood: Titleist TSi2 Hybrid: Titleist TS3 Irons (4-9): Mizuno JPX 919 Forged Wedges: Titleist Vokey SM7 46˚, 50˚, 54˚, 60˚ Putter: Odyssey Triple Track Ten Ball: Titleist Pro V1X